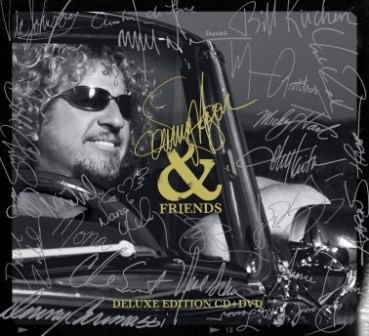 This album is Sammy Hagar's first album since 2008, and he's chosen to fill this ten track opus with award-winning artists from across the musical spectrum. So this could go either of two ways, be self indulgent enough to alienate his fans, or be open enough to please his existing fans and even gain new ones. Well I'm happy to report it does the latter.
The quite brilliant 'Winding Down', with some cool slide guitar and a simple drum beat, opens this cd up, Sammy's voice is as powerful as ever, although the track is 2.30 long, it seems much shorter, just as you think it's getting going, it suddenly stops, so you are forced to play it again.And again.
'Not going down' has some seriously dirty guitar work going on, played very much in the Chickenfoot style, a great track.
"Personal Jesus" is the first cover track (with Neal Schon, Michael Anthony, and Chad Smith) is probably the least typical track on this cd, as Sammy and his friends take this Depeche Mode track for a ride. The end result is not that much different from the original in structure, this is a very cool cover that has Hagar singing and trading counter-melodies with a choir, couple that with some great guitar playing and you have a great cover.
'Father sun' has a distinctive southern country feel to it, with its steel guitar opening, but is my least favourite track on here, there are far too many musical styles involved here, the song seems to lose direction and isn't helped by an all too repetitive chorus.
"Knockdown Dragout" is back to what Sammy does best, good old-fashioned rock n roll, this fantastic collaboration which features Kid Rock on vocals, and Joe Satriani on guitar tell you all you need to know, it's a fun track, even the credits say Backing Vocals: Everybody.
'Ramblin' Gamblin' Man originally written by Bob Seger is the next song to get the Sammy Hagar cover treatment, and he does a good job, he's brought the 1969 track up to date with a little red rocker treatment.
'Bad On Fords And Chevrolets' is a great little rock number, there's no prize for guessing the subject matter either, However Sammy is great at writing this type of song, simple and straight to the point, one-off, if not the best tracks on here.
'Margaritaville' originally written by Jimmy Buffett takes you back to the country-blues again, this time however it is with a softer musical sound. The use of piano and accordion give it a great laid back feel. A surprise choice, but one that works well.
If you thought 'Margaritaville' was a strange choice of cover, then be prepared as Sammy has an ace up his sleeve with the next track.
'All We Need Is An Island' follows in a similar vein, very Americana and very laid back and is another Hagar original, Nancy Wilson sings vocals on this with Sammy, as Dave Zirbel plays Pedal Steel & Tahitian Ukulele. It's a nice idea, drinking Rum on an Island with Nancy Wilson, what else could you need ?.
'Going Down' (Live in Studio-Take 1) is the last track on the standard cd, and has the great Neal Schon laying down an impressive riff, followed a stunning solo, Hagar once again displaying a vocal prowess of a man half his age, impressive in every department, from the tub thumping of Chad Smith to the ever dependable Michael Anthony on Bass.
For those getting the deluxe edition, this contains a brilliantly captured live version of Space Station #5 from the Ronnie Montrose Tribute Concert which features Joe Satriani on guitar.
The Red Rocker has made a great album here, the rock tracks are worth the price of the cd alone, however if you dig a little deeper you discover the different musical tastes Sammy has, and he shares them with you on this: Sammy Hagar & Friends.
1. Winding Down written by Sammy Hagar
Lead Vocals: Sammy Hagar & Taj Mahal
Electric, acoustic and dobro guitars: Dave Zirbel
2nd acoustic guitar: Sammy Hagar
Percussion: John Cuniberti
Backing Vocals: Mona Gnader & Vic Johnson
2. Not Going Down written by Jay Buchanan
Lead Vocal: Sammy Hagar
Guitars: Vic Johnson & Sammy Hagar
Bass: Bill Church
Lap Steel: Dave Zirbel
Drums: Denny Carmassi
Backing Vocals: Claytoven Richardson, Sandy Griffith & Omega Rae
3. Personal Jesus written by Martin Gore
Lead Vocal: Sammy Hagar
Guitar: Neal Schon
Bass: Michael Anthony
Drums: Chad Smith
Backing Vocals: Claytoven Richardson, Sandy Griffith & Omega Rae
4. Father Sun written by Sammy Hagar
Lead Vocal: Sammy Hagar
Guitars: Vic Johnson & Sammy Hagar
Lap Steel: Sammy Hagar
Bass: Mona Gnader
Accordion: Andre Thiery
Mandolin: James DePrato
Drums & percussion: Denny Carmassi
Backing Vocals: Sammy & Aaron Hagar, John and Erica Cuniberti
5. Knockdown Dragout written by Dennis Hill, Ken Livingston, Kyle Homme, Stephen
Garvy, Kevin Baldes, Sammy Hagar
Lead Vocals: Sammy Hagar & Kid Rock
Guitars: Vic Johnson & Sammy Hagar
Solo guitar: Joe Satriani
Drums: Denny Carmassi
Bass: Mona Gnader
Percussion: John Cuniberti
Lead Vocals: Sammy Hagar & Kid Rock
Backing Vocals: Everybody
6. Ramblin' Gamblin' Man written by Bob Seger
Lead Vocals: Sammy Hagar
Guitars: Vic Johnson & Sammy Hagar
Solo guitar: Sammy Hagar
Drums: David Lauser
Bass: Mona Gnader
Organ: Susie Davis
Percussion: John Cuniberti
Lead Vocals: Sammy Hagar
Backing Vocals: Mona Gnader, Vic Johnson,
Claytoven Richardson, Sandy Griffith & Omega Rae
7. Bad On Fords and Chevrolets written by Ronnie Dunn, Ray Wylie Hubbard
Lead Vocals: Sammy Hagar & Ronnie Dunn
Guitars: Vic Johnson & Sammy Hagar
Lap Steel: Dave Zirbel
Drums: David Lauser
Bass: Mona Gnader
Piano: Audie Delone
Backing Vocals: Mona Gnader & Vic Johnson
8. Margaritaville written by Jimmy Buffett
Lead vocal: Sammy Hagar & Toby Keith
Percussion: Karl Perazza
Upright Bass: Ruth Davies
Drums: Paul Revelli
Guitar: William Kirchen
Electric Piano & accordion: Austin de Lone
Background vocals: Mona Gnader & Caroline de Lone
9. All We Need Is An Island written by Sammy Hagar
Vocals: Sammy Hagar & Nancy Wilson
Acoustic guitar: Sammy Hagar
Pedal Steel & Tahitian Ukulele: Dave Zirbel
Drums: Mickey Hart
10. Going Down (Live in Studio-Take 1) written by Don Nix
Lead Vocal: Sammy Hagar
Guitar: Neal Schon
Bass: Michael Anthony
Drums: Chad Smith
Bonus track on the deluxe edition only
Space Station #5 – Live from Ronnie Montrose Tribute Concert written by Sammy Hagar and Ronnie Montrose
Drums: Denny Carmassi
Bass: Bill Church
Guitar: Joe Satriani
Vocals: Sammy Hagar
From Ronnie Montrose Tribute Concert (4/27/2012), Avalon Ballroom, San Francisco