Slade has announced the release of a  limited edition 12" coloured vinyl 'Merry Xmas Everybody' on 25th November, plus the continuation of official the deluxe vinyl album reissues series  with 'Crackers – The Christmas Party Album'
It's CHRISTMAS!
On 25th November BMG and Slade release Merry Xmas Everybody on limited edition 12" marble vinyl.
Originally released in 1973 Merry Xmas Everybody was the band's sixth number-one single in the UK and sold over a million copies upon its first release. Merry Xmas Everybody has continued to establish itself as a favourite Christmas song around the world for all.
This new 12" single package contains Merry Xmas Everybody alongside 3 other songs taken from Slade's Crackers Party Album: Let's Dance, Okey Cokey and Auld Land Syne / You'll Never Walk Alone.
A Christmas standard Merry Xmas Everybody has spent an incredible 109 weeks in the Official UK Singles Chart. In 2009, PRS for Music announced that up to forty-two percent of the world's population could potentially have listened to the song!
Watch the official Merry Xmas Everybody  animated video:  
"The video is very unusual and comical. It does sum up the band's characters HO HO HO!' exclaims Noddy Holder.
To pre-order Merry Xmas Everybody go to: https://slade.lnk.to/MerryXmas12snowflakePR
BMG Records continue their new series of limited edition vinyl reissues and deluxe CDs from Slade, with the release of  Crackers – The Christmas Party Album.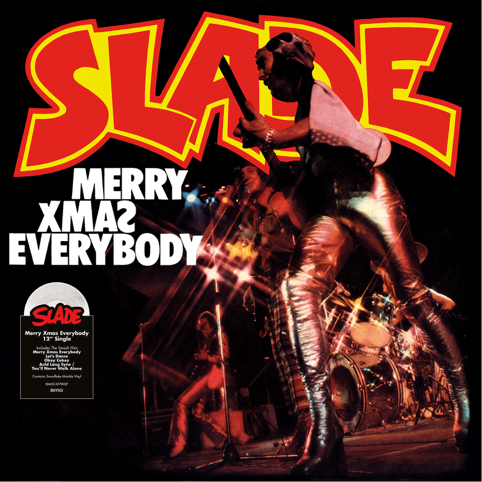 These beautifully presented reissues will see Crackers – The Christmas Party Album released on limited edition transparent & smokey white vinyl with 16 songs, while the CD will contain 4 bonus tracks.
Merry Xmas Everybody can be heard on Crackers for the first time in this re-compilation of the 1985 Christmas album to form Deluxe Crackers making it the ultimate Christmas party album for all during the festive season
The certified Gold compilation, includes alternative versions of the hits Merry Xmas Everybody (live), Cum On Feel The Noize, Get Down And Get With It and the covers Do They Know It's Christmas (Feed The World), Santa Claus Is Coming To Town, Auld Lang Syne/You'll Never Walk Alone, Let's Have A Party and Hi Ho Silver Lining.
To order Crackers – The Christmas Party Album (Deluxe Crackers) online go to: https://slade.lnk.to/crackersdeluxePR
Also, available to pre-order / pre-save Sladest , released on 4th November, go to: https://slade.lnk.to/sladestPR