Shyyne – Go Your Own Way
From the streets of Los Angeles to, erm Wolverhampton comes a dirty dozen of glitter covered glam metal tinged songs from the quietly rioting, potently poisoned, cruelly crued Shyyne on their devilishly second album Go Your Own Way.
Released on April 4th 2020 on WDFD Records, the band are fronted by Toni Gale who looks uncannily like Vince Neil. This album is as trashy as a box set of Love Island repeats but with far more talent! Opener 'Say Goodbye' is all about the riffs from whizz kid Mark Wilkins that rock hard over melodically snarled vocals. Some cheesy "Oooh's", strong choruses and an over the top guitar solo make it a hard act to follow. A big ballsy brash opening attack for 'Movin On' steadies down to feel good vibes when the choruses kick in. Fiery guitar work ends in a cavalcade of string abuse.
'Feeling Fine' is all punky snarl that brought to mind legendary US band The Dictators. They don't mess around with a winning formula, point proven by the killer grooves in 'Broken Down Girl'. Gritty vocals, a face melting guitar solo and stadium filling choruses take no prisoners. The title track is an earworm ditty of dance floor filling funky metal with rock radio choruses and the most over the top guitar solo on the album. 'Show Me' shuffles along in the vein of 'Rock Me' by Great White' only this is more fun purely for a scatting vocal midsection that Dave Lee Roth would be proud of.
The intro to 'Take Me Down' may have Joe Satriani looking over his shoulder, the lyrics have more innuendo than a Carry On film and the guitar solo would surely beat the Millennium Falcon to hyperspace! 'State Of Mind' sees them take off their class clown facades for a brief moment of maturity with choruses of "Look and you'll find, the answer to your question is just a state of mind" but the laid back drawled delivery is a million miles away from Wolverhampton. 'Shut Up' is a slice of sassy blues. Heaviest track comes from 'Ain't A Crime' so its time to get those air guitars out! 'Friday Nite' hurtles along in the mood you get after a crap week at work and you head out and kick back, so crank up this and holler out the choruses "Friday, my day!".
This glamtastic album ends with 'Song For The Broken Hearted' as they put the power into power ballad and Toni rules here with a chilling Bon Scott like delivery. The album has been a long time in the making and well worth the wait.
Shyyne band line up :-
Toni Gale – Vocals.
Mark Wilkins – Guitar.
Richie 'Bev' Bevan – Drums.
Matt Freeman – Bass guitar/vocals.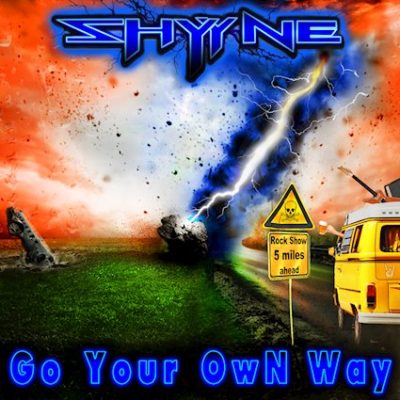 Album track listing :-
Say Goodbye.
Movin On.
Feeling Fine.
Broken Down Girl.
Go Your Own Way.
Show Me.
Take Me Down.
State Of Mind.
Shut Up.
Ain't A Crime.
Friday Nite.
Song For The Broken Hearted.
Shake your booty with the grand glam slam of Shyyne!