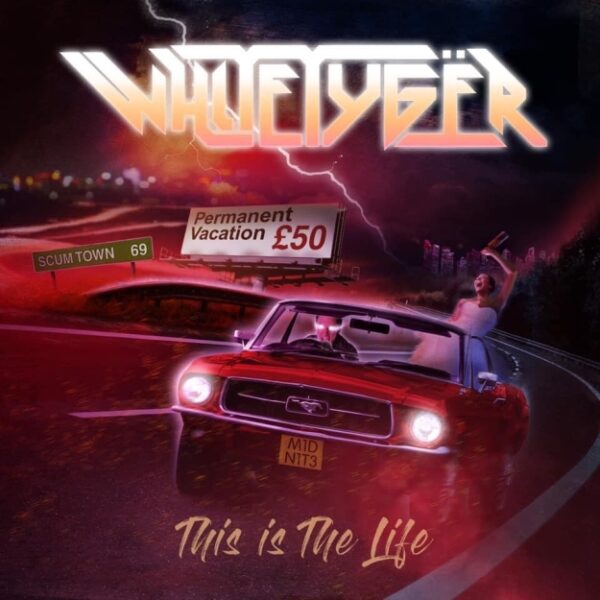 It looks like the time has come for West Midlands based rockers White Tyger to sharpen their claws and tear away their leanings from playing covers to be leaders of the pack with their overwhelming debut studio album This Is The Life released on Skum Town Records.
Their style is very much mid 80's hair metal but on the heavier side and these nine tracks take us on their ride down the sunset strip, point proven by opener 'Permanent Vacation'. It's a lumbering beast of a song that pounds like Thor's hammer. Touches of early Crue arrive in the anthemic choruses as a midway guitar solo is heavy metal heaven until it closes on kick drum overload.
They riff it up hard and heavy so there is no heartbreak at 'Heartbreak Hotel', just an adrenaline rush of multi tempo time changes to get you headbanging, shouting out the stadium filling choruses and air guitar inducing solos.
'Runaway Bride' opens with a banshee scream from Nip Turner to not just sending the bride running to the hills but the whole congregation! It's another spotlight stealer perfect to out on the car stereo with the windows wound right down to share the histrionic guitar solo with the passers by.
The salaciously sleazy 'Midnight Lovers' will have you washing out your ears at the end of these feisty four minutes of glam rock as once again the choruses demand to be hollered loud and proud!
Mobile phones in the air are needed to light up the beautiful balladry of 'Forever And Away' when played live. Main riff is laid back but still packs a punch to chug it along towards whammy bar frenzy midway.
Back to the headbanging as 'Skum Town' sounds like the sort of town you would want to drive through without stopping, courtesy of the gnarly lyrics and grooves.
'This Is The Life' heads out to the highway on a get into the fast lane tarmac burner as extra menace comes from a put up or shut up lead vocal.
'Speed Demon' lives up to its moniker by putting its foot to the floor for a belligerent fast and furious banger and the temperatures rise for red hot twin lead solos.
One last bare knuckle brawler sees this highly impressive debut close with 'No Fucks Given' with a middle finger raised delivery as the raunchy lyrics reflect the songs title and ear mauling sound levels.
Purchase links to the album and band links are here :- http://whitetyger.net I https://open.spotify.com/artist/1EUemRXJdv1Hyv4JdS86Ar I https://www.facebook.com/whitetygerrock https://www.instagram.com/whitetygerband/ I https://www.youtube.com/channel/UCohCWm-LX_OVyu3rVlDt00Q
This Is The Life album track listing :-
Permanent Vacation.
Heartbreak Hotel.
Runaway Bride.
Midnight Lovers.
Forever And Away.
Skum Town.
This Is The Life.
Speed Demon.
No Fucks Given.
White Tyger band line up :-
Nip Turner – Vocals/Guitar.
Chris Hingley – Guitar/Vocals.
Ste Timmins – Bass Guitar/Vocals.
Jack Ryland Smith – Drums.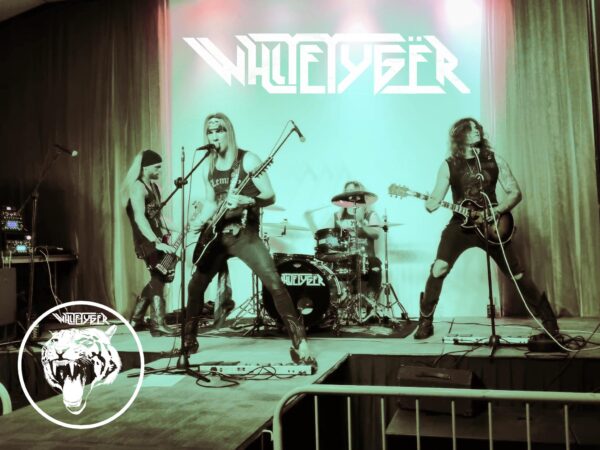 Stripes on a tiger don't wash away as White Tyger prove their point with the release of debut studio album This Is The Life!