Thirteen Stars – Finest Ramshackle Jam
Since releasing their debut album White Raven, the wait has seemed interminable for the follow up by Thirteen Stars but they've got into the studio and put down fifteen gold nuggets for Finest Ramshackle Jam. It's being released by Rock People Management on June 19th 2020 so until then you'll have to take my word for how much of a blockbuster it is and believe me it's far from ramshackle!
They ease in with 'I'm Ready' as the riffs bounce off each other as the gravelly drawl from Hoss Thompson heavies up for the booming choruses. 'Running So Long', the first single taken from the album wears its Tom Petty influences on its sleeve, bringing summer a few months early to us by one of the most feelgood songs I've heard for quite some time. A soothing vocal is backed by mellow guitar work and a lilting piano. 'Sweet Lies' gives a brief tug at the heart strings by some bitter/sweet lyrics. The guitar licks in 'Give It Good' bite at your ankles in this melodic rocker and it's fired up midway by scorching lead breaks.
Snappy snares and keyboards back the hefty riff for 'Sleeping' that strangely reminded me of 'Victim Of Illusion' by MSG. Sorry Hoss! A stoner rock vibe runs through the veins of 'Sorcery' as the fuzzed up riffs, heavy bass lines and stabbing keys hit hard over a leering vocal. Surprisingly enough its taken this long in the album for the first country and western tinged song and 'Be There In The Morning' is worth waiting for. A sugar sweet vocal and gentle piano add a foil to a Duane Eddy like twang. Sultry soul rhythms soothe the soul in 'I'd Do Anything', three minutes of hypnotic relaxation. Pull up your britches and head off to the brass fueled sleazy hoedown to rejoice to 'Mint Jelly', the second single release. If 'Rebel' was any more laid back it would be horizontal as jaunty riffing and bursts of brass make it a catchy toe tapper.
'Steel Horse' is a rollicking romp of Southern rock as the guitars chime out crystal clear throughout. 'Keep Calm And Carry On' is a bluesy bluster with very thought provoking lyrics. Razor's Edge' brings back the power as mighty dynamics drive it along on a wave of fretboard burning guitar. The jams are well and truly kicked out to the full in 'Break It Down Slowly', a no holds barred barnstormer.
So we come to the final track 'Only A Soldier' and time stood still for its seven minute perfection. I first heard this at a gig in Wakefield a few years ago and I was transfixed by the affect it had on me to the point of collaring Hoss after the set to ask how he structured the guitar solo. So I approached the track with trepidation here to see if it worked well in the studio but my fears subsided as my memories of it came flooding back as the brief acoustic intro headed off into an emotional rollercoaster of a song. Tears welled up in my eyes as the heartbreaking lyrics are delivered by Hoss with total conviction and the guitar solo that followed will melt your ears. It's sheer bliss as it builds up to a crescendo of notes and ended on a whisper. A stunning end to a stunning album!
Thirteen Stars band line up :- 
Hoss Thompson – Guitar/vocals.
Jax Sedgwick – Guitar.
Mike Reid – Bass guitar.
Andy Bates – Drums.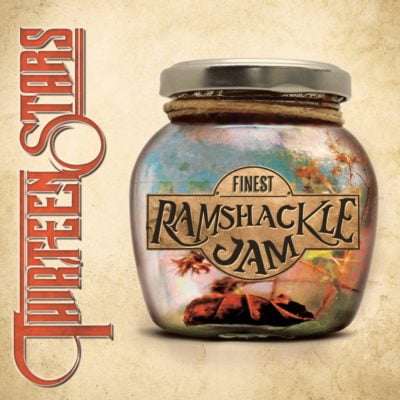 Album track listing : –
I'm Ready.
Running So Long.
Sweet Lies.
Give It Good.
Sleeping.
Sorcery.
Be There In The Morning.
I'd Do Anything.
Mint Jelly.
Rebel.
Steel Horse.
Keep Calm And Carry On.
Razor's Edge.
Break It Down Slowly.
Only A Soldier.
Thirteen Stars could light up the night sky with these fifteen songs.