British stalwarts Saxon bring their Seize the Day (Carpe Diem) Tour to the Barbican York, along with special guests Diamond Head and support from Untamed Silence
Whitby progressive rockers Untamed Silence open the evening. Formed in 2019, the quintet fronted by Debbie Wade deliver a twenty-minute set of rocking riff songs with a progressive edge. Long Time Dead is their latest single. Wade, gains the crowd's response and entices them to a clap-a-long. Closing with the atmospheric romper The Power. Untamed Silence is a great band that I'm sure has made some new fans this evening.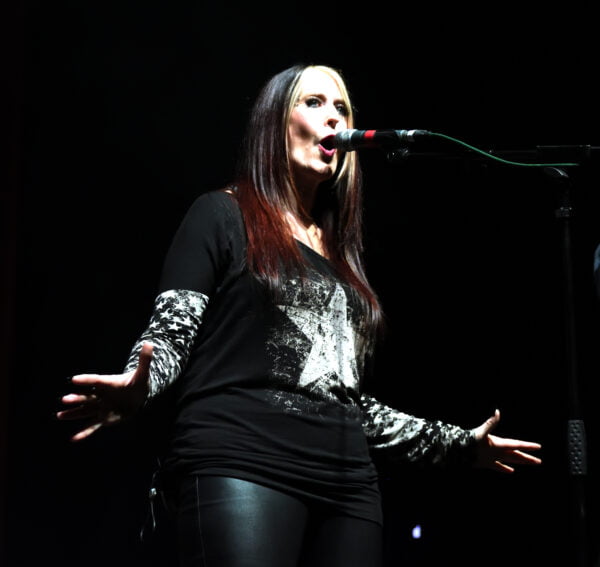 Untamed Silcene is Debbie Wade – Vocals, Ryan Wayne Smith – Drums, Nigel W Bennion – Bass/Keys, and David Jones – Guitars.
https://www.untamedsilence.com/music – https://www.facebook.com/UntamedSilence
Diamond Head
All hail British heavy metal legends Diamond Head. As the crowd awaits with horns ready to be conjured as singer Rasmus Bon Andersen works his magic during their seven-song-forty-minute set.
Founder member Brian Tatler proudly sports his infamous Flying-V guitar as Diamond Head launched into The Prince, a classic you can find on their newly released Lightning To The Nations (WhiteAlbum remastered 2021). Tatler and Abbz provide the riff-tastic rhythm and Wilcox the pounding drum beat as singer Rasmus waits in the wings before pouncing on the stage and hitting the opening lines.
Having just completed a mega 17-date European tour as special guest on Saxon's 'Seize the Day Tour' in October. Tonight is Diamond Head's 12th UK show, supporting the mighty Saxon.
Showing no signs of stopping and going hell for leather on Bones a brand new release for Diamond Head back in 2016 off their self-titled album and the first to feature singer Rasmus Bon Andersen. Anderson is like a Red Kangaroo, looking for pieces of equipment to leap from, which he does with success over the side of drummer Wilcox, who doesn't miss a beat!
The Diamond Head army is in full support as they savour up Helpless. Tatler takes the riffing solo to the max on Belly of The Beast with its menacing rumble. Ramus' shrilling vocals match the fury of the song and the crowd loves it.
Ta-ta-ta-da-da-da-da…Like a prowler with its slow, rhythmic drumbeat, the heavy bass lines dig in as riff master Brian Tatler licks it all into shape, with what has to be one of the best-ever solo riffs introducing a song! Yes…. you've guessed it Am I evil? It's like release day for the fans as horns are raised and a mosh pit ensues down the front!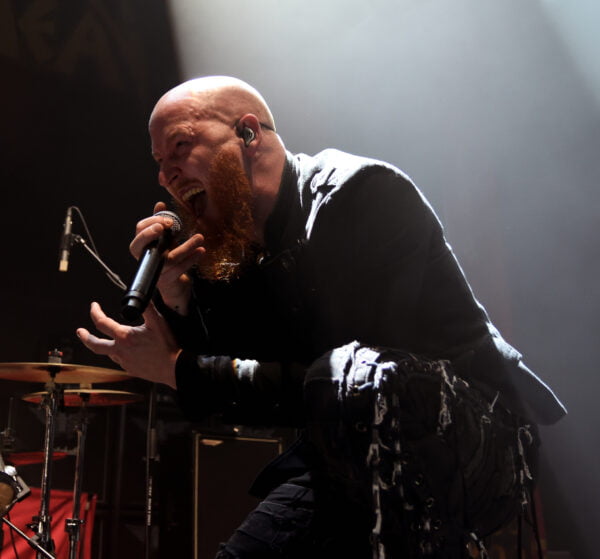 Diamond Head Setlist: The Prince – Bones – Dead Reckoning – In The Heat of the Night – Helpless – Belly of the Beast – Am I Evil?
Rasmus Bom Andersen – Lead Vocals.
Brian Tatler – Lead Guitar/Rhythm Guitar.
Karl Wilcox – Drums.
Andrew 'ABBZ' Abberley-Rhythm Guitar/Lead Guitar
More Photos here https://flic.kr/s/aHBqjAgV6q
Diamond Head band links: https://www.facebook.com/DiamondHeadOfficial – http://diamondheadofficial.com – https://www.instagram.com/diamond_head_official/ – https://twitter.com/DH_Diamond_Head – https://www.youtube.com/channel/UCwL_QWQ3ILpZlwaEJHsjP9A 
SAXON
Crusaders of metal, Saxon were forged in Barnsley in 1977 and gained their success in the early '80s with their album Wheels of Steel' achieving two hit singles with the title track and 747 (Strangers in the Night). Described as NWOBHM (New Wave of British Heavy Metal) Saxon didn't quite reach the same levels of success as other bands around at the same time. Still, like any great rock band, Saxon remains magnanimous, having proved their longevity by delivering the goods to their loyal fanbase and gaining new ones through the years.
They have released 24 studio albums with Carpe Diem being their latest in February 2022. Saxon had just completed a 17-date tour of Europe in October and tonight they are almost through the 14-date 'Seize The Day' tour of the UK.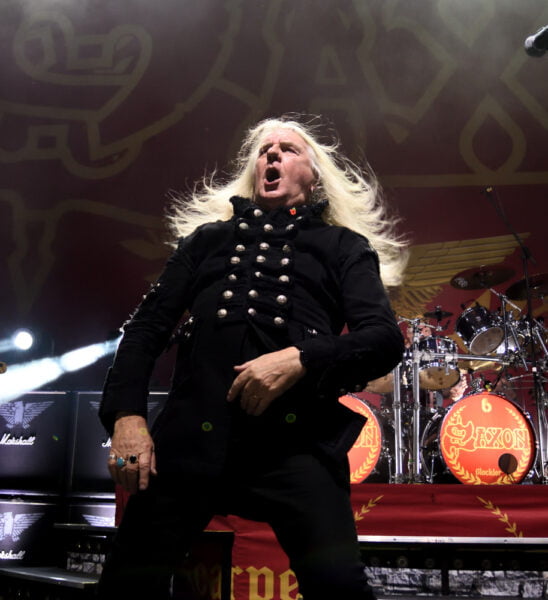 With a hefty back catalogue, Saxon is wise to the fan favourites, as they open up with Motorcycle Man, the power riffing chords, go full throttle on this 1980 classic. A spotlight illuminates the dark stage, first highlighting guitarist Doug Scarratt as singer Biff Byford joins him followed by the rest of the band. Biff proves he's no old banger as he gets down to some proper headbanging whilst Tim "Nibbs" Carter adds the beefy bass and Paul Quinn the power hooks.
The title track Carpe Diem brings the set up to date. Saxon plays six choice tracks off their new album including new latest single Black Is The Night, performed with military precision, the riffing power marcher booms out at Motörhead volume.
The stage is set up, in a theatrical style with red banners on either side with the words 'Carpe Diem' written in gold and a red backdrop looms across the stage with the word Saxon. You could say it has a bit of a circus effect, as three sets of steps lead to a podium in front of the drummer, Nigel Glockler. Ring-master Biff uses it to affect, with his hands in front of his forehead, he pans his audience and says 'I want to take a better look at you.
Biff tells his audience that the band makes the music, but, you the fans make the band. Leading nicely into the And Bands Played On.
Playing an impressive 20 songs and dipping into nine albums. There's a good mix of old and new songs from Sacrifice to Never Surrender to the emphatic Dallas 1 PM and the boisterous Heavy Metal Thunder as Biff growls away the chorus.
Byford had the crowd in anticipation asking them to cheer loudest for the next song they would like to hear The Eagle Has Landed won out over Broken Heroes with a majority applause. I've seen them do this on previous tours and it's a good audience move that has been working for the past ten years or more.
Having played on, for almost an hour. Biff stands teapot style as he receives a bout of 'Yorkshire' chants as he cajoles his audience saying he wants to 'feel ya power, glory' as Saxon close with an extended version of the renowned Wheels of Steel, not before Biff whips out his phone and entices his fans to go ' fucking crazy' as he goes live on social media.
Encore
Taking a short crusade, Saxon returns with The Pilgrimage. You certainly can't ignore that Saxon is Yorkshire's strong arm of heavy metal, as they delve deep into the 80s for a nostalgic ride on 747 (Strangers In The Night).
Biff tells us his setlist says 'Encore' but he's staying as the popular Denim and Leather prompts a full-on band huddled mosh, playing on his own lyrics, singing it was F**ing Yorkshire that set the spirit free. Up on his podium, he asks 'do you crazy people want some more?' The firework smoke machines blast into life as Princess of the Night journeys to its final destination, the end of the show.
You can be sure Saxon and their fans were equally fulfilled by this evening's performance as the Romans said 'Veni, Vidi, Vici'- they came, they saw, and they conquered, Carpe Diem!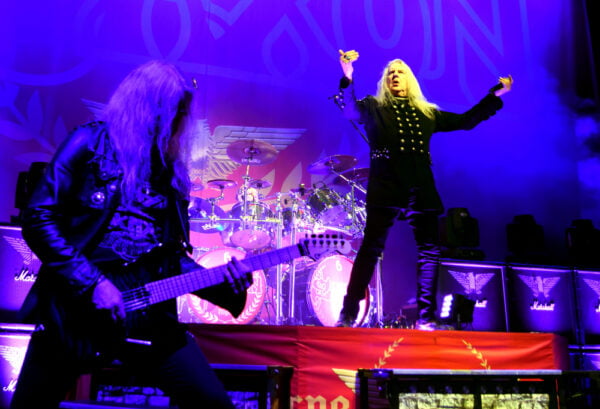 SAXON
BIFF BYFORD – Vocals
PAUL QUINN – Guitar
NIGEL GLOCKLER – Drums
DOUG SCARRATT – Guitar
NIBBS CARTER – Bass
Follow Saxon on:
www.facebook.com/SaxonOfficial/
www.instagram.com/saxon.official
www.twitter.com/SaxonOfficial
www.youtube.com/PlanetSaxon
www.saxon747.com
More photos here – https://flic.kr/s/aHBqjAgSBt
Words and photo's by Alex English
Saxon Setlist –
Motorcycle Man +
Carpe Diem (Seize the Day) *
Sacrifice $
Age of Steam *
Never Surrender **
Dambusters *
The Thin Red Line =
Living on the Limit *
Dallas 1 PM –
Heavy Metal Thunder –
Metalhead ==
The Eagle Has Landed @Info[Audience choice over Broken Heroes] ++
Black Is the Night *
And the Bands Played On **
Wheels of Steel +
Encore
The Pilgrimage *
Strong Arm of the Law / Solid Ball of Rock –
747 (Strangers in the Night) +
Denim and Leather **
Princess of the Night **
Albums: * Carpe Diem/ + Wheels of Steel/ – Strong Arm of The Law/ ** Denium & Leather/ ++ The Power & Glory/ $ Sacrifice/ = Unleash The Beast/ ==Metal Head