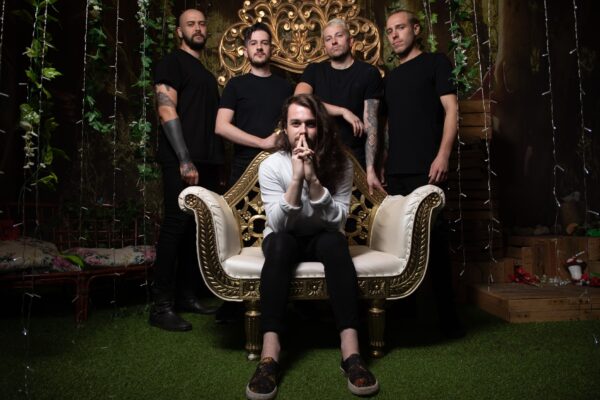 Something wicked this way comes now courtesy of 'Descendant', the recently released five track EP from A Titan, A Deity. It follows the single 'Revelations', also on the EP.
Opening monolithic track 'Io' is power with precision personified as a majestic intro heralds body blow strength jabbing riffs that impress highly until clean and barked vocals weave around lightning speed guitar wizardry as it stutters to a close on a seismic grind.
'Revelations' is an aftershock of relentless riffing that locks in behind cataclysmic kick drum brutality as a brief respite comes from an almost angelic vocal, followed by schizophrenic passages that are truly mind and ear boggling from dynamic pounding!
'Bleak' surely is as it kicks and screams, destroying anything in its path mercilessly with the tenacity of early Godflesh. It steamrollers along on suffocating rhythms and twin vocals are a revelation!
If the apocalypse could be put into music then 'Heirloom' will have you running to the hills as this surefire ballistic ballbreaker is your three minute warning, courtesy of molten metal shimmering guitar lines and stratospheric vocals.
Final track 'Oxygen' is one last aural assault that batters and bruises from hypnotic rhythms at their breathtaking best. Vocals are ghoulishly guttural as it ends on devillish death metal rage.
Band links are here :- https://www.facebook.com/ATitanADeity I https://distrokid.com/hyperfollow/atitanadeity/descendant-2 I http://open.spotify.com/artist/2N20piR1BCIp3rtxWwhJ5U?si=vlR_fbk4S0ycELN11PsxGQ Ihttps://atitanadeity.bigcartel.com/product/descendant-ep I https://www.youtube.com/watch?v=mHHLJhO4REg I https://www.instagram.com/atitan_adeity/ I https://twitter.com/atitanadeity
Descendant EP track listing :-
Io.
Revelations.
Bleak.
Heirloom.
Oxygen.
A Titan, A Deity band line up :-
Luke Whyles – Vocals.
Ben Pinkus – Lead Guitar/Vocals.
Ashley Cooke – Guitar.
Mitchell Gibbons – Bass Guitar.
Alex Harthill – Drums.
Grindcore and tech metal lock horns for 'Descendant', new five track EP from A Titan, A Deity.