Saltwater Injection Press-release: Originally formed to create the soundtrack for a film that was never released.  After years of legal wrangling, the band will finally be able to release that soundtrack. The film, which cannot be named due to legal reasons, was banned before it even reached the screens. However now the first wave of that soundtrack will finally become available. Re-recorded and released under the title 'You Don't Know Nothing About '.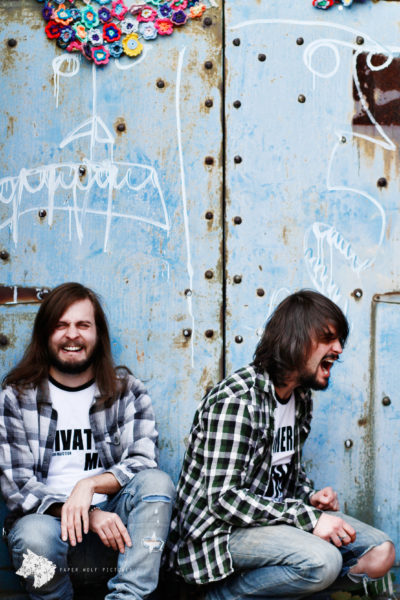 I first came across these guys when they supported The Soap Girls at Chester Live Rooms recently. You can read my review of that gig HERE. What I witnessed from this duo was a wall of anger and noise, so I jumped at the chance of reviewing this album.  Even though there are ten songs here, only five are performed as songs, the other five being basically noise and weird stuff, possibly excerpts from the film mentioned above. 'Split Head ' starts off normally, and then transforms into a wild frenzy. There's no script, no pattern, you just have to take is as you will.
'GOB ' can be described as a 'pop track-cum-thrash attack'. For the normal listener it has no meaning, but it's obvious there is something underlying within the lyrics here that mean more to the band than what they ever will to the listener. And for that reason, these guys keep you interested. 'What Would GG Do ' pours manic intensity into a one minute bowl, stirs it up, and throws it all over the floor.
The fascination of being gripped whilst watching Saltwater Injection live is easily transformed within this album, demonstrated by 'Ernie Mate '. There is no formula, no pattern, no warning. Saltwater Injection play what they want, when they want, and how they want.
'Sciatic Reform ' brings us some sort of normality for the first time in this album. The pace is slower and more constructed, and it's a really good demonstration as to how both these lads can play their instruments. The album ends with the beautifully titled 'Bitch. Eat. Shit. '. A strange wall of meaningless noise leaving us with more questions about this band than answers. That's what these guys do. They'll dive into your head, rip your brain out and stamp on it. Lovely.
Track-list:
1 – You Don't Know Nothing About (Intro)   2 – Split Head   3 – GOB   4 – I Hate You MF's   5 – What Would GG Do
   6 – Fideling   7 – Ernie Mate   8 – God, Go Away!   9 – Sciatic Reform   10 – Bitch. Eat. Shit
Line-Up:
Paul Joseph Soames & Joseph Paul Nuttall
Links:
Release date: 01/07/19 Running length: 17mins 47secs. Manic noise and lyrics with a deeper meaning. Clever.