Next Year are a 4 piece pop punk unit from Loughborough and were formed in late 2017. Similar in vein to the likes of Sum 41, Good Charlotte and Blink 182 etc, they have enough in their music to make their own identity stand out to the forefront.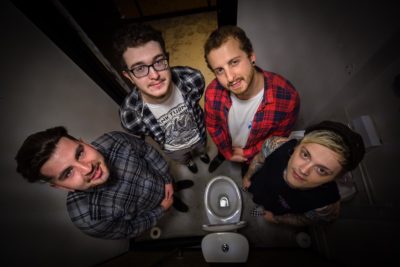 'Waterfalls ' is the band's second release after their 'Resolutions ' EP and it has huge potential. Opener 'Aliens & Pyramids ' is a relaxed affair with just enough punch in the chorus to get the feet tapping and fists punching. James Brown's vocal range hitting the right notes but still showing that strain of immaturity. It mixes well.
The band's new single 'Ben Wilson ' is next, and this forces itself more towards the Good Charlotte vibe with its speed and stop-start bridges. Another catchy track filled with an uplifting chorus. Nicely done. 'Back To You ' sucks you back to the 1990's to early Placebo. In fact you could close your eyes and believe that this is Placebo. This is a great track as the chorus is filled with such passion and atmosphere with a great build up. It's slower, but that's makes it what it is.
The album turns back to speed and proper pop punk with 'Remember Me '. I must point out Alex Hurd's drumming on this track. Tip top tub thumping, that's all I can say. Again, this track is filled with formulas we've heard before but Next Year have something different, and I think the production also plays a big part in separating these guys from an ordinary pop punk band.
'Marquette ' and 'Dopamine ' close this brilliant EP. 'Marquette ' is a speedy track from start to finish, sadly one of the weaker tracks on offer here, but it still has plenty to grip the ear throughout. 'Dopamine ' however, gives us some classic Sum 41 retro licks to enjoy as the EP draws to a close.
Four lads from Loughborough, coming right at ya.
Track-List:
1 – Aliens & Pyramids   2 – Ben Wilson   3 – Back To You   4 – Remember Me   5 – Marquette   6 – Dopamine
Line-up:
James Brown – Guitar/Vocals   /   George Fall – Guitar/Vocals   /   Jake Gutteridge – Bass   /   Alex Hurd – Drums
Links:
Release date: 30/08/19. Running length: 23mins 21secs. A stand-out EP from a band with great potential.