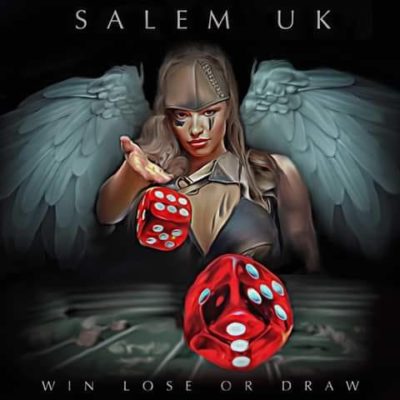 NWOBHM stalwarts Salem UK return to the studio to hedge their bets with their latest studio album Win Lose Or Draw. Released via Dissonance Productions, their brand of hard rock is of a very high standard as opening track 'The Wraith' crackles with energy throughout. Bullying riffs are the perfect foil for the unmistakable rasp of Simon Saxby. 'Betrayed' has a scything main riff that befits the anger in the lyrics, bolstered by huge choruses and an over the top guitar solo from Francis Gill. 'Blind', a beautiful ballad is utterly captivating as a vocal tour de force dominates sparse guitar lines and laid back drums and bass guitar from Dave Megginson and Adrian Jenkinson (who produced the album). The title track is a bass heavy bludgeon of quality hard rock with band backing vocals and guitar histrionics.
I got a lot of Night Ranger influences during the song structures of 'Souls Of Evermore'. Arena rock at its finest. 'Circumstances Change' is a smouldering ballad of bluesy guitar lines and a heart worn on the sleeve vocal. 'Sentinel' is a full on headbanger that does exactly what it says on the tin! Simon delivers with manic glee on 'Victorious' another heavy number. Earworm melodies flow through 'Censored', backed by catchy, upbeat riffs as they close the album on a high with 'Queen Serene', a power ballad with a vocal that soars to the heavens and steals the spotlight whilst doing so.
Win Lose Or Draw album track list :-
The Wraith.
Betrayed.
Blind.
Win Lose Or Draw.
Souls Of Evermore.
Circumstances Change.
Sentinel.
Victorious.
Censored.
Queen Serene.
The roll of the dice for Salem UK sees them break the bank with these ten jackpot winning songs.