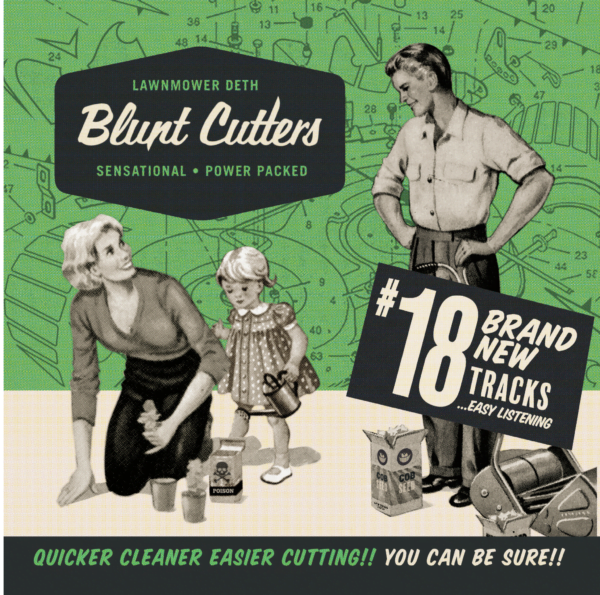 Formed or spewed up in Ravenshead, Nottinghamshire in 1987, not quite right in the head thrash metal band Lawnmower Deth seem to have caught the eyes and ears of Classic Rock mag and Metal Hammer with some well earned praise so I'll do the same by reviewing their thrashterpiece new album Blunt Cutters on January 28th 2022 via Cherry Red Records and Dissonance Productions.
I've seen them many times over the years so knew what to expect but have been proven wrong by couple of curveballs and it's well worth the twenty eight year wait since the 'Billy' album.
They waste no time as opening track of twelve 'Into The Pit' tells of the advancing ages of older fans (myself included) to do what the title says. Ridiculously fast drum overload drives this turbocharger along faster than all the Fast And Furious films conjoined. Riffs hack and slash at your ears to show no mercy with lyrics of "Deth pit, lose your shit. Slip your disc, pain kill death".
Blast beats live up to their promise for headphone rattling thunder throughout 'I Dont Want To'. Punk and metal mesh into one for some safety pin snotty nosed Oi.
Lunacy prevails in 'Botheration' as a gnarly bass guitar intro precedes a football terrace like vocal belligerance over scything riffs and gems of "What you say, we don't care, Felicity Kendal's underwear".
Why can't all TV ads be like this and just as ludicrous for the twenty five second rant of 'Swarfega'? It's a short, sharp assault to the senses of "It stinks, it's green, it gets you really clean, Swarfega!"
Grab a beer, chug it and roar along to 'Bastard Squad' until your hoarse for this surefire pit opening piledriver.
'Now He's A Priest' strangely sounds like Judas Priest at their chuggiest with some of the most hilarious lyrics I've heard by the Deth. "Denounced by the Vatican, off you fuck, got another thing coming if you're down on your luck".
A seemingly tongue in cheek pop at the We Buy Any Car.Com ad titled 'Good Morning Phil' gets you to headbang till your head drops off over lyrics of "Good morning Phil, I'm very very cross, I want to sell my car and now I'm at a loss".
'Bobblehead' is a laugh out loud two minutes of straitjacket wearing lunacy as they champion car decorations! Buzzsaw riffs complete with a helium sniffed rant of "I want one for my car and we'll travel near and far. And I'd put him next to Elvis who is shaking from the pelvis".
'Raise Your Snails', the first single taken from Blunt Cutters is intense midpaced thrash and blast beat bursts are the sonorous soundtrack for a snail invasion of "Raise Your Snails, horns and shells, hail, hail, hail".
Following the creepy spoken word intro to 'Deth! Maim! Kill!' they go for the jugular with lightspeed thrash of the highest order with a statement of intent opening vocal of "Start it up, thrash it up, Deth! Maim! Kill!". So when you've finished listening to the album, get those lawnmowers out!.
'Christ Options' is twenty four bible bashing seconds of staccato drums, psychotic vocals and a tasty bit of guitar feedback.
'Hells Teeth' sounds like a weird tribute to Ken Dodd. Another bruising bass intro precedes a rampaging array of mindblowing riffing and manic vocals that make you wonder how many brain cells were lost in the studio.
The album title track 'Blunt Cutters' musically sounds like a seismic take on 'The Beautiful People'. The lyrics are nothing to do with gardening, point proven by the closing verse of "I'm pushing out, I scream and shout. Please help me God, I need to snap my chocolate log".
'Space Herpes' is another short ranted thrasher with riffs as catchy as the song subject as it ends on "Give me an S, give me a T, give me an STD".
They channel their inner Motorhead with bass brutality in 'Nothing But Noise' with an impressive Lemmy like vocal and for good measure, a rare guitar solo.
The most ridiculous minute comes from 'Goodnight Bob' but in a good way of course. The intro and outro are of the sea lapping on the shore backed by an auctioneer speed rant.
The most raging song comes from 'Power Bagging' mainly from the lengthy tirade of the main riff that speeds up towards the truthful lyrics of the pros and cons of shopping at Aldi.
This magnum opus ends with 'Agency Of C.O.B' with a completely different vibe from the rest of the album as it provides a possible chilling look to the future for the end of mankind when the Earth is ruled by robots. It's mainly spoken word to add to the intensity whipped up by grinding riffs, swirling keyboards and orchestral strings.
Pre-order album links and band info are here :-https://www.cherryred.co.uk/product/lawnmower-deth-blunt-cutters-cd-edition/ I https://www.cherryred.co.uk/artist/lawnmower-deth/?fbclid I https://cherryred.co/RaiseYourSnailsLDeth?fbclid I https://www.facebook.com/lawnmowerdethofficial/about I https://amazon.co.uk/Blunt-Cutters-Lawnmower-Deth/dp/B09JDV84WF/?tag=plane09-21
Lawnmower Deth band line up :-
Chris Billam – Drums.
Pete Lee – Vocals.
Steve Nesfield – Guitar.
Chris Parkes – Bass Guitar.
Paddy O'Malley – Guitar.
Kevin Papworth – Additional Guitars.
Blunt Cutters album track listing :-
Into The Pit.
I Don't Want To'.
Botheration.
Swarfega.
Bastard Squad.
Now He's A Priest.
Good Morning Phil.
Bobblehead.
Raise Your Snails.
Death! Maim! Kill!
Christ Options.
Hell's Teeth.
Blunt Cutters.
Space Herpes.
Nothing But Noise.
Goodnight Bob.
Power Bagging.
Agency Of C.O.B
The class clowns Lawnmower Deth return with more double entendres than Finbarr Saunders on new album Blunt Cutters.