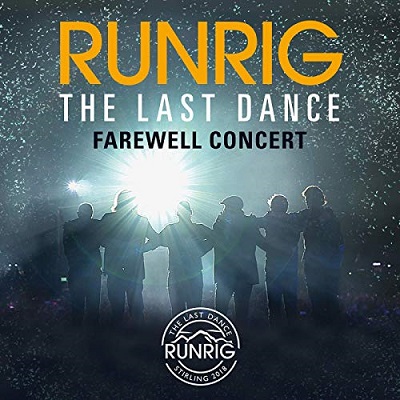 Runrig celebrated their 45th anniversary in 2018. Their long career saw them release 14 studio albums and several live albums over a 40 year period. Now though it's drawing to a close. The band played their final shows in August 2018 and the live album that was recorded at those shows in Sterling is about to be released.
Runrig have always had a distinctive sound with their music really having a strong Celtic folk music influence, so you have a really nice blend of Rock and Folk – it's a distinctly Scottish/Gaelic sound. After such a long career the Scottish music scene is sure to feel the loss of Runrig acutely.
The live album is impressive – it's not a single CD or even a double album – this is a 3 CD live album with 31 tracks. It's nicely packaged in a gatefold style package and the booklet contains some great photos from the shows.
The sound quality is superb – some of the best live sound I've heard. Since they filmed the shows with over 30 cameras then I'd expect the DVD to be equally impressive visually.
The concert itself sounds fantastic. There are a couple of standout songs for me – "Somewhere" featuring beautiful vocals from Julie Fowlis, and the fantastic rendition of "Loch Lomond" with the crowd singing along.
If you're going to bow out, do it with a bang – and that's what Runrig have done. This 3CD live album is a fantastic way to say goodbye at the end of a 45 year career. A fantastic album that Runrig fans need to add to their collections.
"The last dance – farewell concert" will be released on 16th August 2019
Track listing:
Disc 1
1. Intro (Recovery/The Brolum)
2. The Years We Shared
3. Protect and Survive
4. Rocket to the Moon
5. Proterra
6. The Ship
7. Canada
8. The Greatest Flame
9. The Stamping Ground
10. Cnoc Na Feille
11. Onar
Disc 2
1. Year of the Flood
2. The Place Where the Rivers Run
3. What Time
4. In Search of Angels
5. Going Home
6. Cearcal A' Chuain (Feat. Donnie Munro and Glasgow Isley Gaelic Choir)
7. The Story
8. Maymorning
9. Alba
10. Clash of the Ash
11. Skye
Disc 3
1. Every River
2. On the Edge
3. Somewhere (Feat. Julie Fowlis)
4. Book of Golden Stories
5. Pride of the Summer
6. An Toll Dubh
7. The Drum Section
8. Loch Lomond
9. Hearts of Olden Glory
A fantastic album that Runrig fans need to add to their collections.