Northampton extreme metal group Krysthla, release this their third album, and the follow up to 2017's critically acclaimed 'Peace in Our Time'  album. Having not heard any previous material from these guys, I'm reviewing this album with new ears.
Album opener 'Negative '  is right up my street. If you like your metal angry, full of technical riffs with a dropped down doom element to it, then this is the band for you. There's elements of Metallica hidden within certain parts of this song, so obviously a major influence on this band. 'Reawaken '  is the sister song to 'Negative '  lyric-wise, as the band explore the struggle with self doubt and paranoia to the point of self harm. 'Reawaken '  is more of the same as the album opener music-wise too, but has a more melodic chorus to it. The dropped down minor riffs are stunning here and form the basis of a brilliant base riff for this track.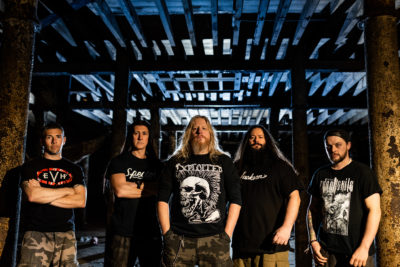 'Grief Is New Love'  provides us with a pulsating seven minutes of torturous speed and venom. Very Opeth if you ask me. This song is completed by a cracking instrumental mid section which bring the atmosphere of the track to the fore in a big way. The album's only single so far, 'Zero Sum Game',  is another pulsating affair. It does a good job of switching from verse to chorus. 'White Castles'  is another track that doesn't hold back. Oozing atmosphere, the track is stitched together perfectly by the different sections of speed and intensity, and is by far my favourite track on the album. To be fair drummer Liam Turland controls the whole of this song quite uniquely.
'Psalm Of Heartlessness'  is a lesson in how to keep you're band nice and tight. Krysthla have this in abundance. 'Aurea Mediocritas'  is a slower affair, but equally as aggressive as it predecessors, which leads us to album closer 'The Gift'.  The opening riff reminds me of Holy Terror, and the mid section here treats us to a fantastic dual guitar harmonising piece which sends the track skyward in another direction. Brilliant stuff, and a cracking end to an album that should be heard by all who enjoy this genre.
Track List:
1 – Negative   2 – Reawaken   3 – Grief Is New Love   4 – Zero Sum Game   5 – White Castles
6 – Psalm Of Heartlessness   7 – Aurea Mediocritas   8 – The Gift
Line-up:
Adi Mayes – Vocals   /   Neil Hudson – Guitars   /   Noel Davis – Guitars
Carl Davis – Bass   /   Liam Turland – Drums
Links:
Release date: 16/08/19 Length: 42mins 49secs. Brilliant album of speed and precise technical ability.