RadaR – day 1
I've been looking forward to this for, well, 12 months, ever since the last notes of RadaR 2022 echoed out from the PA. And those notes were from Dirty Loops and marked their first gig in the U.K..
Intriguingly this years festival is opened by Shattered Skies and is their last ever gig, anywhere. Their music has been a part of my life for the last 8 years, I can even recall the first time I heard The World We Used To Know and was instantly blown away. Even so, I had never seen them play… until today. Well, I say "see", I managed to see the tops of a few heads, this doesn't bode well as they are playing the shed stage, or second stage or whatever it is called. Regardless, they opened with The End And The Rebirth and I was in heaven, this is what it's all about – truly epic prog metal. My notes were a bit thin as I am completely absorbed but I am sure the last song they played is Arisen. As the last note dies I am filled with sadness. I can't get too maudlin though, there are a lot bands to see this weekend.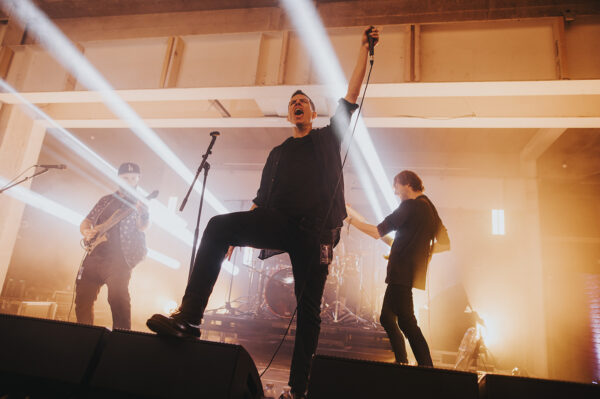 Over on the main stage Playgrounded have just started. Another band that impresses me deeply, I caught them for the first time when they toured with The Ocean Collective last year and I was instantly hooked. Todays performance just confirms my love of this band, there are lots of deep synths wrapped around a post-rock base. The Death Of Death sounds incredible and their last song has some truly dirty, filthy bass lines.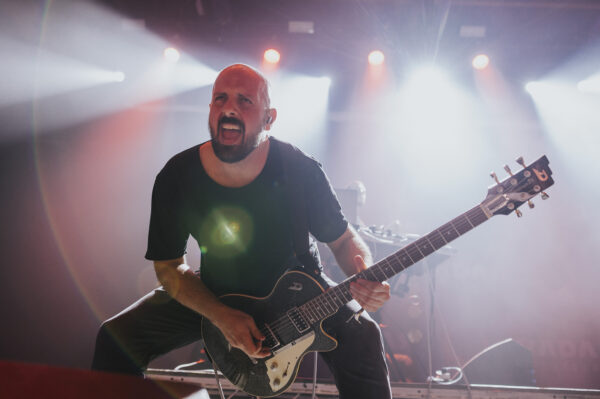 Local lads Forager are no stranger to RadaR having finished off one room last year. They seem to have matured, kinda. Their punky metal now seems more structured but still as anarchic, the song Converse is evidence of this and is insanely good. Not sure if their singer vacates the stage and jumps into any bins or not 'cos I can see bugger all! But it's killer stuff and they even do a song about a bus route – 192!
Checkout this recent video from Forager – The Worst Minute Of My Life: https://www.youtube.com/watch?v=UqPrE1rTl_8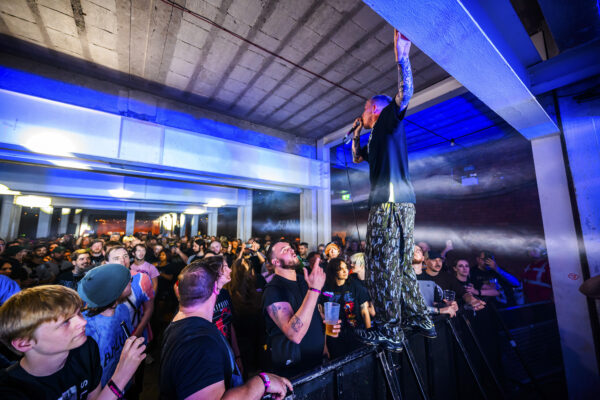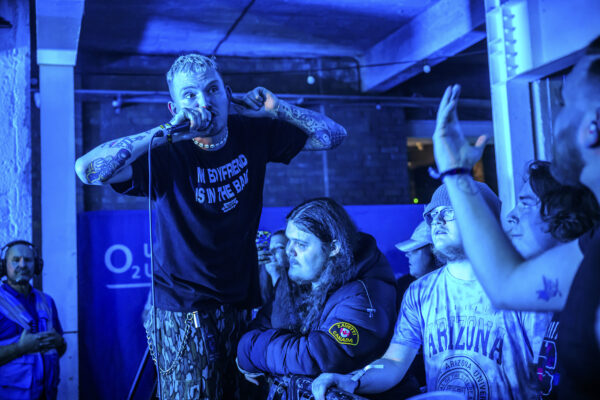 The first time I saw Forager was opening for Exploring Birdsong who are on next, the contrast was as huge then as it is now. This is outright piano driven Prog of the very highest order. Having released their latest album earlier this year (actually two EP's conjoined) once again they do not disappoint. Their music is both beautiful and ethereal and I am lost in it once more, The Downpour being the absolute highlight although everything they played was outstanding with some incredible musicianship… and no guitars!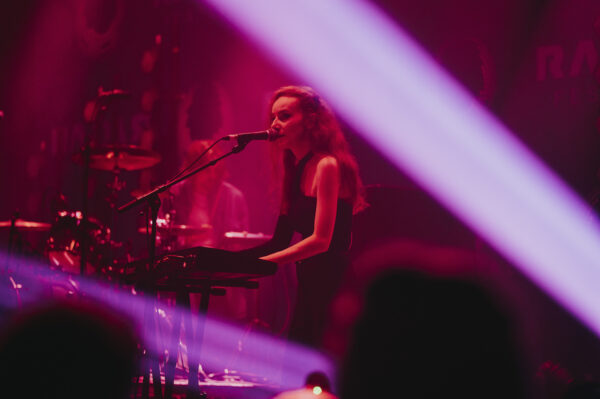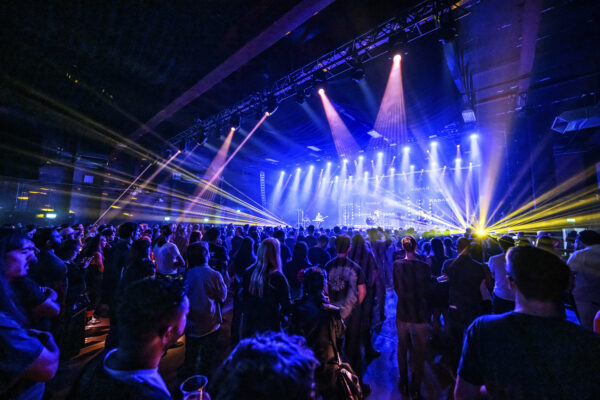 The Five Hundred change the tone again with a serious dollop of metal with some proggy and Djenty riffage thrown in. They are going down incredibly well too, it's a brutal assault but I saw them last year so I went for a wander.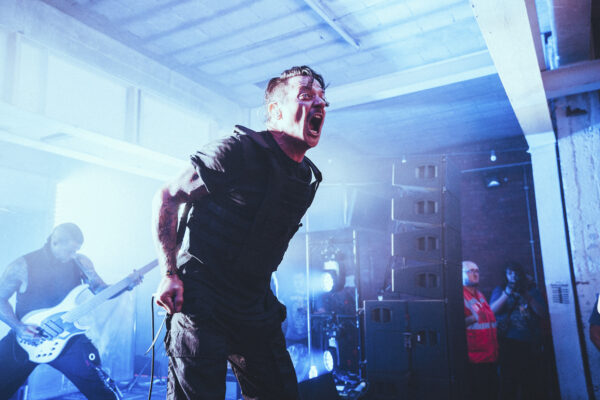 Upstairs there is a chill out area and a market place with numerous vendors selling guitars, more guitars, keyboards, stuff for a home studio and all sorts of other stuff. Bolton based Scan, who are a big sponsor, had a screamo booth to see who could scream the loudest (I regret not having a go), not sure what the prize was, a years supply of Vocalzone perhaps. Back downstairs there is also quite a large gaming area which seems very popular and you have to pass it every time you go from room to room. I've got to admit I am quite impressed by what they have set up here.
When the lightest part of the stage in the main room is the illuminated A. sign at the back you know you are in for a gothy treat. The dark and foreboding music from A.A. Williams sets forth a slow groove. It's menacing and gripping as they take their time delivering. Mix and feedback problems aside, and the incessant chatter, I was moved once more by this beautiful performance, especially Melt which gives me goosebumps every single time I hear it played live.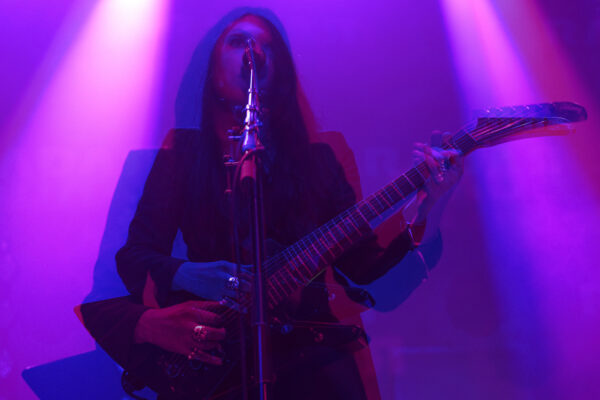 Bringing a synth pop element to the day are Floya and they are hugely enjoyable except I can't see them and they are ridiculously loud yet still sounding ever so clear and I am thoroughly enjoying their set with lots of bouncy synth grooves. I enjoyed them so much I went to buy some music but the queue was ridiculous and stretched way beyond the bendy barriers (I did go back later but there was nothing).
I've got to admit that I am not too impressed with the side room; I am 185cm tall (6ft 1" for you Brexiteers) and can't see anything so unless I am in early and near the front I don't get much of a view. I feel really sorry for those who are smaller than me like my mate Dan who is, err, tiny.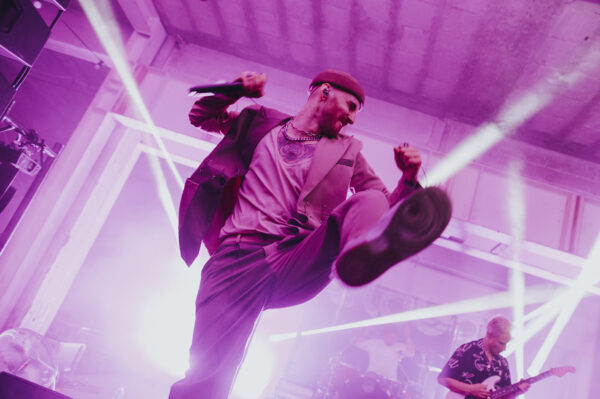 Sounding like Animals As Leaders on acid, Unprocessed hit the main room with everything they've got and they were utterly brilliant. Gravelly vocals intertwined with nimble guitar and bass playing grabbed everyone watching and by the end of their set the room was rammed.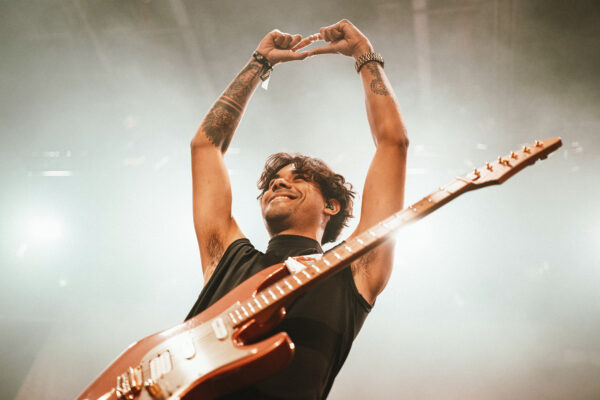 Shamefully I was unaware of the existence of Owane & Jack Gardiner (some friends later, and quite rightly, chastised me for this), but by the end of their set I was hooked. Allan Houldsworth guitar runs in a stunning jazzy soundscape drew me in with some phat and funky riffs. Couldn't see them but they sounded obscenely good!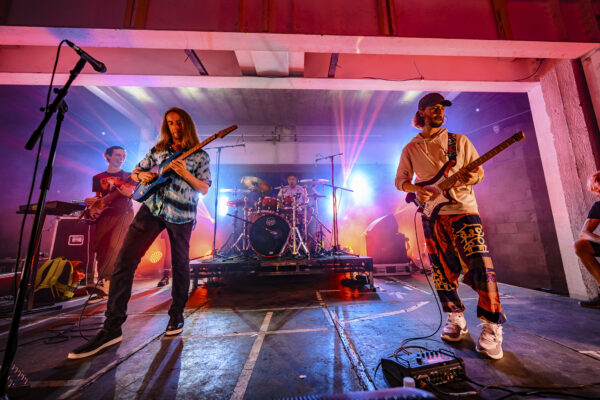 God Is An Astronaut or food? I chose food as I had seen GIAA before and am going to see them in October. However, the queue for the one food outlet is ridiculous, it moves 3 metres in 20 mins so I opted for off-site food. When I return the queue is twice as long, not good. All of this faff meant I missed Aviana too. However… the festival organisers realised this was a problem and they rectified it the following day and the queues were no more than 10 minutes – so thumbs up to the organisers. And the food is excellent too!
Haken are next up for me and musically they are on point. With green floral shirts and a backdrop to match the album cover this is full on coordination. Sadly Ross Jennings voice is struggling at times, sounding distinctly flat but only when he tries to hit higher notes. The Cockroach King always reminds me of Gentle Giant and the band plough through lots of djenty riffs all through their set.
The lyric "one last chance for us to live" takes on a new twist as it is announced on the news today that the planet is heating up faster than ever with the UK drenched and the rest of Europe burning. Not the best performance I've seen them play but still several notches up from last years RadaR Festival.
But my big question remains: where is Charlie Griffiths Devonian friend Timmy Taalik? Will we ever get an answer?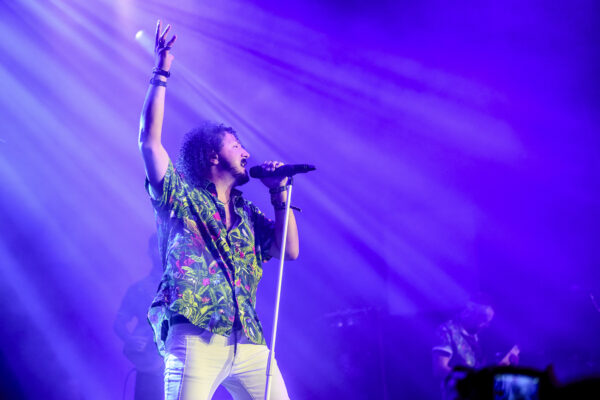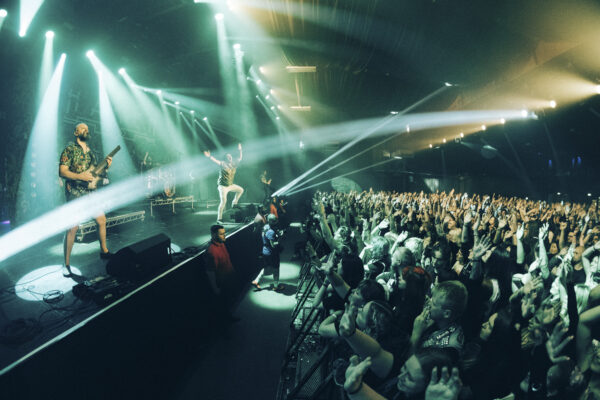 I've seen Monuments several times and they are an outstanding band live and tonight is, well, sounds superb and I think they are onstage but I am about half way back in the shed room and I can't see a thing. It's pretty much the same set they played earlier in the year when they opened for Leprous and the opener Cardinal Red is still an absolute banger and really gets the crowd whipped up.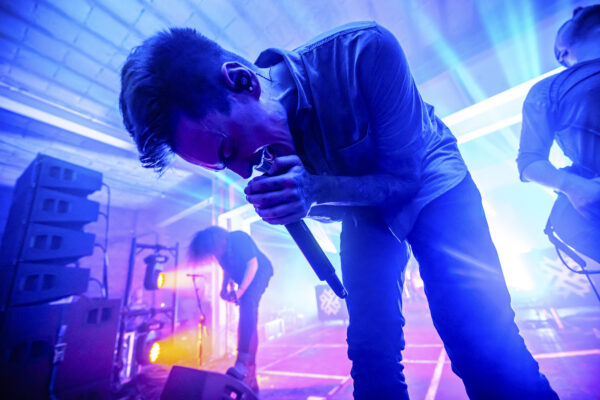 Masked and made up bands are nothing unusual these days. However, Kiss have been a joke for years and their retirement can't come soon enough, Ghost's coolness has faded and they now lack any real substance. Sleep Token are filling the void with a mysterious identity, a cool backstory and synthy metal that has made them something of a phenomenon. Their fans are dedicated and obsessive as many here today are made up and in costume, adding to the excitement. Let the show begin…
Opening their show with Chokehold sets the masses alight, myself included. Even though I have seen Sleep Token a couple of times before, this seems very different. The sound is incredible and the atmosphere electric – I am in.
There is no between song banter, as is Vessel's want, but each song is a smorgasbord of genre-bending music. Drifting from light to dark with heavy riffs, it is both glorious and magnificent just as Sleep would want it to be all the way through their set.
When the first notes of The Night Does Not Belong To God at the start of their encore the crowd went particularly bonkers, although for me their performance of The Offering was even more perfect with its deep, dark riffage towards the end eating me up.
An altogether stunning performance of which I was so impressed I bought their latest album on syrupy gold vinyl and it sounds lush!
Setlist:
Chokehold
The Summoning
Hypnosis
Vore
Like That
Nazareth
Granite
Aqua Regia
Atlantic
Alkaline
The Love You Want
Rain
Higher

Encore:
The Night Does Not Belong To God
The Offering
The need for rest is huge, tomorrow is day 2 with more djenty, proggy and metal aural wonders.