I'll readily admit I was goosed after yesterday but still managed to get my weary bones out of bed as there are bands I really want to see.
I am instantly entranced by Graywave as their emotive echoey vocals pour over their melancholic music. It's brooding shoegazey post-rock and is taking me on a journey. So enamoured I went straight to the merch desk and bought two albums.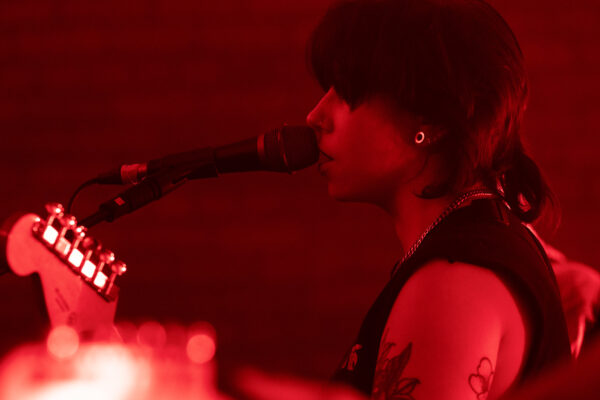 Tiberius are excellent, nay tresmendous! It is once again a fast and furious set although from my vantage point, or lack thereof, I am not able to see if any of their usual off-stage activities occur, I'll assume they are as it is part of their routine. They are touring in September so I'd highly recommend going to see them.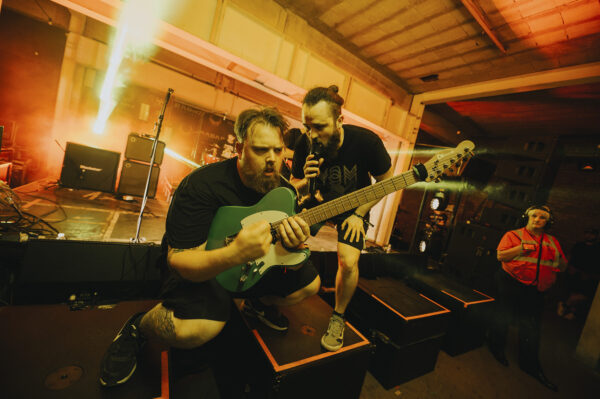 Minor technical issues delay the start of Allt's set but they make up for it with a brutal punishing performance as distinguished by Paralysed, a great example of their rap infused metal along with lots of filthy low riffs that I am enjoying more than I thought I would. How low can they go? Pretty darn low!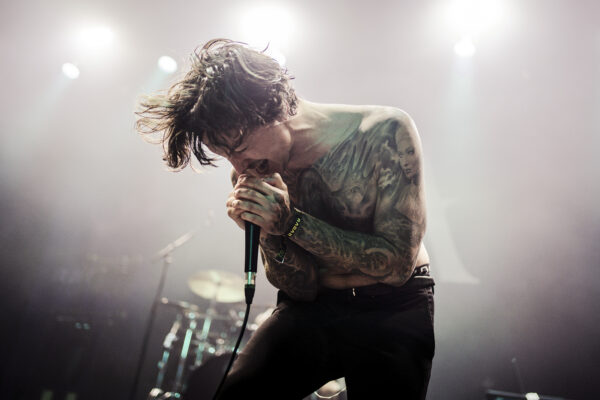 Over on the shed stage three piece Profiler are hitting hard and heavy yet the songs and melodies are still an important part of their music. Whilst they are definitely a few keys higher than Allt the sound is crystal clear.
The sound can be so variable in the shed room from excellent to awful depending on where you stand, by this point I have found the best spots and it definitely helps my enjoyment of Profiler.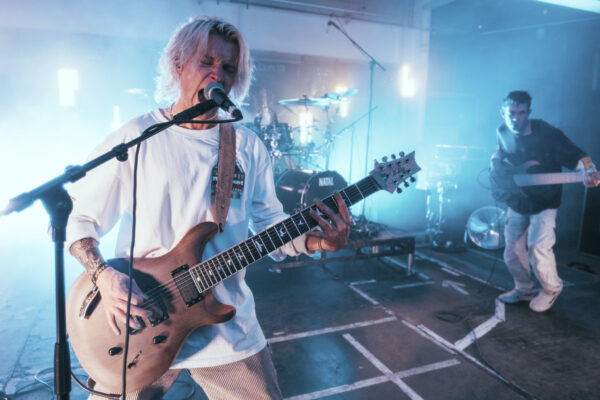 This is the fifth time I've seen Pupil Slicer… and I am still struggling with them. As a friend says "they are a bit all over the place" but I guess that's part of their appeal. They definitely have their fans here and they are very vocal and those fans get to hear a couple of new songs. There's a circle pit in progress during some of their set so much jubilation is had. Wounds Upon My Skin is, however, an absolute cracker.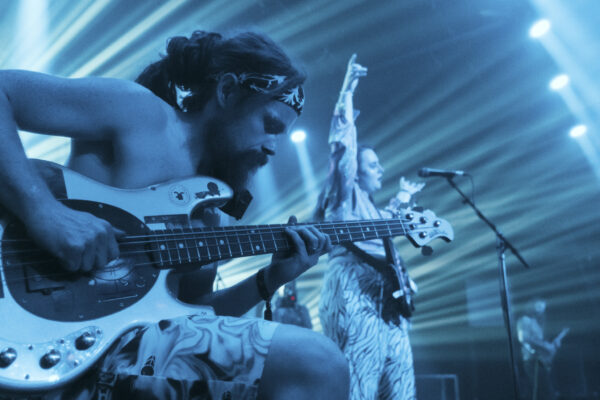 Rolling into the shed room are Wheel with their heavier postrock and it would be fair to say the crowd was truly galvanised, they are like a heavier version of Porcupine Tree. I manage to get a spot near the front – big mistake when the crowd start jumping and pushing so I head to safety with sadly no view. When they played in Manchester last they were solemn and wearing cloaks with hoods; today, hoodless, they are happy and jovial. Sadly, today is the last show with their bass player Aki 'Conan' Virta and as they end their set with Wheel the Wheel wheel will keep on turning… I'll get my coat.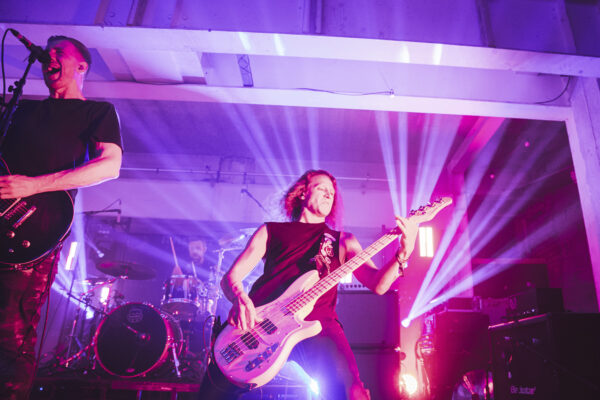 Thornhill are new to me and bloody hell they are exciting and energetic. The singer Jacob Charlton has a powerful singing voice that doesn't sound forced, his onstage presence is fluid, occasionally arrogant but that works in his favour, and he looks about 17!! Thornhill's music and their performance has a flow to it that many bands don't have, it just seems so natural. I'm blown away, can you tell?
Whilst there were absolute scenes in the pit for much of their set, for Lilly At The Moon the crowd lost their collective shit. Wow. Just wow!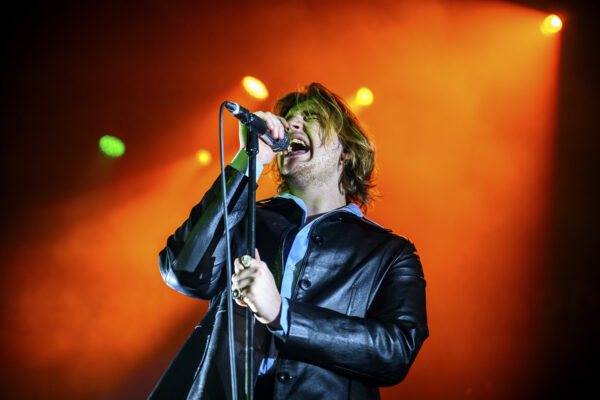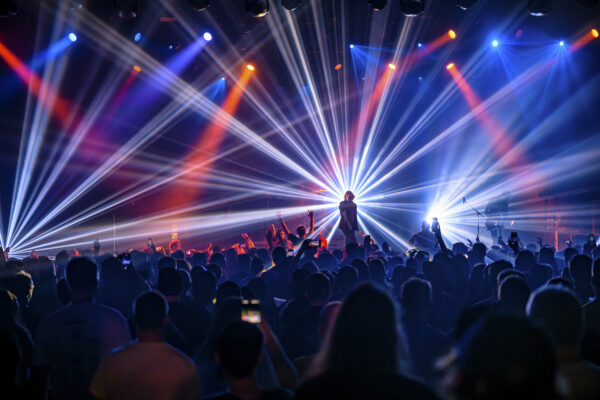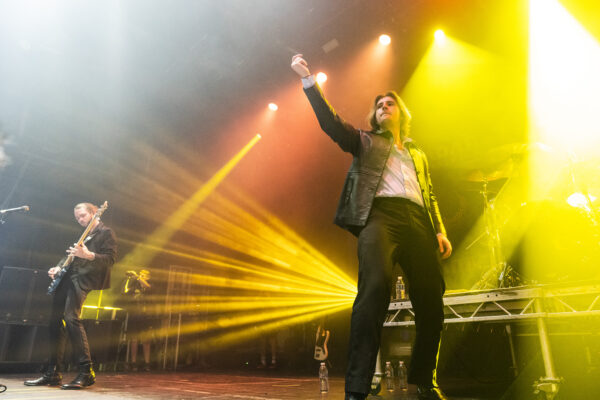 And now it's my turn to lose my shit to Mr Purturbator's dancey synth rock. And my friend Jase is losing it even more. It's like a metal rave – hypnotic and trancy as Mr P lays down synthwave groove after synthwave groove – some are cheesy, some are rocking, all are brilliant. At one point my chest reverberates to the low bass synth, so low I can almost count the hertz cycles, an amazing aural assault on the ears. By the middle of his set there is so much smoke on stage you can't even see Mr P., but I don't care this is amazeballs and I, along with most of the crowd, are having so much fun.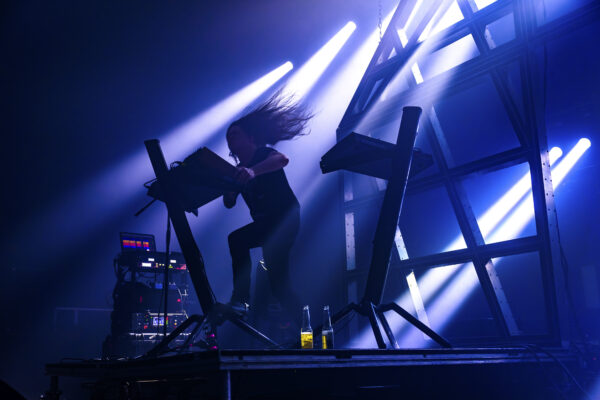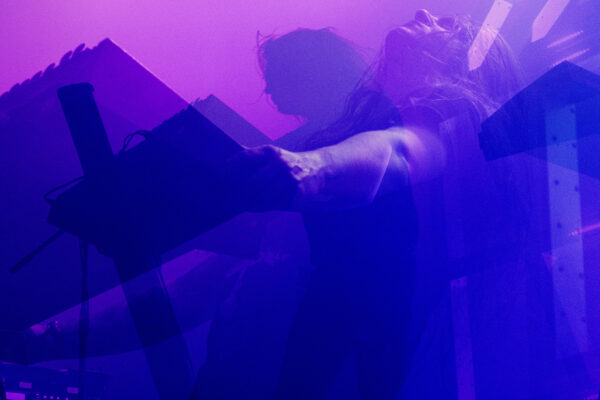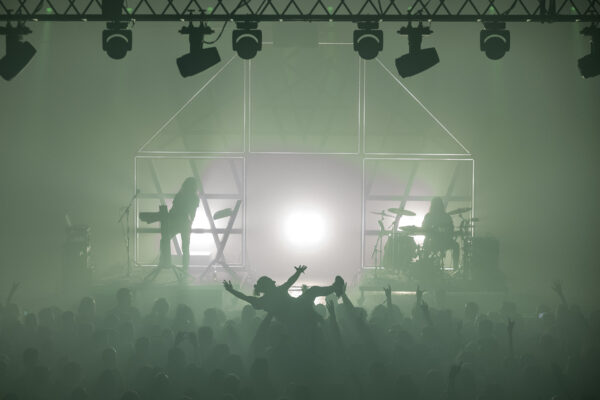 A friend of mine said "the person who set up Perturbator before Igorrr is a genius" and the explosively creative Igorrr are the final band of the day. And what an interesting band they are live. Their music combines hip hop, trip hop, metal, eastern music, opera, string quartet and prog, and at one point I hear a section of Würm by Yes. It's mad, it's bonkers, it's unpredictable, it's genius. It's also hard work as this is not your standard prog-metal band and I have no idea which way they are going to turn next. Kudos to the organisers for being so adventurous with their bookings.
Setlist:
Intro
Paranoid Bulldozer Italiano
Spaghetti Forever
Hollow Tree
Nervous Waltz
Downgrade Desert
Camel Dancefloor
ieuD
Parpaing
Polyphonic Rust
Overweight Poesy
Viande
Opus Brain
Himalaya Massive Ritual
Encore:
Cheval
Apopathodiaphulatophobie / Robert
Very Noise