"Primus sucks!" remains the backwards compliment paid by fans to the band, because the first thing to note about these veteran Bay Area, California musicians is that they sure don't suck. Their sophomore effort, Sailing The Seas Of Cheese, had it's original heyday and review cluster back before genres like 'industrial', 'hatecore', or 'nu-metal' existed. In 1991, it was a critically acclaimed, truly groundbreaking release, and continues to uphold that reputation with 2013's 'restored' version. Presented in a deluxe boxed set, these tunes sound just as fresh, and insane, as they did back in '91.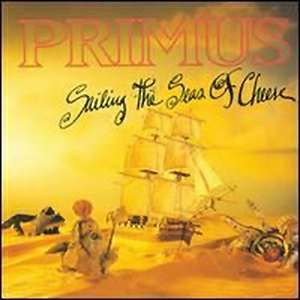 Listening to the album when it was broadcast on college radio was an experience: the local "metal station" played it. After the broadcast, the metal crowd was divided. Blind Illusion's bass player had made another 'totally unmetal' album! How could he!? What could be wrong with this guy? Was he giving up his metal roots, forsaking his fans? The other half saw through the facade into the musical mind of a visionary. What Frank Zappa did to pop, the prolific virtuoso (and avid fly fisherman) Les Claypool attempts to do to metal: he brings diverse genres, top-shelf musicianship, and pure craziness to what had comfortably settled in to a near-conformist genre.
What this reissue does, is (re)introduce music fans to a technically stunning, genre-bending album, filled with the same quirkiness and variety that makes bands like Faith No More so engaging. Don't expect a cluster of easily accessible tunes. Expect to be tossed around on a rough sea of originality, replete with odd time signatures, syncopated 'lead bass' lines, left-of-center lyrics, and a show of muscular virtuosity that ought to drop the jaws of even seasoned musicophiles. The album has a remarkable consistency with regards to 'chops': every tune has unexpected, difficult twists and turns. From the percussion intro of "Eleven", to Larry LaLonde's heavy metal guitar underscoring in "Jerry Was A Race Car Driver", all backed by Claypool's bass tweakery, the sheer technical playing ability still stuns. Primus non-fans might appreciate this if they enjoy listening to 'bass forward' work, from funk to metal.
The tune which most listeners will 'grasp' with the least amount of resistance is likely to be "Fish On": the most 'typical song' in lyrics and structure on the disc. With a 22-year 'head start', several tunes on the album will be familiar to listeners who consider themselves 'old-school': slabs like "Here Come The Bastards", "Sgt. Baker", "Jerry Was A Race Car Driver", "Tommy The Cat", and "Those Damn Blue-Collar Tweekers". Those tunes are considered Primus classics, near set-list staples by now. All are intensely funky, loaded with creative spice, and remain mass-media radio unfriendly.
From their press release, "In a restoration personally overseen by Les Claypool, Primus' acclaimed Sailing The Seas Of Cheese has been newly mixed in stereo and Dolby 5.1 Surround for the first time since its 1991 debut for an expanded deluxe edition to be released by Universal Music Enterprises. The deluxe edition will feature the album's new stereo mix on CD and the new 5.1 surround mix on Blu-ray or DVD, plus three exclusive, previously unreleased bonus tracks, including two live recordings from Primus' 2012 "3D Tour" and a Bassnectar Remix of "Here Come The Bastards." A 200-gram vinyl LP to be released on the same date also features Claypool's new stereo mix of the album. In a "Mystery Vinyl" challenge for fans, 1000 unmarked, randomly selected copies will contain the new stereo mix on a yellow vinyl LP instead of black."
It does come across as affected, or being weird for weird's sake, which can be difficult to follow if you're not privy to Claypool's brand of wit and humor. The vocals, especially, are either an 'acquired taste', or 'take some getting used to'. What the album lacks in 'amazing vocals', it makes up for in spades with rock-genre-expanding technical prowess. In '91, this was a band's album – one which raised the hackles of the metal subculture at that; in 2013, it could easily be mistaken for a Les Claypool solo disc, due to expansion of genres and listeners' palates. Because the band and their songs are both so varied and so difficult to pigeonhole, a detailed description would only serve as filler. Primus is an experiential band: you just have to listen to them to 'get it'. What a better way to experience the 'play it forward', progressive, humorous monster that is Primus then to check out this deluxe edition of Sailing The Seas Of Cheese.
Track listing:
Seas of Cheese
Here Come the Bastards
Sgt. Baker
American Life
Jerry Was a Race Car Driver
Eleven
Is it Luck?
Grandad's Little Ditty
Tommy The Cat
Sathington Waltz
Those Damn Blue-Collar Tweekers
Fish On (Fisherman Chronicles, Chapter II)
Los Bastardos
Those Damned Blue-Collar Tweekers (Live at Bass Hall, Austin, TX – 11/7/12)
American Life (Live at Tabernacle, Atlanta, GA – 10/31/12)
Here Come The Bastards (Bassnectar Remix)
Links:
Official Band Website
Official Band Facebook Page
Band Twitter Page