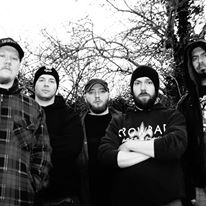 Diesel King are set to play the New Blood Stage at this years Bloodstock festival on Saturday the 10th August.
We catch up with the band to find out more about them, the festival, their thoughts and what you lucky Bloodstock go-er's will see!
Can you give the readers a quick introduction to the band.
We're Diesel King, 5 dickheads who play heavy shit
How would you describe your sound.
Gut metal.
Why did you want to become part of the New Blood Stage line up?
Bloodstock is a massive event on the heavy metal calendar,  its an honour to be included  in the line up
What was your initial reaction when you found out you were playing on the New Blood Stage?
We cried tears of joy and had a massive band cuddle. Naked.
What can the audience expect from you at the festival.
A face slaying. And male nudity. Lots of male nudity.
What has been the bands biggest achievement so far?
We've been lucky to have a few.. Being featured in metal hammer, terrorized and zero tolerance mags was great, last years opening desertfest was awesome and opening for corrosion of conformity was of course amazing, and now being announced for bloodstock is just fucking marvellous..
Have you ever been to Bloodstock before? If so when and what did you enjoy most about it.
Some of us have been before. Got drunk, did stupid shit, acted like pricks, pretty much the same as our daily lives, but with a whole bunch of awesome bands , the music is always the highlight.
What is your opinion of the Bloodstock line-up.
King diamond and slayer make it instantly amazing
What are you looking forward to most at Bloodstock.
Slaying faces dead
Can you sum up Bloodstock in one sentence!
Massive erect penis
Any message you wish to pass on to the PM readers
Cheers for reading our shit talk. Check out our music, come see us live.
Thank you for taking the time out to complete this interview, we are looking forward to seeing you at Bloodstock \m/ \m/
Link: