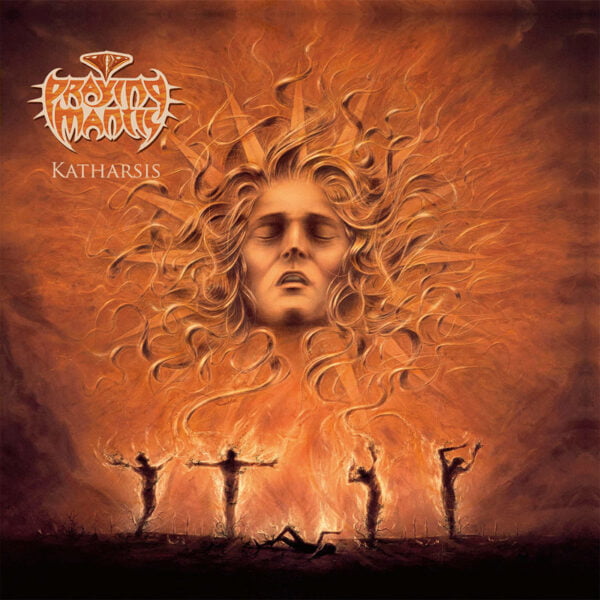 For almost fifty years now, London formed melodic rockers Praying Mantis are still delivering quality music, point proven by their latest studio album Katharsis released via Frontiers Music s.r.l on January 28th 2022. Eleven tracks of the highest order begin with 'Cry For Nations' that take us on this musical journey.
A lilting piano and bass guitar intro segues into a hook laden masterclass of hard rock and when the vocals kick in it's overwhelming, especially from their trademark multi vocal choruses until it heavies up for a snare driven outro.
'Closer To Heaven' is surely 100% guaranteed for rock radio airplay. If there is such a thing as a perfect rock ballad then this is a major contender as lead vocalist Jaycee Cuipers attempts to break our hearts with an emotional delivery.
'Ain't No Rock N Roll In Heaven' has a gritty main riff and funky rhythms that drive it along to tongue in cheek choruses and a tasty midway guitar solo.
'Non Omnis Moriar' is a haunting ballad of catchy drum patterns, prominent bass guitar bluster, a clinical lead vocal and twin lead guitar work bring forth some luscious harmonies.
'Long Time Coming' tells of how the band were started by brothers Tino and Chris Troy with lyrics of "Back in the summer of 74, rock came knocking on my door. Me and my bro formed a band, we're getting ready for the promised land. It's been a long time coming, now we're back on top, getting ready to rock the nation"
'Sacrifice' is another addition to their arsenal of beautiful ballads so marvel at the splendour of band vocals that cascade over the subtle melodies.
'Wheels In Motion' is melodic rock with a firm bite as five minutes fly by on the wings of jabbing riffs, a tight rhythm section and a soul searching lead vocal exudes a poignant charm.
'Masquerade' hits hard and heavy on a feisty stomp, one of the heaviest tracks here musically and lyrically as Jaycee delivers another vocal masterclass and hits higher notes on the snare driven outro.
'Find Our Way Back Home' is fuelled by an electronic pulse guaranteed to fire up any venue with its message of hope from the lyrics and powerchord overload outro.
Jaunty grooves give 'Don't Call Us Now' a feel good vibe especially from a midway piece of "Whoa -oh-ohs" and a folk like instrumental jaunt.
This magnum opus of an album ends on 'The Devil Never Changes', a number of epic proportions. Vocals are electrifying and musically it's a rock steady riffer and blazing guitar solos are backed by mighty drum patterns.
Katharsis will be available as a CD Jewel Case and limited edition 180g gatefold orange marble LP and my review is dedicated to the tirelessly hard-working Elaine Jackson.
Pre-order link to Katharsis is here plus band info :- https://orcd.co/katharsis?fbclid I https://www.instagram.com/mantisofficial/?fbclid I http://prayingmantis.rocks Featured section Ihttps://www.facebook.com/PrayingMantisUKRockMetal I https://amazon.co.uk/Katharsis-Praying-Mantis/dp/B09JJ5LXWR/?tag=plane09-21
Praying Mantis band line up :-
Tino Troy – Guitar/Vocals.
Chris Troy – Bass Guitar/Vocals.
Andy Burgess – Guitar/Vocals.
Jaycee Cuipers – Lead Vocals.
Hans In 'T Zandt – Drums.
Katharsis album track listing :-
Cry For The Nations.
Closer To Heaven.
Ain't No Rock N Roll In Heaven.
Non Omnis Moriar.
Long Time Coming.
Sacrifice.
Wheels In Motion.
Masquerade.
Find Our Way Back Home.
Don't Call Us Now.
The Devil Never Changes.
Time tells no lies as Praying Mantis release their brand new Katharsis album, containing eleven tracks of rock royalty!