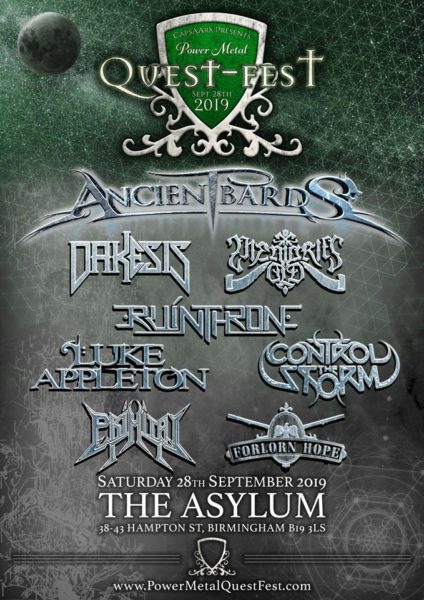 This was my first time at Power metal quest fest. The first year was at the Roadhouse venue which just isnt practical for people using public transport, the second year clashed with another gig, but finally I made it to one. Now being held at the Asylum venue it's an easy 15-20 minute walk from the city centre (or a 2 minute walk from the nearest tram stop for lazy folks like me). Due to a club night afterwards it's an early start and finish, with doors due to open at midday (but actually opening half an hour late), and the last band ending around 9.30pm so quite handy for people driving home afterwards.
The lineup this year was certainly appealing – headliners Ancient Bards don't play the UK very often so this was a rare chance to see them. With Primitai, Dakesis and Control the storm also on the bill it was an event I didnt want to miss, and thats without considering the other bands I was less familiar with.
First up were Forlorn Hope, a band from Merseyside. Thematically they draw obvious comparisons with Sabaton with their songs being about military history, but musically they are quite different although still fitting under the power metal banner. They're a fairly new band, releasing their debut EP last year and their debut album just a few days before today's show. I hadn't heard anything by them before, but they certainly impressed not just me but a large proportion of the crowd who had turned up in time to see all the bands on the bill. They did have a technical problem (no sound from the keyboard) that persisted till the start of the third song where it was supposed to play the intro – and it was only then that they realised the problem. They did very well getting the crowd to interact so early in the day (and before the alcohol had time to warm people up) and I think this is a band that's got a good future ahead of them.
Next up were London band Primitai. I've seen them quite a few times over the years and they never disappoint. Their years of experience show – whereas Forlorn Hope seemed slightly nervous when addressing the crowd, for Primitai this is business as usual and they put in a great set.
Last time I saw Control the storm was at Bloodstock where they attempted to incinerate themselves and the audience with some pyro that included by far the largest flames I've ever seen on the Sophie Lancaster stage. Happily for the photographers today there are no flames for them to worry about (just lots of smoke). Singer Firouzeh is both a great singer and a great front-woman. It's more melodic metal than power metal but it certainly goes down well with the crowd – and in my mind it's the best set of the day so far.
After Control the storm came Luke Appleton. Sadly it's an acoustic set with just him on acoustic guitar and vocals and Becky Baldwin on bass. Yes they're both great musicians but this isn't power metal or anything close and he does an excellent job of clearing the room – halfway through the set there were more people outside in the smoking area than were watching his set, while others had left the venue to go find some food. It's not that it was a bad set – it was actually quite good, but it just wasnt right for this event even with the inclusion of a couple of Iced Earth tracks.
Italian power metal band RuinThrone got things back on track with their heavy sound certainly waking people up after the acoustic set. They went down well but it just didn't quite hit the mark for me, but that's the thing with festivals – they need a variety of bands to appeal to a wide audience so the fact I wasnt a fan of RuinThrone doesnt matter – what matters is plenty of people did enjoy them.
Next up was another band I wasn't familiar with – Memories of old. They seem to be another fairly new band and told the crowd that apart from the first two songs which had been posted on social media then the rest of the set was being played live for the first time – and since the album isn't out yet we'd be the first people outside the band to hear these songs. Well they may be new but they're pretty bloody impressive – this is a band that I really want to hear more from. They put in a great live performance and the songs sounded great.
Dakesis came next and this probably counted as a break for the band since they'd been running around all day making sure things ran smoothly. They've all put in a lot of hard work, particularly Amie. Dakesis are a band I've seen quite a few times before and I'm a fan of the band but tonight they really were on top form. The new songs they played sounded fantastic and I can't wait for them to finish the album and get them released so I can listen to them more. It really is a fantastic set, and underother circumstances would have been a good end to the night, but there's one more band to go.
Tonight's headliners are Ancient bards, and from the cheers they got when they took to the stage it's clear that a large part of the crowd were here largely to see them, and the Dakesis band members were certainly among them judging by the way Gemma Lawler was dancing and singing along to every word. It's been a few years since I last saw Ancient bards and with a new album released earlier this year it was my first time hearing the new material live. It's a fantastic set that I loved as did the rest of the crowd. Hopefully the great reception the band got will encourage them to come back to the UK for more gigs before too long as this is a band I can happily watch again many times.
Today was a great day – not just because of the selection of bands, but because of all the other factors – the venue is good and not overpriced, it's easy to get to whether driving or using public transport, the atmosphere was great and I bumped into quite a few people I hadn't seen recently which was great. It's the friendly atmosphere and bumping into people you know that lifts a good festival and makes it a great one. During the Dakesis set they announced the first bands for next year – Stormrider, Veonity and headliners Power Quest.
So based on my first Power Metal Quest Fest, would I recommend it? The answer is yes – without any hesitation. It's a great little festival with a great atmosphere and a great lineup of bands. Well done to the organisers for putting on such a great event.