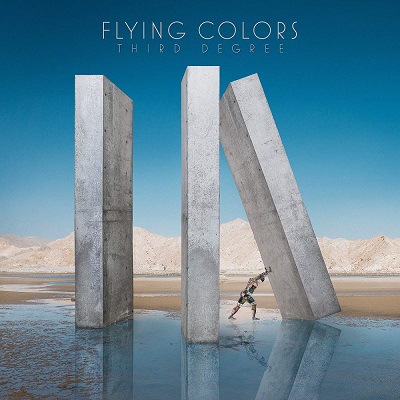 When Flying Colors formed seven years ago they were one of many supergroups, but they're one of the very few that has lasted more than one album or a few short years. The lineup of Neal Morse, Steve Morse, Mike Portnoy, Dave LaRue and Casey McPherson is unchanged and with good reason – it's a lineup where they all work well together, and that's something that really shows in the finished product. Since forming they've released two studio albums and two live albums plus played a handful of live shows after each studio album release. Now they're set to continue that by releasing their third studio album (Third Degree) and then doing a short European tour in November.
This new album dates back 3 years to December 2016 when the band members got together for their first sessions at Steve Morse's studio in Florida. Those sessions resulted in seven songs before the commitments of the various band members meant they had to wait till December 2018 before they could get together again and complete the album.
Once again they've produced a superb album. It's only got nine songs but with the shortest of those being over five minutes and the longest over 11 minutes then you're still getting over an hour of music. The vocals from Casey McPherson are smooth and beautiful and contrast nicely with the guitar riffs. There's a perfect balance between heavy and soft, rock and prog – this, like the previous albums really does take the musical influences of the members and blend them together to create something special. You've even got a jazz influence that's noticeable right from the start in "Geronimo".
Check out "Love letter" and hear for yourself what to expect…
I love the first two studio albums from Flying Colors and am happy to say this new album lives up to the high expectations I had for it and the more I listen to it, the more I love it. A fantastic album.
"Third degree" will be released on 4th October 2019
Track listing:
1. The loss inside
2. More
3. Cadence
4. Guardian
5. Last train home
6. Geronimo
7. You are not alone
8. Love letter
9. Crawl