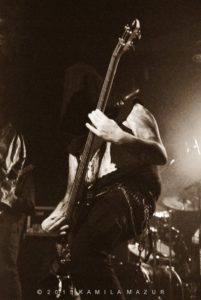 As part of our continuing commitment to supporting the metal scene on the island of Ireland, PlanetMosh has been confirmed as the official media partner for a pair of fundraising concerts in aid of Polish black metallers Blaze of Perdition.
The band's bassist, Wojciech 'Ikaros' Janus (pictured right) was killed in a car crash on November 2, while the band were travelling between dates on their Austrian tour. Vocalist Pawel 'Sonneillon' Marzec was seriously injured in the accident.
Since the accident, Polish metallians around the world have rallied round to raise money for Ikaros' family – and this effort includes two benefit gigs in Ireland in January.
The shows – at Charlie's Bar in Enniskillen on Friday January 10 and Fibber Magee's in Dublin on Saturday January 11 – will both be headlined by Krakow-based paganists Mord' A'Stigmata (https://www.facebook.com/mordastigmata).
Also appearing at the Enniskillen show (details here: https://www.facebook.com/events/337699399705557/) are Owlcrusher, Lucid Nightmare, Bad Aids and Gargantuan.
Also appearing at the Dublin show (details here: https://www.facebook.com/events/1440303569524760/) are Syphor, Thy Worshiper, Fuckhammer and Twisted Autocracy.
Photograph of Ikaros by Kamila Mazur.