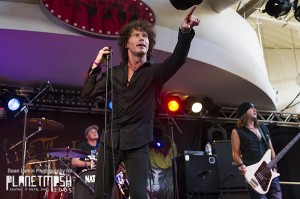 Beginning Hard Rock Hell's final day for 2013 on the Jagermeister Stage are The Jokers (8), who like Wildside Riot take the bull by both horns and give it a right good kicking, songs Radio and the title track from latest album Rock and Roll is Alive impressing the punters who are once again emerging from their chalets with heads pounding from the night before. It's a force that Enos (6) really can't compete with, although they do at least make a concerted effort to bring in the crowds given the main stage punters and their bass player is an absolute nutter, lending himself very nicely to a solid if fairly average set. Chrome Molly (8) have the crowd in their grasps before they've even walked on stage; it's amazing what having the Thunderbirds theme as your intro tape can do to get people interested. Luckily their songs stand their ground too, with Short, Sharp Shock and Billion Dollar Heart Attack giving punters a very nice contrast to what is on over on the Main Stage. Desert Storm (6) get lucky with the majority of their set falling between Black Spiders and Snakecharmer, meaning a fairly healthy crowd is milling around and responding to Sway, Bison and the wonderfully titled Enslaved in the Icy Tundra. Gonga (7) are entirely instrumental but heavier than a heavy thing and run the risk of actually blowing a speaker or two, such is the power they generate. whereas Cage the Gods (8) get stuck into their set and blow everyone away who isn't getting an Iron Maiden fix, particularly during closing song The Promises. Striker (8) have to contend with The Answer on the Main Stage but the Canadians do a very admirable job of it indeed, and who better to close the festival in style but Lawnmower Deth (8)? Funny, quick witted and fitting 15 songs into their 75 minutes on stage, the quintet are marvellous fun to an audience slowly slipping once again into a blurry, drunken haze, making songs like Sumo Rabbit and Flying Killer Cobblers even more amazing. They might have had the worst stage time of all (you try playing at 2 in the morning) but they take it and make it their own. Can they close every year, please?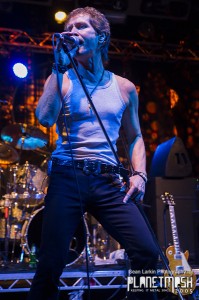 On the Main Stage (now branded Hard Rock Hell), openers Arthemis (7) give it large and big, their brand of Italian metal going down nicely, although it's a shame when there aren't more people to see them perform. No such problems for The Treatment (7) however who fill out the room in next to no time. They battle very hard but their attempts to get the crowd moving fall on deaf ears and it's only when they play The Doctor that they start to generate substantial applause, by which point they've only got two songs left. To their credit though, they keep going and don't give up for anyone. Pat McManus (7) is a pleasant soul; a favourite amongst the revellers here, he treats us to three-quarters of an hour of music that comprises his own material, song from Mama's Boys back catalogue and a cover off Roy Buchanen's The Messiah Will Come Again. In particular, Juggernaut is received well and closing number Needle in the Grove. Black Spiders (8) are delayed in starting but give exactly what you expect them to; their Southern groove is incredibly infectious and you can't argue with song's like KISS Tried to Kill Me and Lay Down. A rare playing of St. Peter is a welcome addition to the set as well, and the band are clearly having a very good time despite their issues in getting to the park. Snakecharmer (7) are a band causing huge waves right now and, similarly to Black Star Riders, comprise original members of one of the world's biggest rock and roll bands in Whitesnake. Future headliners? On the basis of this it won't take much more: the audience are responsive and large in number and although they respond best to Fool For Your Loving and Here I Go Again, they're very receptive to the original material as well. Promising things from a promising group.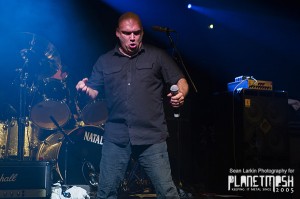 Given that the banner which is raised up next depicts Eddie the Head from Iron Maiden and Killers encased in the head band and lobotomy of The X Factor, it's clear that Paul Di'Anno and Blaze Bayley are united on this front (they even share the same backing band), so Hard Rock Hell bears witness to the UK leg of The Double Trouble Tour (9) tonight, with songs showcased from the four Iron Maiden albums that seem to pass many people by. Blaze is up first, jumping head on into the audience the minute he can and taking us through eight choice cuts from The X Factor and Virtual XI. The main hits are there – Man on the Edge, Lord of the Flies, The Clansman, Sign of the Cross – but we also get some rarer numbers like Judgement of Heaven and Lightning Strikes Twice as well. Blaze himself, by the way, rides his adrenaline wave like a pro; he's an absolute firecracker, giving everything he's got into his performance and it's clear that he really believes in the songs that he did with the band even if many Maiden fans didn't (and still don't, for that matter). His voice is in brilliant condition as well – you can't tell the difference between it and the one he had when he joined the band in 1995.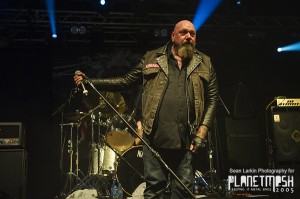 On the flip side though, that's more that can be said for Paul's voice, who begins to struggle towards the end of his set (although that's probably not helped by him sneaking off during Transylvania and lighting up  just behind the amps in a completely non-secretive manner). It's also a set that could easily capitulate; when Di'Anno's microphone stand breaks early he isn't best pleased and the tension rises. Thankfully, it all settles down and the performance goes off without another hitch. "There's only one Paul Di'Anno!" the crowd sings. "I wouldn't sing about Paul Di'Anno guys, he's a right c**t" comes the reply from the singer. Again, we got songs that the current Maiden lineup haven't played for years like Charlotte the Harlot, which was just magnificent and probably the highlight of the whole set. Killers and opening number Sanctuary were also excellent, whilst Remember Tomorrow was dedicated to the late Clive Burr. Blaze returned onstage to sing Iron Maiden and it was an interesting experience hearing these two voices clash and grind against one another and yet sound so harmonious at the same time. If this really IS Di'Anno's last concert in the UK then he's done himself justice, although ending with a cover of the Sex Pistols was an interesting move to say the least.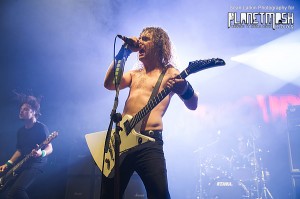 With that done and Michael Monroe finished too (I was interviewing at that point so unfortunately missed him), it was just left to Airbourne (10) to round things off in and turn the whole room into bedlam. If you've been to an Airbourne show before then you'll know what to expect – this is the fourth time I'd seen them in two years – but they've never been as good as they were this time around. Opening with Ready to Rock, the Aussie foursome are relentless and the energy they emit seems to bounce around everybody leaving the floor area of the room a mass of bodies that jump and bounce for the entire set. Joel O'Keefe once more got onto the shoulders of security and played solos around the audience, his brother Ryan very nearly destroyed his drum kit with the power he was playing it and they even brought Ozzy from Black Spiders on stage to see who could open a can of lager with their head quickest (Joel won, another victory for Australia over England; yes, the Ashes did NOT go unmentioned much to the chagrin of the audience who booed quite loudly). But its a fun set and all in jest, and an encore of Live It Up, Raise the Flag and Runnin' Wild (complete with a small section from Black Sabbath's Paranoid) literally ties the bow on top and finishes off everything nicely. I'm sure that people would have been seeing the band on their UK tour this month regardless of their performance here, but I'm also sure that a lot more people would have bought tickets after this performance as well. However, there's still once more band to go, and you can't help but feel sorry for The Answer (7) – having to follow Airbourne is no mean feat but on that form as well is just impossible. That said, they give it all they have, Nowhere Freely being a standout highlight, but they just cannot compete with what has been before them.

And with that, Hard Rock Hell closed its doors for another year with every sloping off into the night to party on. The eighth installment is titled Hard Rock Hell VIII: Helloween – a headliner clue, perhaps? In any case, see you all for a spooky affair indeed!
Airbourne setlist
Ready to Rock
Too Much, Too Young, Too Fast
Girls in Black
Back in the Game
Diamond in the Rough
Black Dog Barking
Cheap Wine and Cheaper Women
Stand Up for Rock 'N' Roll
—–ENCORE—–
Live It Up
Raise the Flag
Runnin' Wild