Since forming in Stockholm, Sweden in 1989, Opeth have eschewed from their death metal beginnings to a much proggier outfit without losing their heaviness and this point is proven vehemently with their thirteenth studio album In Cauda Venenum, Latin for poison in the tail. Out on Nuclear Blast Records, eight out of the ten songs on display are stretched out to over the six minute mark as they dazzle with virtuosity. Completely written by frontman Mikael Akerfeldt, there are two versions of the album, one in English and the other in Swedish.
I chose to review the Swedish version as it seemed more of a challenge and it was, albeit a very rewarding one! Album opener 'Livets Tradgard' (Garden Of Earthly Delight), shortest track here has ethereal vocals backed by pulsating keyboards. 'Svekets Prins' (Dignity) is an intro of a  bombast of sweeping strings and inventive drum patterns that ease back on acoustic guitar and an angelic vocal. The vocals intensify as a heavy riff makes its mark and calm is restored for a laid back outro. 'Hjartat Ved Vad Handen Gor' (Heart In Hand) has an almost 'Barracuda' like main riff that drives this monster over the eight minute mark right out of the starting blocks. It writhes on meaty dynamics and closes sedately on heart tugging acoustics.
'De Narmast Sorjande' (Next Of Kin) is all suffocating rhythms that vie for attention with quaint acoustic whispers, a searing lead guitar solo midway and it ends on Godzilla like stomps. A laid back intro to 'Minnets Yta' (Lovelorn Crime) progresses to a pleading vocal backed by bruising riffs and piano, an interesting foil for Mikaels delivery as a virtuoso guitar solo and sublime piano outro left me breathless. 'Charlatan' (Charlatan) is a bass heavy beast that will certainly test the mettle metal of your speakers that gives way to an outro of childrens voices and a church choir. 'Ingen Sanning Ar Allas' (Universal Truth) is a seven minute adventure ride of heavy progressive pieces and almost lullaby like interludes, all pinned down by a gentle vocal.
'Banemannen' (The Garroter) is piano dominated, joined by soothing strings and noodling bass guitar lines. It's very jazzy, especially when the jaunty guitar lines creep in. 'Kontinuerlig Drift' (Continuum) is all Thor hammer blow strikes and gets even heavier midway when a fretboard burning wah wah solo arrives, making it the heaviest track here. 'Allting Tar Slut' (All Things Will Pass), another eight minute opus sees the album close with one final assault to the senses. All bases are covered as they defy musical trends with grandiose grooves interspersed with moments of calm.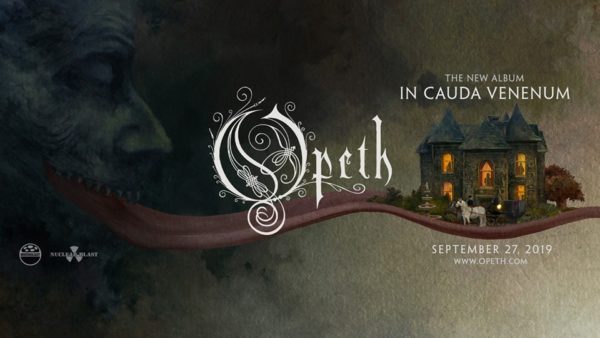 In Cauda Venenum album track listing :-
Livets Tradgard (Garden Of Earthly Delight).
Svekets Prins (Dignity).
Hjartat Vet Vad Handen Gor (Heart In Hand).
De Narmast Sorjande (Next Of Kin).
Minnets Yta (Lovelorn Crime).
Charlatan (Charlatan).
Ingen Sanning Ar Allas (Universal Truth).
Banemannen (The Garroter).
Kontinuerlig Drift (Continuum).
Allting Tar Slut (All Things Will Pass).
Opeth band line up :-
Mikael Akerfeldt – Lead vocals/guitars.
Martin 'Axe, Axenrot – Drums.
Martin Mendez – Bass guitar.
Fredrik Akesson – Guitar/backing vocals.
Joakim Svalberg – Keyboards/synths/piano/mellotron/backing vocals.
Opeth set the bar high with some overwhelming music.