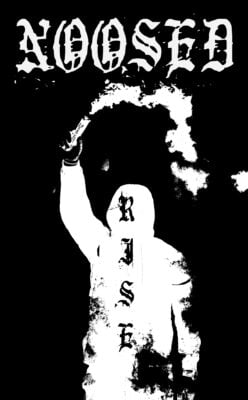 Exploring themes of addiction, oppression, ignorance, and police brutality NOOSED offer a blistering 14 minutes of industrial tinged Grind/Crust/Sludge through new album 'Rise'.
Formed in 2019 by Rodge (Ruairi O'Baoighill, Stonecarver, Reilig) and Mand (Rotcart), Noosed has self released two demos digitally and on cassette (S/T – 2019, She of the Woods – 2019) and their third release (Butcher – 2020) was released on Trepanation Recordings.
Noosed create an aggressive blend of Noise/Grind/Crust/Sludge which is a direct response to the state of the world they live in. They believe humanity is staring through the hangman's noose and try to reflect this sentiment in their music.
With many years of live experience behind them, Noosed are excited to begin playing live in 2021, once the COVID-19 pandemic has passed.
'Rise' will be released on Limited Edition cassette through Trepanation Recordings (limited to 50 copies) featuring 'Rise' on side A and previous release 'Butcher' on side B, as well as Digital Download this Friday October 23rd.
Links: