Ferocious Dog announces 22 date 2021 UK tour & brand new album The Hope, released October 15th 2021, on Graphite Records
Ferocious Dog is delighted to announce the rescheduled dates for their 2021 UK tour and forthcoming new album The Hope, released October 15th 2021, on Graphite Records.
Ferocious Dog's 22 date tour will start in Liverpool at the O2 Academy 2 on Friday 8th October and concludes at the Leadmill in Sheffield on Sunday 4th December.
The band promise those attending "will be part of something very special, watching one of the very best Folk Punk bands in the UK with a high octane explosion of the very best live music.  People who have attended Ferocious Dog shows know exactly what to expect. People who are new to FD live shows will be welcomed by the "Hell Hounds" as part of the growing FD family."
To coincide with the 2021 UK tour Ferocious Dog release their brand new studio album, The Hope, which 
takes its name "from a song idea from Dan Booth and written by Dan and myself." explains Ken Bonsall "The Hope is a very hard-hitting and deep reflection of someone coming to terms and living with depression." While the album cover, created with Daniel Hubb at Make-North (Bullet For My Valentine), "had to be hard equally hitting to create and capture the sentiment of the song."
The Hope carries on in the strong tradition of Ferocious Dog albums, with thought-provoking and politically charged lyrics, seamlessly combined with dynamic and eclectic music. Ferocious Dog now have two new  band members Johnny Edwards and Ryan Brooks "chomping at the bit to put their stamp on this new album"
Creatively brilliant, Ferocious Dog offers a full-on six-piece sound that encompasses folk infused with rock, reggae and Celtic vibrations. The combination of instruments creates a palette of sound that offers infinite variations: going in hard to get the audience up and moving, or slipping into melodic passages and dub-like fusions.
The Hope
album is available to pre-order in usual CD and vinyl, with ticket and T-Shirt bundles available, plus an exclusive limited-edition green vinyl album, limited edition cassette and signed CDs here: 
https://thehope.ferociousdog.co.uk/
UK 2021 tour dates in full:
October
Fri 8th  O2 Academy 2  Liverpool
Sat 9th  Marine Hall   Fleetwood
Fri 15th  Old Fire Station   Bournemouth
Sat 16th Chalk Brighton
Wed 20th O2 Academy 3  Manchester
Thu 21st Nell's London
Fri 22nd O2 Academy 2  Oxford
Sat 23rd Waterfront Norwich
Thu 28th  The Globe Cardiff
Fri 29th O2 Academy Leicester
Sat 30th Esquires Bedford
November 
Fri 5th O2 Academy 2  Newcastle
Sat 6th La Belle Angele  Edinburgh
Fri 12th Ropetackle Arts  Shoreham
Sat 13th The Forum Tunbridge Wells
Thu 18th Cheese & Grain  Frome
Fri 19th Princess Pavilion  Falmouth
Sat 20th Exeter Phoenix  Exeter
Sun 21st Guildhall Gloucester
Fri 26th KK's Steel Mill  Wolverhampton
Sat 27th Picturedome  Holmfirth
December
Sat 4th Leadmill Sheffield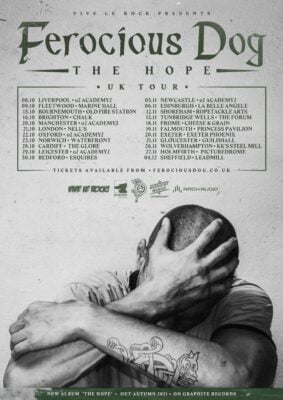 Please note for these rescheduled dates, original tickets remain valid.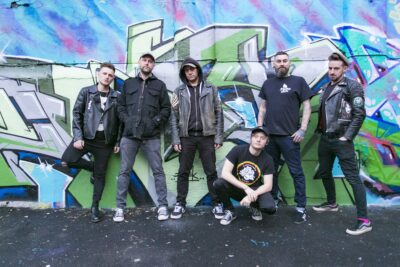 Ferocious Dog is:
Ken Bonsall – Lead singer, co. Song Writer, & acoustic guitar.
Dan Booth – Violin & co. Song Writer. Also, lead vocals on some songs.
Johnny Edwards – Multi-instrumentalist.
Ryan Brooks – Guitar
John Alexander – Bassist
Alex Smith – Drummer
"English working-class Celtic-folk punk, As authentic as feck." 
– Shite'n'Onions USA