Why Motörhead aren't in the Rock n' Roll Hall of Fame is beyond my imagination. Lemmy, Phil Campbell and Mikkey Dee are the epitome of the genre. Aftershock, their first record since 2010's astounding The World Is Yours, is Motörhead at their predictably unapologetic best. No bullshit, just a heady concoction of blues, punk and head pounding metal.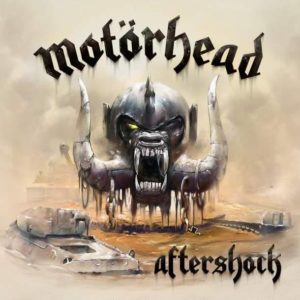 Recorded, in the same studio where Inferno, Kiss of Death and Motörizer were laid down and with Cameron Webb, the man who produced those albums, along with The World Is Yours behind the desk once more, this is yet another flawless and merciless 21st century Motörhead record. With a total of 14 songs clocking in at 47 minutes, it hits your harder than a runaway freight train to the testicles.
This is a band that have been loyal to only themselves, the ear-splitting noise they make comes from their hearts and theirs hearts only. Heartbreaker proves that instantaneously. The first taste of the freight train and, while its taste is predictably familiar, it is the kind of familiar taste you crave, like that first pint after a long, crappy day at the office. Yet, it is fresh, modern and entertaining as it is same-old. Somehow the band's usual party tricks don't just sound like a recycled winning formula.
End of Time is a punishingly heavy track that, played with complete conviction, is a track that only Motörhead could have written and Going To Mexico packs a classic, memorable chorus which is poised to wreak havoc in circle pits worldwide.
Through-out the years, the naysayers have so often criticized Motörhead for being one dimensional, a one trick pony. While the band already has the likes of Don't Let Daddy Kiss Me and Whorehouse Blues to put said naysayers in their place, Aftershock adds more punch to that argument. In Lost Woman Blues, a Phil Campbell penned track, they have a fantastic slow-paced blues song that oozes in emotive guitar wailings and clever nuances. Lemmy's voice, despite a lifetime of glugging whiskey and inhaling cigarettes sounds crisp and strong here as he lets his softer side shine through. It is one of many tracks on the record that Phil Campbell makes a really good impression. He shows an ability to hold back, to let the guitar scream only when necessary, to accentuate Lemmy's lamenting lyrics. Then, when it shifts up the gears, the song gets the stunningly climactic finish it deserves. In album full of rage and thunderous power, it is an excellent interlude.
But, the rage must continue and it does so without giving you a moment to breathe. The Chuck-Berry-meets-the-Sex-Pistols savagery of Do You Believe leaves you open-mouthed while Death Machine leans towards the swaggering pomp of ZZ Top, with the kind of ingredients that made No Class and Orgasmatron's Deaf Forever such incredible songs.
At 4:30, Silence When You Speak To Me is the longest song on the record. Mid-paced, it does kill a little of the momentum, but it is a fantastic song nonetheless. Armed with one hell of a foot-stomping groove, it's a nasty sounding track that sees Lemmy's acidic tongue back in formidable form.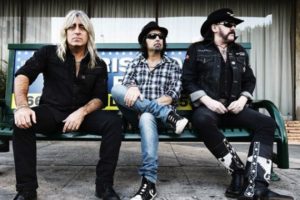 As the album progresses it is clear that this is by far the grooviest Motörhead record in some time. It is a record that seems to be coated in a untouchable confidence and belief in their own abilities. It is consistently breath taking, never once do you find yourself tempted to skip a track; the thought never crosses your mind.
Elsewhere, Crying Shame channels the vibes of Bastards' Bad Woman while being driven by the kind of shuffling riff that helped make We Are Motörhead a modern classic. Queen Of The Dammed, led by a gargling bass riff is Motörhead at their punk fuelled best.
Recent illness, culminating in cancelled shows and doubts about Lemmy's apparent immortality have been put to rest with a wry smile and a middle finger.
This is Motörhead and they play rock n' roll.
Motörhead are:
Ian Lemmy Kilmister – Bass, vocals
Phil Campbell – Guitar
Mikkey Dee – Drums
Official website: www.imotorhead.com
Twitter: @mymotorhead
Track list:
1) Heartbreaker
2) Coup De Grace
3) Lost Woman Blues
4) End Of Time
5) Do You Believe
6) Death Machine
7) Dust And Glass
8) Going To Mexico
9) Silence When You Speak To Me
10) Crying Shame
11) Queen Of The Damned
12) Knife
13) Keep Your Powder Dry
14) Paralyzed