In 2019 I was lucky enough to get the chance to review the 40th anniversary reissues of the Overkill and Bomber albums from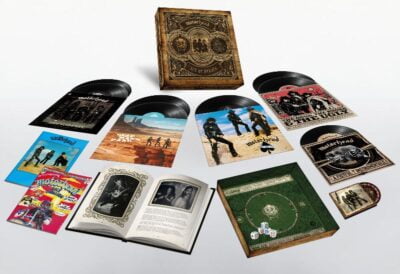 Motorhead. I've been a fan since buying their self titled debut album in 1977, caught them at over 30 gigs since 1980 and wondered if there would be the same treatment giving to Ace Of Spades in 2020 for its 40th anniversary and my prayers have been answered with another vinyl boxset of the highest order.
There is over 4 hours of music here that include the half speed mastered album created from the original master tapes. 2 double live albums of previously unreleased concerts from the Ace Up Your Sleeve tour. A Fistful Of Instrumentals, a 10″EP of previously unreleased instrumentals from 1980. The Good, The Broke And The Ugly a double album of B-sides, outtakes and rare tracks. Ace On Your Screens a DVD compilation of rare TV appearances from 1980-81, a live concert from 1981 and a 5.1 audio mix of the album. It's an exhausting feat to review but here are my high points.
From the A Fistful Of Instrumentals demos a warts and all 'Ace Of Spades' is a force of nature to be reckoned with as Lemmy, Phil and Eddie bash it out fast and furiously. 'Hump On Your Back' is a bass heavy bruiser with so much going on here for just a trio playing. 'Shoot You In The Back' highlights the dexterity of the time changes without lyrics. 'Fast And Loose' sums up the entity of this song perfectly as once again they just hammer it out. 'Dirty Love' is stretched out to a glorious 5 minutes with a couple of false starts thrown in. 'Love Me Like A Reptile' is my standout Ace Of Spades track and the grooves they grind out here are exhilarating and the demo of 'Dance' is a heavy hairy hoedown.
The Good, The Broke And The Ugly also throws up some priceless gems of alternative versions. It kicks off with 'Ace Of Spades' and is a far cry from the album take as it's mainly instrumental, the main riff is melodic as is the lead guitar break and the drum patterns are different to. 'Dirty Love' grinds heavier than the original and Phils drums are high in the mix. Lyrics are different and Eddie delivers some amazing wah wah. A longer than the album version of 'Love Me Like A Reptile' is as raw as you like take and the instrumental midsection is bluesier. 'Shoot You In The Back' after a false start by Eddie with Lemmy asking "You playing it by yourself?" is slower than the album take. 'Hump On Your Back' simply crushes! Lemmy adds a gnarly vocal for 'Fast And Loose' and his Rickenbacker is high in the mix. Phils snares are prominent throughout '(We Are) The Road Crew' and it's a boisterous delivery when Lemmy and Phil lock in. A humourous change of lyrics include "Another bloody customs post, another fucking foreign coast, another set of scars to boast, we are the roadcrew you bastards" followed by a cackle. There is no pause as they tear into a loose limbed thrash out of 'Fire Fire' and backing vocals are high in the mix. A trebly 'Jailbait' is devastating.
'Waltz Of The Vampire' is a demo take of 'Dance' with different lyrics. 'The Hammer' is astonishing as Phil somehow blasts the album version away. 'Dirty Love' is a loose take with different lyrics. Lemmy sounds possessed in 'Bastard' as things get jovial with 'Godzilla Akimbo' that sounds like a jam knocked out in one take. 'Love Me Like A Reptile' rages harder than the album take as it bristles with bravado and the outro solo is played on bass guitar. A blink and you'll miss it 'Dirty Love' is a minute long intro and the first line of the song. The album closes with the St.Valentines Day Massacre EP by Headgirl, as Motorhead teamed up with Girlschool in 1980 for a cover of 'Please Don't Touch' by Johnny Kidd And The Pirates, 'Bomber' performed by Girlschool and 'Emergency' performed by Motorhead with Eddie on lead vocals.
The 2 live albums taken from the mixing desk are a fans dream. Riders Wearing Black-Live At Whitla Hall, Belfast Dec. 23rd 1981 sees Lemmys bass high in the mix and Dead Mans Hand-Live At Parc Expo,Orleans, March 5th 1981 sees Eddies guitar high in the mix.
The Belfast gig kicks off with a pummeling 'Ace Of Spades' as Lemmys Rickenbacker takes no prisoners, vocals are bellowed with 100% conviction and Phils snare work is wrist snapping. 'Stay Clean' is an early highlight and 'Over The Top' lives up to its title. 'The Hammer' is preceded by the dry wit of Lemmy. "You get used to a certain noise from Belfast and the first one wasn't it". Lemmy dedicates the song to Phil Taylor who duly replies with a kit smashing performance. "This song is about cowboys and there are plenty of them in Ireland" sees 'Shoot You In The Back' fly by. 'Metropolis' is guitar heaven and the sound engineer seems to have all the levels in the red for a crushing 'Jailbait'. 'Leaving Here' is a race to the finish line rocker 'Capricorn' is a violent take on the Overkill album version and the bass outro could show Joey De Maio a thing or two! 'Too Late Too Late' is rock solid as is Phil who is on another level for '(We Are) The Road Crew', introduced by Eddie as "These are the guys who make it all possible" with Lemmy adding "And those two at the desk who can't get up here, squeeze em by the balls on your way out". 'No Class' is "Dedicated to you lot and I hope you stay that way" by Lemmy as his vocals add an extra bite. 'Bite The Bullet' and 'The Chase Is Better Than The Catch' are introduced as "Two songs in one" but we only get a minute of the latter. "This is the last one Belfast unless you make a fucking racket" herald 'Overkill' which is in a league of its own as is a frantic 'Bomber' and the only way to end a gig like this is with a full on 'Motorhead'.
The Orleans gig starts with a vociferous 'Ace Of Spades', a real ear rattler. 'Stay Clean' hits hard and heavy especially from Lemmys mini bass solo midway. A gruff 'Over The Top' and a monstrous 'Jailbait' is introduced as "To all the girls in the audience, dedicated to the ones who are too young and don't care", followed by the rough diamond rage of 'Leaving Here'. 'Fire Fire' is a brutal soundtrack to the apocalypse and the pace slows down but not the heaviness for 'Capricorn' introduced by Lemmy as "This is a love song to my beloved one. Me!" 'Too Late Too Late' is all wah wah frenzy from Eddie and his eardrum splitting outro for '(We Are) The Road Crew' is the icing on the cake for a whiplash version of it. 'Bite The Bullet' is "For John Lennon". A cavalry charge of 'The Chase Is Better Than The Catch' leads to the one two suckerpunches of the encores 'Overkill' and 'Bomber'.
The vinyl boxset includes a head spinning array of memorabilia all encased in a classic Wild West dynamite box, the contents of which are listed below along with full track listings of the albums and DVD. There is also a cheaper format available of a 2XCD mediabook containing the Ace Of Spades album and the Belfast concert.
https://planetmosh.com/motorhead-announce-ace-of-spades-deluxe-anniversary-reissue/
A footnote to my review so that I can dedicate it to a dear friend who recently passed away from Covid. A fellow Motorheadbanger in life and death. R.I.P Mark Rowley \m/ \m/
The musical Eighth Wonder Of The World!