An amazing day and night of Female Fronted Metal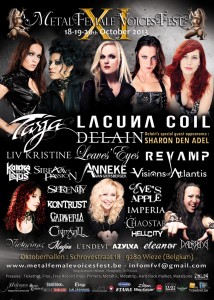 One thing that definitely can not be said about MFVF is that the fans do not get value for money. As the second day beckoned, we had twelve bands and fourteen hours of music to absorb. If you've not been to the festival before, the hall is aircraft hangar in shape with a large stage and huge backstage area, this is a revelation for some of the lesser known bands who are given so much room to play that they can not help but run around like kids in a sweet shop.
Opening act Magion (8/10) had made the trip from The Netherlands to play, and had taken full advantage of the occasion by releasing their new album 'A Different Shade Of Darkness' at the event. Falling into the Symphonic category, they were an excellent choice to get the crowd enthused. With the excellent Myrthe van Beest on vocals, they look a class act in the making, songs like 'Never Ending Winter' and 'Song For The Living' were particular highlights of a strong set.
Azylya (7/10) are in effect on home ground at this festival and put in an excellent set which was visually strong as well as musically, with vocalist Jamie-Lee commanding the stage with fire lit torches strapped to her hands and two masked dancers brought in to add an extra dimension to the music, which is quite dark in many respects, combining as they do, the female vocal with a deep Death Metal growl vocal as well.
Victorians (8/10) on the other hand, are a much more flamboyant affair, the band from Poland mixing Gothic and Vampire imagery with the music to great effect, Eydis on vocals is a strong focal point as well, especially on songs such as 'Who Never Loved' and 'Siren', indeed the bands set drew many favourable comments from a number of people I spoke to, and deservedly so.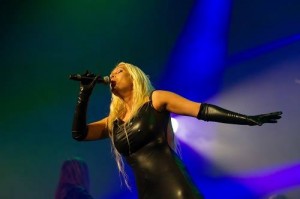 Imperia(9/10) were different class though. I thought they had played the festival before but no this was their MFVF debut and it could not have gone much better. 'Mirror' and 'Suicide' were delivered with so much passion by lead singer Helena Iren Michaelsen that you couldn't help but be captivated by the blistering set they delivered. Having to condense their normal show into a forty minute slot was not easy but they wasted not one of those minutes, leaving the stage as a very hard act to follow.
Serenity(8/10) have always used the female vocal of course but until enrolling the talents of Clémentine Delauney it had always been in the form of guest appearances by various artists. Now firmly planting themselves in the genre they were able to  play the festival for the first time and wasted no time at all in showing the eager crowd what they could do. Clém has an amazingly strong and adaptable voice and coupled with the male vocals of Georg Neuhauser  it's hard to fault anything that they do. 'Coldness Kills', 'Fairytales' and a guest appearance from Charlotte Wessels on 'Serenade Of Flames' my personal set highlights.
Chaostar(6/10) divided a lot of opinion amongst the crowd, indeed, I'm still not sure myself, whether I enjoyed it or not. Elements of stunning and haunting, almost film score music were sometimes lost in the overall picture of things. They are however, an excellent bunch of musicians, and I would love to see them live again, I guess they are a band you need to see and listen to a number of times before beginning to understand fully what they are about.
Understanding Kobra And The Lotus(7/10) however, is not difficult at all. This band does exactly what it says on the tin, with their addictive brand of pure and simple Heavy Metal that is hard not to like. Of course, in Kobra Paige the band have a fantastic front woman who can control a crowd in the blink of an eye but musically the band are equally as impressive, 'No Rest For The Wicked', 'Sanctuary' and 'Dark Passenger' all sounding great on this stage, a great festival band if ever there was.
With the incredibly late cancellation of Visions Of Atlantis from the bill, I was impressed that the organisers managed to find a suitable replacement in time at all, that they did though, in the form of Asrai(8/10) , whom I'd seen for the first time at this very festival back in 2008. Considering the lack of preparation time, the band put on a really solid performance, taking advantage of the event to plug their current E.P. 'Between Dreams And Destiny'. Margriet on vocals has a real talent at conveying the Gothic tinged lyrics to the crowd.
Whilst some bands on the bill go with that Gothic and dark vibe, Kontrust(9/10) are the exact opposite. They thrive on colour, sparkle, bounce and….hand puppets. Unlike any other band on the bill, they are able to shine and deliver a memorable set of crossover Rock and Metal that has the whole place jumping. The infectious nature of songs like 'Sock 'N' Doll', 'Hey DJ' and the set closer 'Bomba' ensure that this is a band that will asked back very quickly.
Leaves Eyes (8/10) are no strangers at all to this festival having played and indeed headlined on previous editions, that familiarity with the venue and set up meant that they were into top gear from the start. Debuting no less than five brand new songs from the forthcoming album 'Symphonies O f The Night', this set oozed quality. Mixing things up with classic tracks from the extensive back catalogue that they now possess, also worked really well, after all, I doubt whether there was a person at the venue who didn't know the lyrics to 'Elegy'. Liv Kristine's voice sounds stronger and more commanding than ever, especially on 'Take The Devil In Me', confirming the bands status in the genres elite.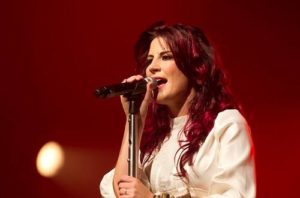 Delain (10/10) are a band who everyone in the hall hoped would put on a stunning show and boy did they just do that. Not a weak link in the whole setlist as they power through eighty minutes of faultless Melodic Metal, 'Frozen, 'April Rain', 'Not Enough', all immaculately delivered by a band on top of their game. Pyros add to the visual aspect of the show but to be honest if the stage set had been a cardboard box, no one would have cared. Add to that the guest appearance of Sharon Den Adel to duet with Charlotte on 'No Compliance' and then Sharon remaining onstage to revive the Within Temptation classic 'Restless' with Martijn on piano, you suddenly began to realise you were watching something rather special.
Headliners, Lacuna coil(10/10) were back for a second year running and needed to do something special to follow on from what the crowd had just witnessed. How's about playing the entire 'Karmacode' album for the first time ever then, yes, that will certainly do the trick. Cristina Scabbia and Andrea Ferro just own the stage from the first song to  the last and have the crowd eating out of their hands. To hear songs like 'Devoted' and 'Fragile' played live was just stunning as well as the Depeche Mode cover 'Enjoy The Silence', which has become a firm fan favourite. The encore includes 'Heaven's A Lie' and 'Spellbound' just to put to bed a mesmerising show.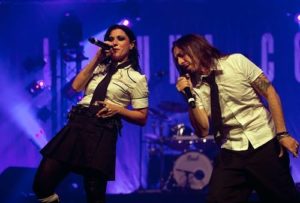 A fantastic day and night of Female Fronted Metal had come to an end, as we headed for the exit, heads buzzing, we couldn't wait to get back for day three.
http://www.metalfemalevoicesfest.be/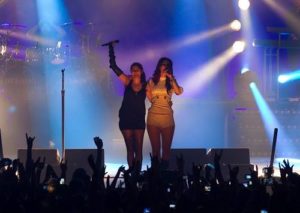 Photos courtesy of Anthony May