MÖTLEY CRÜE DIGITAL REMASTER OF DR. FEELGOOD AVAILABLE SEPT 3, CONTINUING THEIR 40TH ANNIVERSARY CELEBRATIONS
DIGITAL REMASTERS OF BAND'S ALBUMS GIRLS, GIRLS, GIRLS AND THEATRE OF PAIN OUT NOW
LISTEN TO THE NEW 'MÖTLEY CRÜE 101' PLAYLIST ON SPOTIFY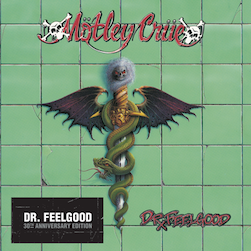 Today marks the 30th anniversary of the final single released from Mötley Crüe's legendary album Dr. Feelgood. In celebration – both of that anniversary and the band's year-long recognition of their 40th anniversary in music – today they announce the digital remaster of this decadent and unapologetically fun album, to be released worldwide on September 3. Available now for pre-order across digital platforms, the refreshed sonic experience features hits such as "Dr. Feelgood," "'Kickstart My Heart," "Without You," "Same Ol' Situation (S.O.S.)," and "Don't Go Away Mad (Just Go Away)." To date, Dr. Feelgood is the band's best selling album with sales of over 6 million copies worldwide, highly regarded by music critics and fans as some of the band's best work ever. The band originally released their fifth studio album Dr. Feelgood in September 1989 and hit #1 on the Billboard 200 Chart, along with 7 other Top 10 Charting positions worldwide. This rerelease will join the already released digital remasters of Girls, Girls, Girls and Theatre of Pain.
Relive the history of this groundbreaking album via the title track's iconic video HERE. This song was the band's first Top Ten hit, climbing as high as #6 and charting for 16 weeks, the longest of any Mötley Crüe single to date, and the first single to achieve Gold status
See full track listing for the album below.
Dr. Feelgood Track listing:
T.n.T. (Terror 'n Tinseltown)
Dr. Feelgood
Slice of Your Pie
Rattlesnake Shake
Kickstart My Heart
Without You
Same Ol' Situation (S.O.S.)
Sticky Sweet
She Goes Down
Don't Go Away Mad (Just Go Away)
Time for Change
Hits from the album are included on the recently launched Mötley Crüe 101 Spotify Playlist, which gives new and existing fans a comprehensive compilation to the band's iconic musical legacy, taking them a celebratory sonic journey for this special anniversary. LISTEN NOW.
###
ABOUT MÖTLEY CRÜE
MÖTLEY CRÜE is The World's Most Notorious Rock Band. Hailing from Los Angeles, CA, the quartet—Vince Neil (vocals), Mick Mars (guitars), Nikki Sixx (bass), and Tommy Lee (drums)— has commandeered the rock pantheon for 40 years.
They've accumulated worldwide album sales exceeding 100m, 7 platinum and multi-platinum albums, 22 Top 40 mainstream rock hits, 6 Top 20 pop singles, 3 GRAMMY nominations, 4 New York Times best-sellers and even landed a star on the Hollywood Walk of Fame.
With utmost success from their biopic, The Dirt on Netflix and its soundtrack, the band landed another #1 album on iTunes and Top 10 worldwide with 22 chart-topping singles and 7 albums on the charts. Its massive global success saw Mötley Crüe's popularity rush to new highs, catapulting the band's music back to the top of the worldwide charts with the younger 18-44 demographic now representing 64% of the band's fanbase.
In the six months following the release of THE DIRT, Mötley Crüe has celebrated a meteoric rise of almost 350% increase in streams of their music across all streaming platforms. Known for their iconic live performances, they've sold-out countless tours across the globe in front of millions of fans with groundbreaking production highlights such as Tommy Lee's, Crüecifly-Drum-Rollercoaster and Nikki Sixx's Flame-Throwing-Bass.
CONNECT WITH MÖTLEY CRÜE