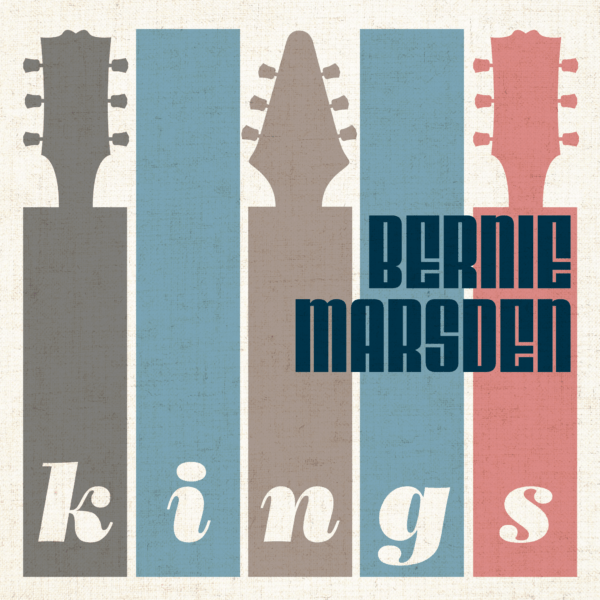 The constant work ethic of Bernie Marsden sees him release 'Kings', his first solo album in 7 years via Conquest Music and Bernie Marsden's Little House Music. The album is the first of the 'Inspirations Series' as Bernie pays tribute to his peers. The idea came out in 2018 when playing onstage with Billy Gibbons. After the soundcheck Billy said, "Wouldn't it be great if we could all record the songs we grew up with as we learned to play the guitar?" So Bernie compiled a list which resulted in these 10 songs originally recorded by Albert, BB and Freddie King plus 2 bonus tracks of instrumentals written by Bernie.
Feel good vibes from the opening guitar flurry of 'Don't You Lie To Me' herald the arrival of a very impressive vocal from Bernie with a crisp delivery as a toe tapping groove is the base for some serious string bending.
'Key To The Highway' is a sumptuous heartbreaker as each note is plucked out mournfully to highlight the songs subject of love lost.
'Help Me Through The day' is a sultry, soothing number of laid back lustre. Sparse guitar lines enchant but the spotlight is stolen by a pleading lead vocal.
'I'll Play The Blues For You' keeps to its promise as suggested in the title. Keyboards are prominent to give it a proggy feel as the guitar lines sting like angry wasps backed by a silky smooth vocal.
'Woman Across The River' meanders along on a gentle cruise of off kilter rhythms as vocally, Bernie sounds uncannily like Ian Gillan here.
'Help The Poor' has a sublime Celtic like intro as this poignant number could melt the coldest heart. Guitar lines chime over a bass guitar throb and snappy drum patterns.
'Me And My Guitar' starts with a brief piano intro that's the calm before the storm of some muscular riffs as Bernie turns his amp to 11 for some ballsy bombast and air guitars are a must for the outrageous solo midway.
'Living On The Highway' is a driving force of blues that's the real deal, point proven by this couplet of "20 years ago I was 14 years old when I first heard the Wolman's howl. He sneaked me through the door, there was whiskey on the floor and the police they were on the prowl. Well it seemed so long ago I'm living on the highway now".
'You Got To Love Her With A Feeling' is finger picking good as Bernie wrings that guitar neck louder than any church bell. Stop start rhythms add extra ire to the vocals.
'Same Old Blues' sees Bernie leave it to the last song to break our hearts as the vocals have a slight quiver to them. It's a beautiful ballad that makes for my album highlight, definitely not same old, same old!
'Runaway' is the first of the 2 instrumental bonus tracks. It's a rootin tootin rollercoaster ride of raucous rock and roll to get you busting some moves on the dance floor!
'Uptown Train' is a full steam ahead hot rails to Hell that rides along on a first class delivery of dreamy vibes backed by a steady rhythmical stomp.
I'd like to end my review by saying that Bernie is the most polite interviewee I've spoken to as we talked after a gig in Nantwich 6 years ago at midnight after his gig. A perfect gentleman!
Album purchase and band links are here :- http://berniemarsden.com I https://www.facebook.com /berniemarsdenofficial I https://amazon.co.uk/KINGS-Bernie-Marsden/dp/B096TJQS5S/?tag=plane09-21 I
'Kings' album track listing :-
Don't You Lie To Me.
Key To The Highway.
Help Me Through The Day.
I'll Play The Blues For You.
Woman Across The River.
Help The Poor.
Me And My Guitar.
Living On The Highway.
You Got To Love Her With A Feeling.
Same Old Blues.
Bonus tracks :-
Runaway (instrumental).
Uptown Train (instrumental).
'Kings' album personnel :-
Bernie Marsden – Lead Vocals/Guitar.
John Gordon – Bass Guitar.
Jim Russell – Drums.
Bob Haddrell – Keyboards.
Bernie Marsden is truly the king of rock royalty with his stunning album of covers 'Kings'.