The seal has been broken and the cat is out of the bag! Mike Tramp of White Lion fame unleashes his 'Songs of White Lion Tour'
Embarking on a 10-date tour of the UK, Mike Tramp tells us that this will be his final run as a 'power-duo' with Marcus Nand, as he plans to put a full band back into action. So, this makes this tour an exceptional one indeed.
Rob Wylde is the opening act. You may know Rob from his current band Midnite City or his long run-in glam rock band Tigertailz. Tonight the songs are stripped back as Rob plays songs from his career acoustically.
Approaching Nightrain, I hear music emerging into the street, thinking it's just pre-band music, I go inside to see Rob Wylde already on stage, is it a sound check, No, I'm late. It's 7.30 pm and the last bars of Hard To Get Over are pouring out. Wylde looks ever the rockstar, with his main of long blonde hair and ripped jeans, he's even dug out a classic White Lion t-shirt.
Rob introduces One Step Away (Midnite City). It's an AOR sleaze banger that has been given an acoustic makeover. It gets a big cheer from the crowd. Summer of Our Lives is a bouncy acoustic performance that is full of energy and reminds us of the good times as Wylde strums away passionately.
Wylde asks if we remember his early band 'Teenage Casket Company'. Who will be returning to their home town for a reunion on October 14th 2023 at The Old Cold Store, Nottingham. If you like your power-pop-rock get yourself along!
Closing with Give Me Your Love, this ode to 80s power rock comes across well with Wylde's raspy melodic vocals and harmonies. Maybe the Midnite City's next move could be an acoustic one.
https://www.facebook.com/midnitecityuk/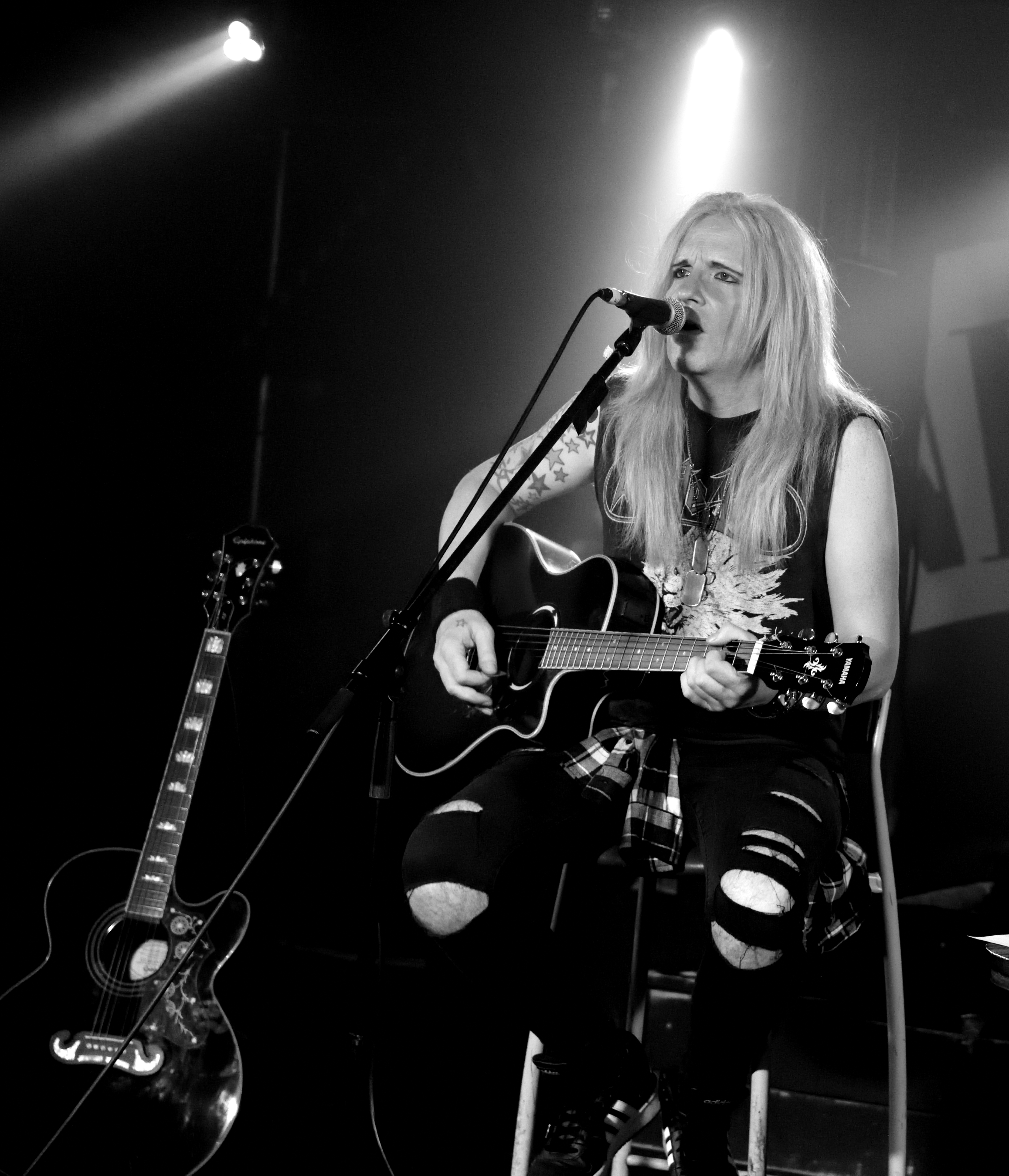 SETLIST: Can't-Wait For The Night – I Don't Need Another Heartache – Good Time Music – Heavens Falling – Hard To Get Over – One Step Away – Summer of Our Lives – Give Me Love
MIKE TRAMP
Who would have thought that 40 years on from their original release You'd be listening to the songs of White Lion? Neither did Mike Tramp. Having found success in the 80's White Lion spawned hit after hit, rock dancefloor fillers and songs to romance too.
The main attraction, Mike Tramp is joined on his 'Songs Of White Lion' Tour by rhythm guitarist Marcus Nand (Freak Of Nature), as the power guitaring duo take to the stage. The only other addition is a computer-aided backing track, providing the effects and bass beats to give you an almost full-band performance. You can't knock it, as the electric vibes of Tramp and Nand keep you energetically entertained throughout the night, along with the tales from Mike Tramp.
Revelling he is no Tom Jones, Mike Tramp reminisces about the times he played to thousands in the '80s and early '90s. As time passed so did the White Lion's popularity, so that's when Tramp decided to stick the songs of White Lion in the jar and seal the lid with wax adding a label "only use, only if desperate" – this gets an amused reaction from the crowd.
It is a powerhouse of opening killer riffs from the start of the show, Lonely Nights instantly brings its magic touch, as the joyful smiles spread across the fans' faces. The nostalgia ride is in full force and Nand's metal-melding riffs on Hungry, take you back to the heady days of the 80s. Tramp might not be 26 anymore but suggestiveness is still there.
Introducing Cry for Freedom, Tramp tells us it was one of the songs he most enjoyed re-recording for the Songs Of White Lion album. Tipping his hat to all the couples in the room, the dreamy ballad Till Death Do Us Part brings down the pace, and the audience's reaction is they remember this song with as much pleasure as it's performed tonight.
Still by our side after all these years. Mike recalls his fond moments of visiting Bradford and playing the iconic Bradford Rios with 'Freak of Nature' back in 1992, pre-Nand joining the band. Tramp asks his audience to make some noise for his bro, six-stringer, Nand, and they do.
Hooking the crowd back into action with its edgy riffs Little Fighter is followed by the anthemic Love Don't Come Easy. Tramp and Nand go full throttle, dual the guitar riffing, with Marcus beefing up on the main solos on Wait. The crowd know each word as they sing along to the duo on stage tonight.
It's not a Christmas song but the invoking When The Children Cry captivates the audience as they stand and take in the lyrics. Nand pulls off another impressive solo, one that fans will recall was originally performed by Vito Bratta, Nand you did a great job!
Speaking of Vito Bratta, Tramp shares more stories from his past and the one of how he met his former guitarist Bratta. Whilst jamming together they came up with the next song, Broken Heart. And as Vito said his goodbyes…he paused and said "We're gonna call the band White Lion?!"
Recorded for the 'Big Game' album, much akin to the original on its release back in 1989. Tonight's version of Golden Earring' 'Radar Love' is slowed down, more pyscheldic and a hell of a dirty-blues stomper.
Saving the best for last, Tramp closes with the aptly titled Farewell To You.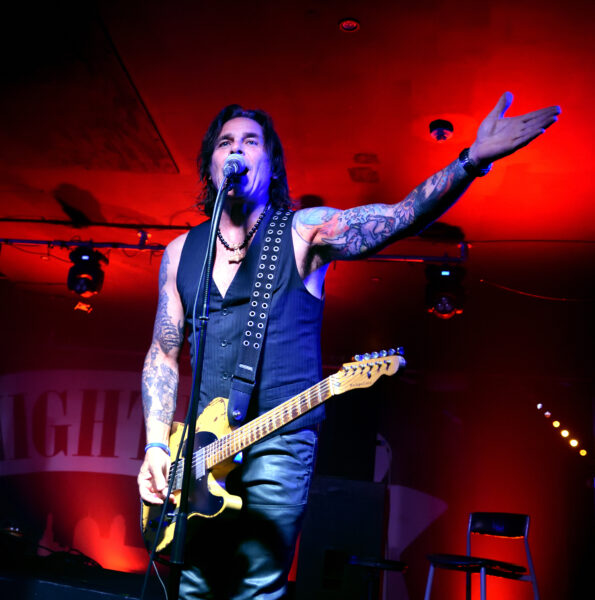 Mike Tramp – Vocals/Guitar
Marcus Nand – Guitar/vocals
Setlist:
Lonely Nights
Hungry
Tell Me
Living on the Edge
Cry for Freedom
Till Death Do Us Part
Little Fighter
Love Don't Come Easy
Wait
When the Children Cry
Broken Heart
Radar Love (Golden Earring, cover)
Farewell to You
Links- https://www.facebook.com/MikeTrampOfficial/?locale=en_GB | https://miketramp.webs.com/
More photos here: https://flic.kr/s/aHBqjAS7Yp