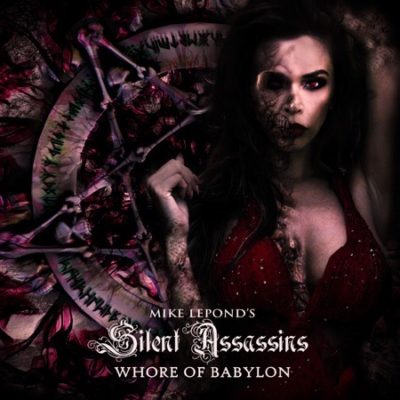 Somehow in between playing with the Ross The Boss Band and Symphony X, Mike LePond has written all the music and lyrics for Whore Of Babylon, the third album from his band Mike LePond's Silent Assassins and for good measure, he's even produced it!
Currently released via Silver Lining Music, he is joined by an arsenal of musicians who dexterously rise to the occasion for these ten tracks. Album opener 'Dracul Son' is ridiculously fast acoustic guitar plectrum snapping overload competing with wrist snapping snare work and cataclysmic kick drumming.
A histrionic lead vocal from Alan Tecchio makes for a captivating start and the only respite is a midway symphonic piece. Mike's bass guitar lines are off the Richter scale with pummeling precision for 'Ides Of March' as it heads off into thrilling power chord mayhem and a full on drum gallop. Once again the vocals are truly lung busting!
'Tell Tale Heart' hits hard with a crushing intro of abrasive riffing. Vocals arrive with a gleeful snarl but those screams are never too far away. A ballistic instrumental segment lets the song stretch out to six minutes. 'Night Of The Long Knives' is a jolly big riffed hoedown. Marching into battle like grooves hit hard and heavy as melodic choruses soar.
A vocal change sees Sarah Teets add a touch of calm throughout 'Champion', a seven minute soothing ballad. A spine tingling medieval tinged intro heads off into a prog rock, bass guitar dominated midsection, bringing to mind early Uriah Heep and the grandiose outro is mesmerizing. 'Ironborn' is a manic riffer that flies out of the traps at breakneck speed. A throaty vocal rasp adds to the intensity and guitar overload midway will keep the headbangers busy.
'Lady Bathory' is a short, sharp, groovy grinder that chugs along with aplomb and a fretboard burning guitar solo raises the bar even higher. Raise your hands high and rejoice to the glorious heavy metal of 'Power Of Steel', a chest beating, flag waving opus! 'Whore Of Babylon' is an Eastern tinged power ballad. Vocals are laid back, giving them space to wash over the rhythms.
And so we come to the final track of a very impressive album as 'Avalon' is an eight-minute masterpiece. A lengthy intro shows off Mike's mastery of the bass guitar as the band crash in for a mind-boggling array of speedy time changes. A pause for breath comes via a quaint vocal piece as all hell breaks loose for a vocal tour de force outro!
Whore Of Babylon album track listing :-
Dracul Son.
Ides Of March.
Tell Tale Heart.
Night Of The Long Knives.
Champion.
Ironborn.
Lady Bathory.
Power Of Steel.
Whore Of Babylon.
Avalon.
Album personnel :-
Mike LePond :- Rhythm, acoustic and four + eight string bass guitars.
Alan Tecchio – Lead and backing vocals.
Lance Barnewald – Guitar.
Rod Rivera – Guitar.
Sarah Tees – Flute, lead and backing vocals.
Michael Romeo – Drum programming, keyboards, orchestration, mandolin.
Michael Pinnella – Piano, organ, backing vocals.
An absolute monster of an album!