Savage Purge is the second album from Huddersfield based singer/songwriter and pianist Carol Hodge. Carol gained notoriety working and touring with Crass founder Steve Ignorant, and was the lead vocalist of his band Steve Ignorant's Last Supper. Hodge also plays keyboard and is an active member of Ryan Hamilton and the Harlequin Ghosts.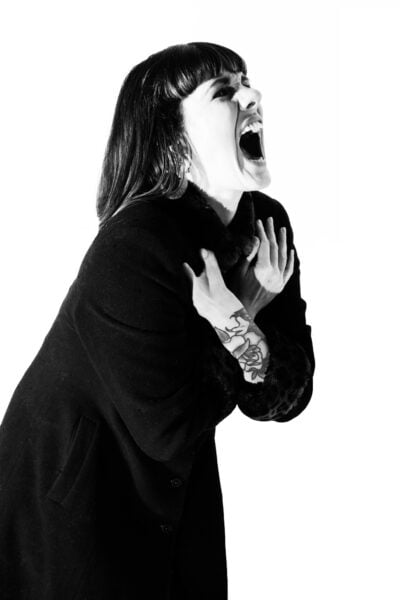 Recently I finished a fictional book about a 70's rock band called Daisy Jones and the Six. When you read, you create a character in your mind and I tried to imagine who Daisy would be in real life. And what an undeterred, clever witted woman would sound like when expressing her emotions through music, and then I heard Carol Hodge.

By Alex English
There's nothing like a good vocalist to grab your attention!
Stop Worrying Baby is an atom bomb of an opening track. As the piano-based song gains momentum, it explodes into an emotional pull on the heartstrings. Setting the bar high, it definitely stands out as one of the most prominent songs on Savage Purge.
Although the album sound does not reflect Carol's anarcho-punk roots, Hodge provides a forthright voice. She doesn't need to be pigeoned holed into a genre as Carol is her own unique songstress. The dark, moody piano at beginning of Waving Not Drowning took me back to the days when Faith No More wowed with their hit song Epic.
Savage Purge is filled with poignant songs and Hodge has purged deep, talking about the subjects of domestic abuse, alcoholism and mental health
The words on In Case of Emergency resonate at you and you feel Hodge's connection. If you've had an experience or have known someone in a domestic abuse situation, you will feel it too. Send Me Someone, is about alcoholism. Carol uses her clever wit to describe how easy it to fall for the lure of alcohol. And delivers the verses in a tongue n cheek manner. With lyrics like "And buying that bottle of prosecco from the shop earlier, didn't solve my problems but it made a nice barrier".
Gathering her musical mojo Carol has created something special in her vision for Savage Purge. Its electro-pop-rock vibe is not all dark, it's hope dressed from a realistic point of view. If you're looking for big choruses and riffs then Magic Bullet and Stopped Believing In You are the ones to check out.
The album focus is about life's lessons learned and growing as a person from those experiences. Each song has been wilfully styled to create its own story and for the listener to capture the meaning behind the music. Semi-Colon cuts deep, think Evanescence with Amy Lee performing Bring Me To Life.
Savage Purge delivers the wholehearted truth and you can order this profoundly wonderful album here: https://www.carolhodge.co.uk/shop
Carol Hodge on Facebook for Livestream events https://www.facebook.com/carolxhodge/
Track Listing
Stop Worrying Baby
Waving Not Drowning
I Still Love Me
In Case of Emergency
Magic Bullet
Send Me Someone
Semi Colan
Virtue Signals
Stopped Believing In You
Let Gravity Win
Wilfully styled Savage Purge delivers the wholehearted truth