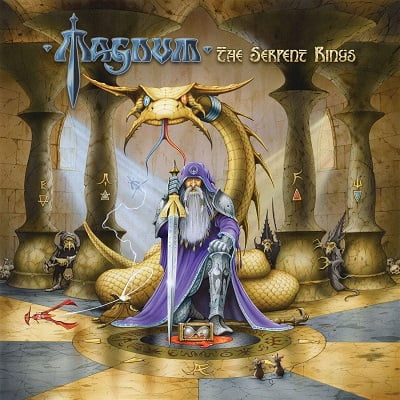 British melodic rock legends Magnum release their 21st studio album in January. They released their debut album in 1978, and have been regularly recording and releasing new albums for the 40+ years that followed. With a new Magnum album you've always got a pretty good idea what to expect as they're not going to radically depart from their signature sound, but they still manage to give the albums their own identity rather than it feeling like they just recorded the same album again and again. One thing that always impresses me are the vocals – Bob Catley's vocals sound fantastic still even though aged 72 he's been singing for over 40 years. While many other rock singers of his age have seen their voices deteriorate badly, Bob Catley's vocals are still very strong, particularly in the studio. Another constant with Magnum albums is the beautiful cover art from Rodney Matthews.
This is the first Magnum studio album to feature new bassist Dennis Ward who replaced Al Barrow. With Al Barrow living in the US it was logistically difficult and meant he had little time outside the band, so left and was replaced by Dennis Ward (Pink cream 69, Unisonic etc).
The songs range from fantasy to the band's take on things such as self-proclaimed saviours (Madman or messiah), or how Mankind is destroying the earth with greed (Man). Whatever the song subject, the songs are all beautifully written and sound great. Overall I think the album is a bit heavier than the last one while stil retaining that classic Magnum sound.
A great album.
"The serpent rings" will be released on 17th January 2020
Track listing:
1. Where are you Eden?
2. You can't run faster than bullets
3. Madman or Messiah
4. The archway of tears
5. Not forgiven
6. The serpent rings
7. House of kings
8. The great unknown
9. Man
10. The last one on earth
11. Crimson on the white sand