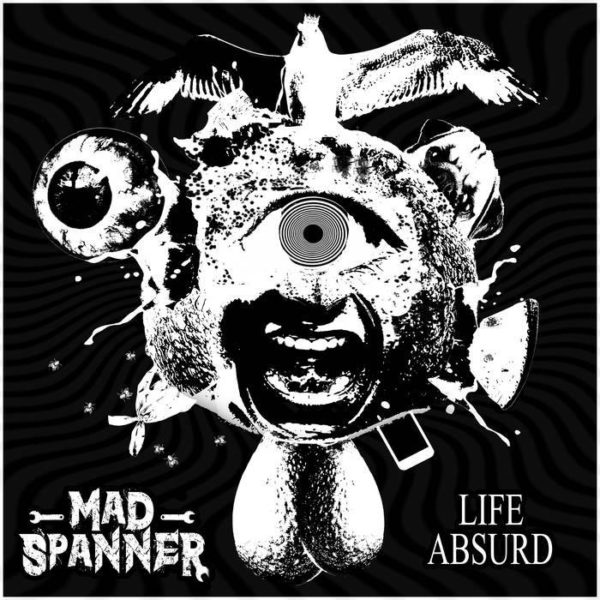 There must be something other than water in the River Severn as it flows through the normally sedate Shropshire town of Shrewsbury to addle the brains of Mad Spanner when they came to write their latest album, the aptly titled Life Absurd as it seems to have turned them into residents from Royston Vasey!
14 songs, 10 of which clock in at less than 2 minutes make it a reviewers dream album as they smash their way through it like the 3 Stooges with instruments. Their off the scale delivery brought to mind veteran US punkers Spazztic Blurr. Album opener 'Wrongshade' is a glorious grind over a spoken word intro that heads off into an unholy clatter of whirlwind rhythms with lyrics spat out like a demented auctioneer. The main riff to 'Forced To Use A Shitty Drum Machine' buzzes like an angry bee in a jar until it heads off into lightspeed. 'Alektorophobic Nosebleed' (anyone remember the band Agoraphobic Nosebleed?) is a hectic hoedown with yet more deranged lyrics portraying the fear of chickens!
Tongues are placed firmly in cheeks for the lyrics to 'Massacre Of The Flies' as clean and barked vocals add a death  metal vibe. 'I Was Caught Shitting In A Plastic Bag' is a blink and you'll miss it rager with a charming couplet of "I was caught shitting in a plastic bag, I was squitting all my din-dins and then I was glad". They get on their soapboxes for a tirade against all the hooray Henry's and Henrietta's during 'Get Off Your Bastard Phone (You Antisocial Dickhead)'. It's so long by their standards that they manage to squeeze in a guitar solo and a couple of jams. 'Anal Sex' is sung as a sort of love song and has to be heard to be believed, an example being "Your crown, ass of brown, unhygienic playground but I'll do it for her, I'll do it for love".
The heavy doom grooves of 'Drinking The Drunk Away' and the pirate like vocal delivery reflect the songs subject perfectly. 'Duck-Faced Selfie' is snare driven as the buzzing riffs hit hard over another modern day society rant including "Hollow in the head, like the walking dead, I see it in your eyes". 'Avocado Piano' and 'Avocado Commando' have a tenuous link between them that sees the band reach new levels of depravity as the first track is a spoken word piece from a man with elephantiasis of the testicles followed by the actual song with lyrics you won't find in a Marks And Spencer Xmas cracker!
'Seagulls Haunt Me In My Sleep' has eerie keyboards to add a sombre mood to this spoken word nutjob. 'Thinking Nothing. Feeling Nothing' is a short, sharp moshing stomp with indecipherable lyrics and the album closes with their longest and possibly the most sensible song 'Escape Into Reality' as a Sabbath like groove headbangs throughout containing a guitar solo that should not give Eddie Van Halen anything to worry about.
The album can be bought digitally for £8 or £10 for a physical CD from the links below or on the orange More Details box.
Mad Spanner band line up :-
Michael Randall – Lead vocals/bass guitar.
Dan Ashley – Guitar/backing vocals.
Ben Codd – Drums.
Links
Maybe not the sharpest tools in the box but Mad Spanner are definitely the most entertaining!