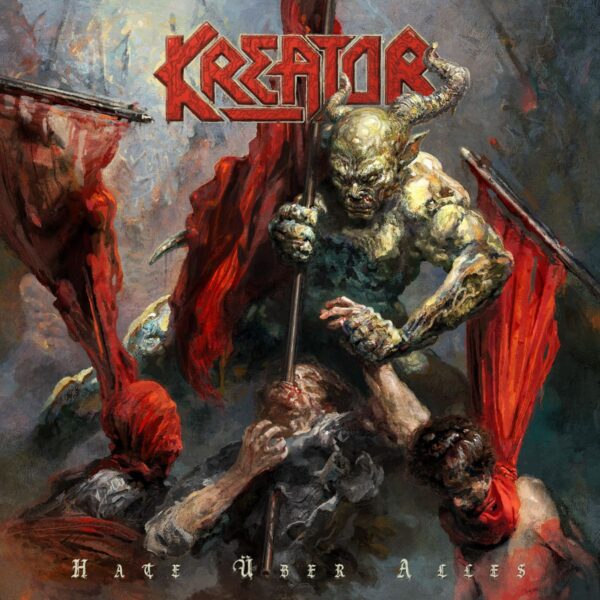 Welcome back Kreator with brand new studio album Hate Uber Alles (Hate Above All) released today on Nuclear Blast Records. Their fifteenth release sees them firmly cement their rightful place in The Big Four Of German Thrash Metal. Formed in Essen, Germany 1982, two members of the original line up Miland 'Mille' Petrozza and Jurgen 'Ventor' Reil are still flying the flag of hate forty years on!
These eleven tracks are not for the faint hearted but it opens sedately with 'Sergio Corbucci Is Dead', a short sharp spaghetti western tinged instrumental until all hell breaks loose for the album title track. It's a blink and you'll miss it four minutes of their caustic trademark thrash metal of insane riffing and cataclysmic kick drumming from Ventor that back up the venomous vocals from Mille. Twin lead solos hack and slash at your ears with glee as it ends on an even more powerful kick drum shockwave.
'Killer Of Jesus' is a brutal bludgeon of skin flaying thrash that takes a breath for pounding choruses until it accelerates for more twin lead mayhem.
Metronomic marching grooves stomp hard and heavy to match the title of 'Crush The Tyrants'.
Mid paced thrash muscles up for kick drum overload throughout 'Strongest Of The Strong' that provides backing for melodic verses and call to arms choruses.
Lyrics for 'Become Immortal' are delivered with sheer conviction over a grinding riff. A battle metal vibe comes from a bass heavy midsection and mighty "Whoa oh oh's" towards a raging solo and pit opening outro.
The majestic 'Conquer And Destroy' races to the finish line on a kick drum battery and power metal tinged choruses. It's an unrelenting song of power and precision personified. A female vocal in the outro choruses add extra drama.
The heaviest track on the album sees 'Midnight Sun' totally captivate as warp speed twin guitars are a force of nature as they buzzsaw around another anger fueled vocal. It also contains an enchanting vocal from Sofia Portanet to soothe the mayhem.
'Demonic Future' is up next to knock us out and with songs as potent as this, their future is far from demonic as they whip up a thrash tornado to devour all in its path.
A devastating riff stokes up the fires of hell for the thrashtastic 'Pride Becomes Before The Fall', a full on turbocharger with Mille belting out his strongest vocal and an eerie spoken word piece is blasted away by more six string fury.
'Dying Planet' closes the album epically and almost symphonically on seven minutes of doom grooves over lyrics that highlight our possible demise and once again a spoken word piece is spine chilling!
Purchase links to the album along with other band info are here :- https://linktr.ee/kreatorband I https://www.facebook.com/KreatorOfficial I http://kreator-terrorzone.de I https://www.instagram.com/kreatorofficial/ I https://twitter.com/kreator I https://kreator.bandcamp.com/ I https://www.youtube.com/Kreator I https://amazon.co.uk/Hate-Uber-Alles-Kreator/dp/B09RQH21C2/?tag=plane09-21
Hate Uber Alles album track listing :-
Sergio Corbucci Is Dead.
Hate Uber Alles.
Killer Of Jesus.
Crush The Tyrants.
Strongest Of The Strong.
Become Immortal.
Conquer And Destroy.
Midnight Sun.
Demonic Future.
Pride Belongs Before The Fall.
Dying Planet.
Kreator band line up :-
Miland 'Mille' Petrozza – Guitar/Lead Vocals.
Jurgen 'Ventor' Reil – Drums.
Sami Yli-Sirnio – Guitar.
Frederic Leclerq – Bass Guitar.
The album comes in the following formats :-
2LP+CD Box Set.
Trifold 2xLP,
CD Digibook.
CD Jewelcase.
Digital Album.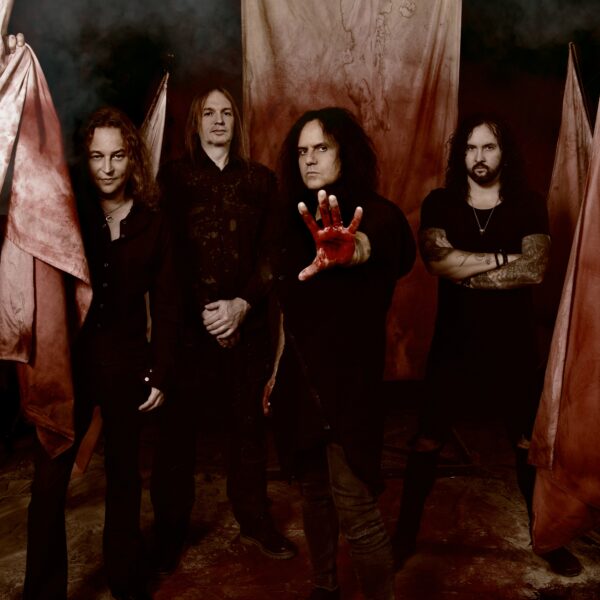 Hate Uber Alles, latest studio album from German thrash metal giants Kreator creates yet another example of how this genre should be delivered!