Kaine – Reforge The Steel
Notwithstanding founder member Rage Sadler of Kaine, this is a completely new line up to me and after one listen to current album Reforge The Steel, it sums up their current position perfectly! Since their formation in 2009 there has always been a sheer bloody mindedness from Rage to keep on going and with this release, he's still far beyond driven.
Currently available on their website for £10, the title track sees twin guitars excel from the off, backed by an insistent drum assault and there are lashings of melody in Rages vocals. Wah-wah lead breaks herald an even more brutal battery as it ends on an outro of feel good choruses. 'Black' is a seven minute epic that is so captivating, it seems only half that length. It's melodic heavy metal at its dramatic best as the two minute intro sets the scene for an anger fueled vocal.
'Loudwire' is the heaviest I've heard them for quite some time as ankle snapping kick drums and buzzsaw riffs thrash away with glee over a spitting vocal rant. 'The Dragon Reborn (Rebirth)' headbangs from the off and eases off for interesting time changed choruses. Strangely enough 'In Cold Light (The Necromancer)' seems to groove like early Hawkwind with some very heavy psychedelia going on as Rage hits screams like I've not heard him pitch before.
'I Am God, The Master Of Mankind' sounds like Rage is on a pedestal as he barks his statement of intent vocals. Majestic guitar harmonies and warp speed solos bring it to a breathtaking close. 'To All, My Love' has a heads down, foot on the monitor headbang that eases off into Sabbath like doom as more mind bending twin lead solos calm down to let it settle into that leaden groove once more. A melodic rock intro to 'Wake' sees Rage delivering some personal lyrics with grit and determination as it ends on some hefty riffing making it my album highlight. The album ends on the single edit version of 'Black'.
Reforge The Steel album track listing :-
Reforge The Steel.
Black.
Loudwire.
The Dragon Reborn (Rebirth).
In Cold Light (The Necromancer).
I Am God, The Master Of Mankind.
To All, My Love.
Wake.
Black (single edit version).
Kaine band line up :-
Rage Sadler – Lead guitar/rhythm guitar/lead vocals.
Liam Etheridge – Drums.
Toby Woods – Lead guitar.
Isaac Healy – Bass guitar.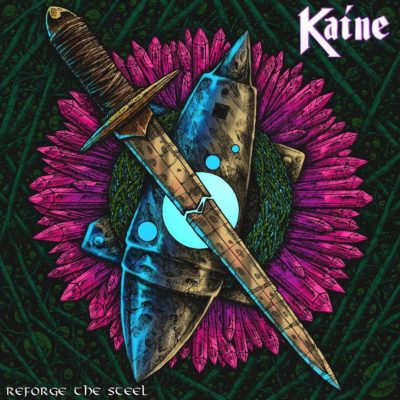 Kaine rage on with these nine molten metal monsters!