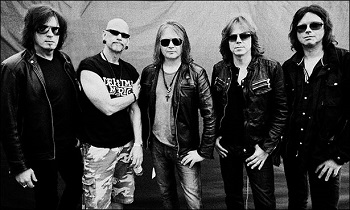 I spoke to Europe singer Joey Tempest ahead of the release next week of the band's new live DVD release – Live at Sweden Rock: 30th Anniversary show.
Planetmosh:  In June you headlined Sweden Rock festival in front of 30,000 fans.  That performance is now being released on CD and DVD.  It's not taken long to get it released – in the past it would often be a year before a show got released on video.
Joey:   We wanted to turn it around fairly quickly.  Obviously it's the 30th anniversary so we wanted to have it in this year, so the guy Patrick who did the DVD did a wonderful job.  He worked all summer with the footage from 14 cameras, and we managed to mix it in the summer as well, so we were pretty much done with everything in August which is amazing, so we've managed to get it out now.
Planetmosh:  The mixing sounds great, everything is nice and clear, plenty of power and overall sounds fantastic.
Joey:  Thank you.  Firstly we mixed it like a record to get a great sound from everyone in the band, and then we mixed in the audience and tried to get that arena feeling into it as well.
Planetmosh:  With a set of almost two and a half hours it must have been pretty exhausting for you?
Joey:  There was too much adrenaline and it was too exciting to think about it.  We've done two hour plus shows before but we're usually just under two hours.  We tour quite a lot so the muscles in your body kind of remember things, but yes for Ian our drummer and I suppose for myself as well, singing all the way through.  There were a few features – a drum solo, kind of a fun one actually, then guitar and keyboard features where I got a bit of a breather, but yes it was quite tough but as I said, the audience, 30,000 people just lifted us and it felt great.
Planetmosh:  Does headlining a large festival in your home country feel any different to headlining similar size events in other countries?
Joey: Yes it's always a little bit different.  It's wonderful to be playing on home ground, but also it's a little bit edgier, you know people are checking you out.  A little bit edgier and slightly more nervous being on home ground but it also keeps you on your toes and makes you really go for it.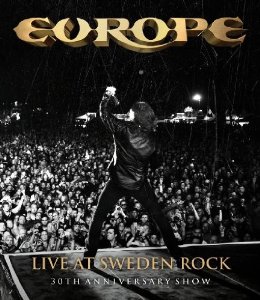 Planetmosh:  Your set was made up of songs right from the first album all the way through to the latest (Bag of bones).  Was it the plan from the beginning to include songs from all your albums?
Joey:  Well when we got the request to play Sweden Rock we decided it would be a good opportunity to do a new DVD.  The ones we've done before were smaller venues – Shepherds Bush was great though but a few years ago.  Then we thought well it's the thirtieth anniversary year so why not pick stuff from all the albums.  Then it was sorting a lot of email requests from fans over a few months and then a week of rehearsals where we went through the song list.  There was a bit of talking back and forth but I think we got a good balance in the end with obviously some guest appearances as well.
Planetmosh:  How did you go about deciding what to play and what to leave out?  It must be quite difficult as all the fans want to hear different things and you can't play everything you'd like.
Joey: There were a few requests, we've been asked over the years about "Prisoners in paradise" so that was a gift for the fans, and John Norum had never played it with us.  Europe have done nine albums and John was away for two of those, one of them was "Prisoners in paradise", so that was special to do "Prisoners in paradise" with John.  Also "Paradize bay" from the first album, we haven't played that in a long long time.  "In the future to come" from the first album we have occasionally played but not very often so there were a few gems in there.
Planetmosh:  You had two special guests – Michael Schenker and Scott Gorham.  Whose idea was it to approach them to join you?
Joey:  We put a list together, and both of them were on this list of dream scenarios to have on stage with us.  Being such big fans of Thin Lizzy, Michael Schenker Group and UFO, it was really natural for us to try and reach those guys.  The good thing was that they both said yes immediately and were really excited about it.  We hung out before and after, and there's some behind the scenes footage on the DVD of John and Scott, and John and Michael Schenker in the dressing room.  There was a good vibe and we were so honoured having those guys on stage with us, and having them say yes immediately was when we knew this was a very special night indeed.
Planetmosh: Did you get much time to rehearse with them before the show?
Joey: No we didn't rehearse.  That's probably why we chose song's that we all know.  "Jailbreak" was Scott Gorham's suggestion and we said that's great.  "Lights out" was our suggestion to Michael Schenker and he was cool with it.  We didn't get chance to rehearse, so it was special, and not really nervous because everyone knows the songs, but really really special.
Planetmosh:  You certainly looked to be enjoying yourself on stage.
Joey:  yeah absolutely!
Planetmosh:  Your last album, Bag of Bones was released in April last year.  Have you started work on the next album yet ?
Joey: We're just starting now really.  We want to record it next year and release it in Autumn next year.  That will be our tenth album and I really hope that plan sticks because that would be great, releasing our tenth album in the autumn next year.  We've just started throwing some riffs around so it's too early to say much but we don't want to dwell or dive too much more into the blues, soul feel.  We believe on "Bag of Bones" we really found that expression, that rock and roll blues expression we thought we'd never find, I'm still amazed that we managed to do an album like that.  Like we usually do we'll move a little to the left and to the right and make something interesting and do something different on the next one as well.
Planetmosh:  You've got a UK tour in April next year with Foreigner and FM.  Have you played with either band before?
Joey:  FM were supporting us in the early 90s or late 80s, so we met them a long time ago.  Foreigner we played with in 2010 at the iTunes festival at the Roundhouse in London.  If we hadn't done that gig we would probably not have said yes to this tour, because we saw them that night and they were a really good rock band and we were quite surprised , so when they asked us to join them on this tour we said yes because we know they're a great band so it's going to be a great night out for people to watch.  Mick is a great writer and player and the rest of the band and the singer are great, so yeah we're excited about it.  Also for us it's great because we get to play slightly bigger venues again.  We're playing Hammersmith Odeon, places like that, and that's also a reason for us to play.  It should be great.
Planetmosh:  It's great for the fans because they get to see several great bands on one bill so it's good value for money.
Joey: Absolutely.  It should be a really good night out.
Planetmosh:  After many years of touring are there any places left that you haven't been to yet but would like to play ?
Joey:  Yes there is one place – Australia.  We've been on our way there many times but there have been so many complication in the US, Europe and Asia that we've never made it over there, so hopefully that's one last thing that we haven't done that we'd really like to.  We hope we can play there soon – within the next couple of years anyway.
Planetmosh:  Have you listened to any of the cover versions bands do of your songs?  Evil Scarecrow's version of The Final Countdown always goes down well at gigs and festivals to close a show.
Joey: Yeah I've heard a few.  Also we say no to at least ten or twenty every year.  There are lots of artists that try to make their own version and change things and we stop those, but obviously you can make a cover without approval and so there are cover versions out there.  There is actually a Swedish Jazz trio called Hellsongs and they did an interesting version of "Rock the night" and possibly other Europe songs.  That was pretty cool I thought.
Planetmosh: It must be interesting to hear bands interpreting your work in totally different ways.
Joey:  Yes that was very different and that's what I like.  When it's too close to the original band I usually don't like it because it becomes a copy, but when artists try and do their own thing with it that's kind of cool.
Planetmosh:  Thank you very much for your time.
"Europe: Live at Sweden Rock – 30th Anniversary Show" is released by earMusic on 2CD, DVD and Blu-ray on Monday October 21st.  Check out this preview
Europe are special guests on Foreigner's April 2014 UK tour with support from FM.  The tour starts on Thursday April 3 at the Manchester 02 Apollo.
Tickets:  www.ticketmaster.co.uk, www.livenation.co.uk, 24 hr box office: 0844 844 0444
Full 2014 UK tour dates include:
Manchester o2 Apollo (April 3)
Newcastle City Hall (April 4)
Glasgow Clyde Auditorium (April 5)
Nottingham Royal Centre (April 7)
Sheffield City Hall (April 8)
Portsmouth Guildhall (April 9)
Bristol Colston Hall (April 11)
London Hammersmith Apollo (April 13)
Wolverhampton Civic Hall (April 15)