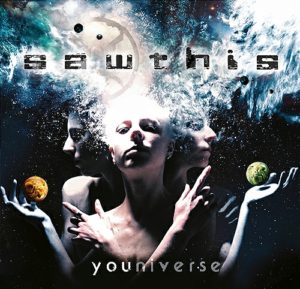 Sawthis, from Italy, presents us with 2013's Youniverse.
The album sounds like modern extreme metal, which touches on industrial, thrash, and progressive elements.
Lyrics are screamed in a hatecore style, so the 'Cookie Monster' factor is absent.
More refreshment is provided in that the drums sound like drums – like they should.
The songtitles have a wonderful flow; each is a short phrase.
Song intros often feature samples, and are all reasonable 'radio-length' (under 4.5 minutes each).
Not especially melodic, tunes incorporate elements from newer Sepultura, Pantera, Hatebreed, and Machine Head – this release should please fans of those bands.
Track Listing:
The Logical Colors
The Waking Up
The Voice Falls On Me
The Disturbed
The Crowded Room
The Indeleble
The Impure Soul
The Spotlight
The Mad
The Switch
The Walking
Band Lineup:
Alessandro Fala – vocals
Adriano Quaranta – guitar
Janos Murri – guitar
Gaetano Ettorre – bass
Michele Melchiorre – drums, backing vocals