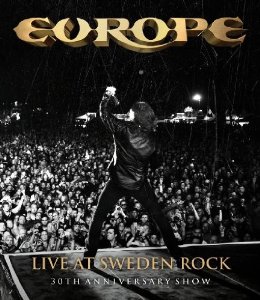 In June, Europe headlined the Sweden Rock festival with a performance celebrating 30 years of rock music.  That performance was recorded and filmed and is now being released on CD, DVD and Blu-Ray.
The track listing is impressive – they played 28 songs that span the entire length of their career so far with songs taken from every album they've released, right from the 1983 debut album up to 2012's "Bag of Bones".  It's rare to hear a greatest hits style of set which includes stuff from every album a band has released – often they have one album that tends to be overlooked as it's considered weaker than the others.  That 28 song set has a duration of around 2 hours 20 minutes which is an impressive length of set for any show let alone a festival, and explains why this release is a double CD.
It's great that they've chosen songs outside the traditional "greatest hits" style of set, so some songs are played here for the first time, or are songs that are rarely played – it was the first time that John Norum has played "Prisoners In Paradise" for example.  Of course the downside with playing some rarities is that the set length limits mean something has to be left out, and "Cherokee" is one notable omission.  There are plenty of crowd-pleasing songs in the set though, so what you get is a great mix of hits and rarities.
The sound quality is superb.  Ok you tend to expect that with a live album these days, but it's not always the case.  Here though it's crystal clear, and the sound is strong throughout the range, with the high notes nice and clear and plenty of power coming from the bass notes.
If you haven't seen Europe perform live then this release might surprise you, particularly if your knowledge of the band is mainly from them singing "The Final Countdown". Live, Europe are definitely a heavy rock band with plenty of power in the songs, and with John Norum putting in some great guitar work throughout and some excellent solos.  The keyboards are good but are certainly less dominant than they were at the peak of the band's 80's fame.
It's not all hard rock though – for part of their set Europe sit down and bring out the acoustic instruments which does change the whole feeling of the show, giving it a more intimate feeling (hard when there's a crowd of 30,000 people there), and giving fans a chance to catch their breath before the next lot of rock anthems are played.
There are special guests too – Thin Lizzy legend Scott Gorham joins them for a performance of "Jailbreak", and Scorpions/UFO guitar legend Michael Schenker joins them for "Lights out", so we get two great covers with some great guests.
Moving on to the DVD or BluRay, it's been filmed by multiple high-definition cameras (14 of them in fact) so you get a good mix of close-ups of the action, crowd shots, wide shots – pretty much every camera angle you could want, and it's well-edited so it's easy to watch.  The stage show is fairly simple – no elaborate sets, fairly minimal pyrotechnics (no Rammstein or Sabaton style flame shows) just a simple layout for them to play and move around.  Despite this fairly simple setup, there's still plenty of great visuals courtesy of a spectacular light show
It's strange – in the last couple of years there have been very few music DVDs that I've wanted to buy, yet in the space of a few months there are loads of great ones suddenly being released – Nightwish, Epica, Joe Bonamassa, Flying Colors, Sabaton, and now this one.  This has to be the best DVD release available for fans of Europe – well over two hours of material spanning the length of their career makes it a great buy, and the fact that the show includes songs rarely if ever played live makes it even more appealing.  I'm very pleased that it's being released not only on the usual DVD and Blu-ray formats, but also as a 2CD version.  DVD or Blu-ray is great but you have to make the time to sit down and watch, so I tend to watch them occasionally, whereas CDs tend to get listened to far more frequently, and it's nice to see a few more bands releasing CD versions of their live DVDs.  For me then the Blu-ray is best to watch as you get the high-definition and the superior sound, but the CD is the one that I'll be listening to regularly.
This really is a great purchase for any Europe fans.  The band put in a superb performance and show that they are a superb live rock band.  Definitely recommended.

CD/DVD/Blu-ray Track Listing:
1. Intro / Riches To Rags
2. Firebox
3. Not Supposed To Sing The Blues
4. Scream Of Anger
5. Superstitious
6. No Stone Unturned
7. New Love In Town
8. In The Future To Come
9. Paradize Bay
10. Girl From Lebanon
11. Prisoners In Paradise
12. Always The Pretenders
13. Drink And A Smile
14. Open Your Heart
15. Love Is Not The Enemy
16. Sign Of The Times
17. Start From The Dark
18. Wings Of Tomorrow
19. Carrie
20. Jailbreak (featuring Scott Gorham)
21. Seven Doors Hotel
22. Drum Solo
23. The Beast
24. Let The Good Times Rock
25. Lights Out (featuring Michael Schenker)
26. Rock The Night
27. Last Look At Eden
28. The Final Countdown
DVD/Blu-ray – Bonus Features
1. Behind The Scenes Material