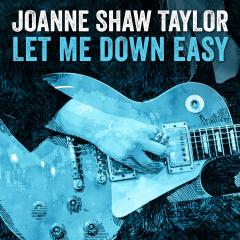 A very quick review could come from "How to have your heart broken in 5 minutes" from 'Let Me Down Easy' by Joanne Shaw Taylor but such brevity would not convey the sheer magnitude of this song.
This recently released song comes from her upcoming studio release The Blues Album on Friday Sept.24th 2021 produced by Joe Bonamassa on Joe's independent label KBTA (Keeping The Blues Alive). It will consist of 11 tracks of personalised covers of rare blues classics including Albert King, Peter Green, Little Richard, Aretha Franklin etc.
I'm not really sure whose song Joanne is covering here but my guess is it's Bettye LaVette who sang it in 1965. Joanne takes the lead vocal here and her voice is astonishing. She performs as though her heart is beyond repair proving that she's not just got a reputation for being a guitar maestro. At one point in the video Joe looks up and shakes his head in disbelief at her delivery.
The first half of the song is all luscious blues vibes and textures until midway when she lets loose for a cathartic solo from the guitar she has been cradling in her lap throughout.
Pre-order links to the album, purchase links to the single and band info are here :- http://www.ktbarecords.com I https://www.joanneshawtaylor.com/ I https://twitter.com/joshawtaylor I https://www.instagram.com/joanneshawtaylor/ I https://www.facebook.com/joanneshawtaylor I https://www.youtube.com/results?search_query=JOANNE+shaw+taylor++
'Let Me Down Easy' is not just a song, it's an explosion of emotions!