Swiss metallers OPHELIA'S EYE have just released their killer new EP, Fight For Us, which is out now. With this in mind, we grilled the band about their background and more:
What is the full band line-up, who sings and who plays which instrument?
Michel Egloff-Sieber: Vocals.
Remo Lemp: Lead Guitar.
Corinne Ryter: Rhythm Guitar.
Marco Schweizer: Drums.
Sandro Suter: Bass.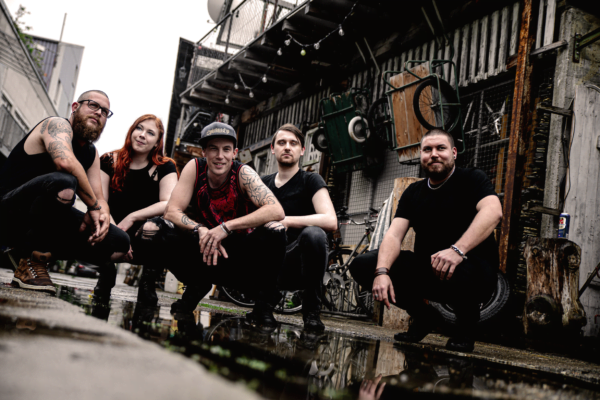 How and when did the band form?
Tell us anything interesting about your hometown. Band's formation Ophelia's Eye started out as a Project Penny and changed the name to Red Fire Dragon before our drummer Marco joined in 2017. At this time the band consisted of him, a guitarist and a bassist. When Marco met his school friend Remo at Greenfield 2017 by chance, he instantly knew that he needs Remo in his band as this worked really fine during a band they played together in school. As Remo was quite busy during this time he needed a sometime but after one year decided to give it a try, came to a rehearsal and decided to stay. At this point the band started out moving from covering songs to writing own songs. The guitarist left in the beginning of 2019, but Michel (ex. Sweet Massacre) joined, which was really a lucky case: Michel has placed an ad on Bandbuddy in 2016 that he's a singer searching for a band. Nothing happened until 2019 Marco answered to his ad. Just at this time Michel has gotten his first child but as it fitted very well, he then joined. The band name once again was changed to the current name Ophelia's Eye. In August 2019 Corinne saw an ad from Ophelia's Eye that they are looking for a guitarist. But since the ad was already from the beginning of 2019 and Corinne only played guitar for just under a year, she did not really believe that this would become something. But she was wrong: The answer from Marco came quick and only a week after Corinne came to a rehearsal and instantly knew that this was the right fit for her. At this point we had the feeling that we now have the constellation to start out, recorded demos in our room very quick, built up our social media presence and organized our very first concert in February 2020 just before Corona measures took place. But due to different goals we split up with our bassist just two weeks before our first concert and played without a bass player until we've found Sandro who joined in August 2020 and was really a lucky strike.
When and how did the band really start getting and solidifying?
When Corinne joined in 2019, we had the feeling that know is our time to start get going. We recorded Demo's in our band room quite quickly, wrote a lot of Songs and played our first gig in February 2020. But a few obstacles needed to be managed: Not only did we split up with our bassist right before our first concert but also all of our booked concerts were cancelled due to Corona for quite some time which was hard for every musician but additionally disappointing when you just had the first taste of playing in front of people and would have been completely ready to start out. But nevertheless, this time offered great chances and maybe was a bit of fate as well: Corinne got mononucleosis for over half a year and wasn't able to do anything anyway and after the partial recovery we used the time to go to the studio and record our first EP, which we may have done later, when we would have played more concerts. Furthermore, we setup 2 live streams during this time: One in a rehearsal room with a great friend of ours who has his bandroom in the same building and one out of a concert location which was quite fun to try as well.
Who are your musical influences?
We all have quite a different taste in Metal which is why we have various influences since most of the time, one of the guitarists have a basic idea for Riffs then we add drums, vocals, and bass. Therefore, we always write our songs all together in the "old-school" way of jamming and solidifying ideas. In terms of song structure, we would say our main influences are As I Lay Dying, Killswitch Engage and a bit of Arch Enemy and Amon Amarth. Regarding the sound production Parkway Drive, In Flames and Periphery are our role models. Where did the name of the band come from? Our current name is based on the novel "The Sandman" from E. T. A. Hoffmann. The story is about the traumatic childhood experience of the student Nathanael which makes its way to the surface through the surprising encounter with the weather glass dealer Coppola. He believes he recognizes the devilish lawyer Coppelius, who is responsible for his father's death. When the beautiful but quite Olimpia captivates him, he loses himself more and more between delusion and reality. To make the name sound rounder, Olimpia is called Ophelia in the band name. Through our songs the listeners should also lose the connection to reality – at least for a while.
How far back does your history with each other (the band members) extend?
Marco and Remo know each other since upper school since they grew up in the same village. All others only know each other since they joined the band (Michel: beginning of 2019, Corinne: August 2019, Sandro: August 2020), but the bond is like a family bond regardless the time we know each other.
In your opinion, how is your band different from all the other bands out there?
Our unity among all members is very big, like family-bonds. We get through everything together, be it difficult, sad, exhausting or of course beautiful and joyful moments, and we have each other's backs. But of course, also the passion of all for music in general and especially metal and its community. You can feel this unity and passion with us also on stage and we think that we are able to transfer this passion also to the audience.
If a deaf person were to ask you to describe the sound of your music, how would you describe it? Energetic, vigorous, hard but still melodic, rhythmic, fast, distorted with powerful vocals (deep growls and screams).
Where can we find your social media sites?
http://www.opheliaseyeband.com