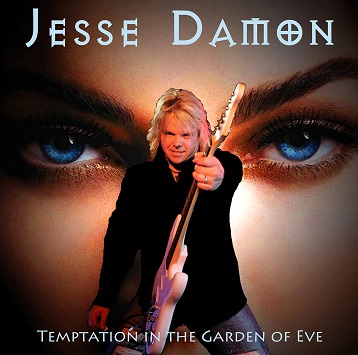 Jesse Damon is a renowned artist as a solo singer, songwriter, and guitarist foremost, but has also been the front man for the hugely popular melodic hard rock act Silent Rage since the band's inception back in the mid 80's. Silent Rage had four critically acclaimed albums released, including the Gene Simmons Records / RCA release "Don't Touch Me There".
This is his fifth solo album, and for this one he has recruited Paul Sabu on bass, who is also the albums producer, joining them are Eden's Curse drummer Pete Newdeck and journeyman keyboard player Eric Ragno.
Having Paul Sabu produce this album, gives the overall impression that this could indeed be a Sabu album, but with Jess on vocals. Tracks like 'I Need You Forever' with its powerful chorus and the hard rocking 'Black Widow' are classic sound-a-like Paul Sabu tracks.
However it is the slower tracks on here that give Jesse a chance to really shine, making the Damon/Sabu partnership really work well.
The hard-rocking opener "Garden Of Eve" is a great track, full of pounding drums and hard edged guitar attack, reminding me very much of ICON.
Jess Damon has a nice rough edge to his voice on the more rockier tracks, to counteract the clean polished production, chuck in a couple of balads with 'Angel in the Starlight' being the stand out one, and you have a great melodic hard rock album. One listen to the rousing "Black Widow", or the highly charged "Wishing Well" proves that Jesse has once again delivered a set of new songs that will keep him firmly in the melodic hard rock spotlight.
Special mention must go to the 80′s style keyboards courtesy of Eric Ragno, They really give this opus an extra kick, just listen to "Black Widow" to see what I mean.
If you love melodic hard rock, Silent Rage and of course Paul Sabu, then you will love this album.
One to turn up and enjoy!
Band Line Up on this album:
Jesse Damon – Vocals, Guitars
Paul Sabu – Bass
Eric Ragno – Keyboards
Pete Newdeck – Drums
Track Listing:
01 Garden Of Eve
02 Black Widow
03 Save The World
04 I Need You Forever
05 Save Me
06 A Chance For Us
07 Let It Rock
08 Angel In The Starlight
09 Hold On
10 Little Angel
11 Wishing Well
http://youtu.be/Iy2HH00Msro