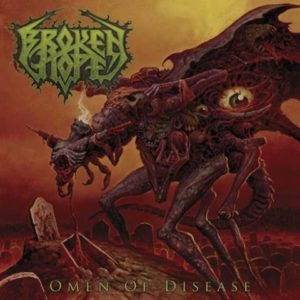 In the 1990's, if you were in a death metal band, you were well-off if you could claim Florida, New York, or Chicago as your hometown. Each locale had something distinct to offer – NY had it's slam "NYDM", Florida had bands who pushed the genre to greater extremes like Death, Deicide, and Obituary, and Chicago gave us mixed tempo, horror-infused classics, from Fleshgrind to Gorgasm to Broken Hope. Life and time intervened, and those tight-knit 'destination' scenes slowly faded, but importantly, the musicians who developed and cultivated the genre through it's adolescence didn't disappear – they simply went dormant. As is common for bands, a timed (25th anniversary) reunion and release was in store for the members of Broken Hope and their fans, past and present. This brings us to today, where Broken Hope's latest studio album, Omen Of Disease, released through Century Media records, has been put on the chopping block for systematic dissection and consideration. Fifteen tracks – thirteen studio, two live – of smoldering brutality await a willing listener.
To be reminded quickly of what we used to know and love from Chicago's thriving death metal scene, check out tracks "Give Me The Bottom Half", "Predacious Poltergeist", and "Blood Gullet". The band brings in a varied triple threat here, reminding listeners that this is well-crafted, brutal, American death metal, not "trem picking and inhales" set to what sounds like a 400 bpm drum machine. As in the rest of the album, tempos are varied and showcase the band's muscle across tunes. These lucky 13 songs are slick showcases or platforms for burly riffs punctured with a variety of tempos and vocal rhythms.
The band kicked it up a notch instrumentally, with the addition of a "lead guitar" player, Chuck Wepfer. Both rhythmically tight and blinding fast when needed, Wepfer has added a proto-shred touch to some of the solo interludes. While neither as clean nor strictly modal as most of the neoclassical dedicated shredders, what he's playing is light years ahead of most 'young, fast' bands, and it certainly adds skill, depth, and interest to the songs. Subtle guitar harmony lines are played alongside founding guitarist Jeremy Wagner, crystallizing some of the many riffs, bringing them to the forefront. Both axemen ply their trade through a punishing, intense, aggressive guitar tone, neither too overdriven nor too processed.
What seems to have happened to death metal, genre-wide, is that the vocals seem to have been turned in to a low-range instrument to make up for the lack of boomy low end (when bands trigger the kick drum to sound clicky, required for high speed "gravity" blasts). Upholding that genre tradition, vocalist Damian Leski delights, belting out an unintelligible, ultra-low growl. Since Broken Hope actually has some bonafide kick drum in their mix (gee!) it brings the tunes up a notch, thickening up the sound and delivery.
Don't miss the fact that bassist Shaun Glass spent some time in a big famous rock band (Soil), in both touring and writing capacities. Glass took some of those songwriting tips and producer tricks home to his death metal roots – both for Dirge Within and for Broken Hope. The rock-solid bass lines are both audible and punchy.
On most newer 'brutal' death metal recordings, percussion could be replaced by a competent typist. Not so with Broken Hope: the drums sound like drums, as they're supposed to sound. Chris 'Wisco' Djuricic did a wonderful job of getting the best sound from Mike Miczek and his kit. For sheer blastbeat speed, check out parts of "Ghastly", "The Flesh Mechanic", and "Carnage Genesis".
Criticism: The PR sheet says the band formed in 1998, three years after this reviewer interviewed Shaun Glass and Jeremy Wagner prior to one of their shows. (= it's a typo, something we all make!) If paying for a press budget, that press better be perfect, in this day and age when a known band could just as easily crowdfund and distribute 'solo' through social media. Other then that, very little is left to be desired – what they've done is release a long-playing, full album that solidly upholds the brutal death subgenre, down to font and cover art.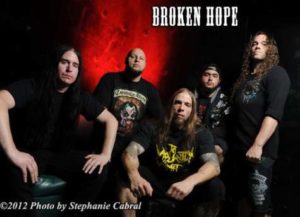 There's something to be said for "veteran" bands that helped to create or solidify a musical genre. Listeners are treated to something intangible that is seldom harnessed by younger bands, something which has very little to do with speed or how low the guitars are tuned and worn. Overall, Omen Of Disease is a very presentable record, upholding the genre nicely. The disc also shows much promise for remaining listenable for a live-in-concert setting. The album ought to please both new and existing fans of the band, both from their old-school early days to current. It's wonderful to hear that these guys can still go out there and 'kill it', sweeping the floor with some of those 'newbie' pretender acts.
Track Listing:
Septic Premonitions (Intro)
Womb Of Horrors
Ghastly
The Flesh Mechanic
Rendered Into Lard
Omen Of Disease
The Docking Dead
Give Me The Bottom Half
Predacious Poltergeist
Blood Gullet
Carnage Genesis
Choked Out And Castrated
Incinerated (2013 Redux)
Grindbox (Live In San Francisco)
He Was Raped (Live In San Francisco)
Band Lineup (2013):
Damian Leski – Vocals
Chuck Wepfer – Lead Guitars
Jeremy Wagner – Guitars
Shaun Glass – Bass Guitar
Mike Miczek – Drums
Links:
Official Band Website
Official Band Facebook Page
Official Band Twitter