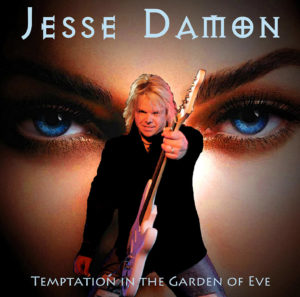 Jesse Damon is a musician from lovely southern California, USA. He first began recording with his band, Silent Rage. Drawing influence from heavyweights such as Led Zeppelin, Foreigner, and Y & T, he has honed his songwriting craft with band-based as well as solo album material. He recently released an eleven track solo album, titled Temptation In The Garden Of Eve. Damon's latest effort features bass guitar work from longtime collaborator, Paul Sabu. Iris from PlanetMosh briefly chatted with Damon about his new album, his songwriting process, and other musical endeavors.
First off, what motivated you to get (longtime collaborator) Paul Sabu onboard again to produce your latest album Temptation In The Garden Of Eve, just out?
 
I wanted to do a really great CD again and top what I'd done so far as a solo artist by delivering songs that I love and wrote. I was first thinking of having some guest appearances on my new CD but it ended up being a better decision to put together a studio band of great musicians and players that love the same genre and style as I do. I have been working with my longtime friend and producer Paul for 25 years and he is the one person that knows me well and would work hard to achieve the same goals I wanted. He was available to record my new studio album with me and I know him well enough to know that he likes to record my style of music in the melodic rock vein. I think he puts in 100% and looks at it as more than a job; he really likes to work hard and challenge himself when he loves the songs he's recording and working on!
You're sort of continuing on your Biblical theme/song titles ("Thou Shalt Not", etc.) with the latest record, Temptation In The Garden Of Eve. Please tell us about continuity and the subtle practice of artist identity.
 
The reference you're referring to is a subtle coincidence, but yes it is only a coincidence. Gene Simmons and I wrote "Thou Shalt Not" back in 1991 and KISS had their own intentions of coming out with a Biblical theme throughout the Revenge album. In my case, it wasn't a blatant theme I was going for, but within some of the titles from Temptation In The Garden Of Eve, I can see how someone might've thought it was a kind of a theme running through, because the CD title sounds close to the Biblical reference to Adam and Eve in the garden of Eden. My lyrics were written as a parody for a rock n roll song though.
 
My song "Save Me" was a cry for help within the lyrics of the song certainly. When someone becomes self-destructive they are distraught and stressed out and crying for help. That title wasn't meant to be asking to be saved by God or for spiritual guidance…
The next song "Angel In The Starlight," I wrote in dedication to my Dad that passed away, referring to him as an angel. Although he as a man had passed away, I was believing his spirit was watching over me from Heaven and so I refer to him as my angel.
The last Biblical reference song title on my new CD I guess, is "Little Angel". This song is about a girl who is spoiled in life and born with wealthy privileges. "She is so good, too good to be bad, but so bad, too bad to be a little angel.
Now that I've explained myself however, I will say I do believe in God, and because of that, some of my storylines will have part of my spiritual beliefs in God (as a part of my artist identity) because of who I am and what I believe. Rest assured, you'll know if I am writing a theme album in the future because I will admit it and talk about it when or if the matter should arise.
 
Who did most of the songwriting for this release? You've cited Paul as one of your career-sculpting mentors. Did Paul have input beyond the bass parts?
I actually wrote all of the material for 9 of the 11 songs and when I decided on a song I wanted to record, I then played it for Paul; at that point he'd help it by changing a lyric here or there, or making a chord change to lift the song if needed, or transition if needed. We had a song that we co-wrote together, then brought back and reworked; that was "Little Angel." Paul then also wrote the music for "A Chance For Us", which I then wrote the lyrics and melody to, sang on and did the guitar solo for.
I really had a major role in the writing of most of the material this time. That's what I love to do. Paul is a big asset to have as a producer because he is the overseer and makes sure it all sounds cohesive. His touches on these songs were usually brilliant but subtle as always.
 
How long did it take to write/demo, and "polish" the album?
 
It took a couple of years, from top to bottom to complete. From writing the songs, to recording my vocal, guitar and solo tracks; then Eric's keys and Pete's drums, and all the bass by Paul, then all the backing vocals by us all…
Then there was the mastering process, then the cover art, then the shopping of the new CD… All in all, it's not a walk in the park, it's a lot of work, but at the same time a labor of love!
What is your favorite tune on this album, and what motivated you to write it?
"Garden Of Eve" is probably in the running as one of my favorites, but just like I've said in answer to other interviews where this question arises, I can't say it's the favorite alone because I feel that within' a CD, all songs make up a CD, whether they be strong or lousy, not just one. I love them all the same. I like to have a well-rounded album, and not just 10 or 11 of the same kind of songs. The question's just simply too hard for me to answer.
You'd be well at home on the bill of a fest like M3, or Firefest. Do you have any tour dates planned around this release, or is it a studio-only gem?
I have been planning and talking to promoters. And I also have the backing of the band to take this album out live and have us perform it, but nothing is booked right now or confirmed. Looking towards 2014…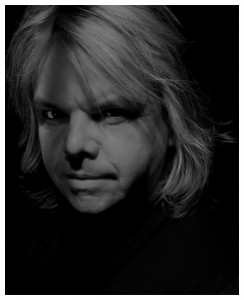 In the music industry, so much has changed since the days of Simmons Records and the Sunset Strip party-rock scene. Nowadays, what does a niche label like AOR Heaven bring to the table that "one of the majors" might not offer?
Direct contact with the owner, very cordial and friendly contact in working together. A great media push, great exposure; it's all been positive for me!
You've been described as a modern melodic rock artist, but you've also been labeled as "adult rock". What's this new "adult rock" subgenre?!
 
I'm not quite sure who said I was adult rock! I've heard of adult contemporary, but not adult rock. I feel my music is best described as melodic rock.
What are you listening to these days?
 
I still listen to classic blues artists, and classic rock artists like Stevie Ray Vaughn or Eric Clapton, but I do try to listen to new rock and pop singers and new rock and blues guitarists, both male and female, to try and find a great talent from the younger artists of today, for the sake of hope for the future and the next generation in music.
Do you have any final words for your fans and readers at PlanetMosh 'dot com'?
 
Thanks Iris, and thanks to everybody at Planetmosh.com and to all the fans who read this. I owe you my gratitude, and I do it all for you!