I've never come across an Italian death metal band before and Hellucination from Rome have made me glad that I've done so with 'Do Ut Does', taken from their Multiverse album, and a quick review would read "brutally brutal".
A much more well deserved appraisal starts with the mind boggling time changes throughout the song. A clubbing intro due to the kick drums is a taste of what's to come as it heads off into a mauling riffed battery of visceral death metal and guttural vocals add to the menace of the video.
Midway through these five minutes of mayhem, a warp speed riffed and kick drum driven midsection precedes an eerie spoken word segment. The final minute is a tour de force of insanity as jarring guitar lines compete with a seismic drum battery.
Hellucination band line up :-
Francesco Xella – Vocals/guitar.
Lorenzo Sicuro – Guitar.
Silvia Pistolesi – Bass guitar.
Andrea Scimo – Drums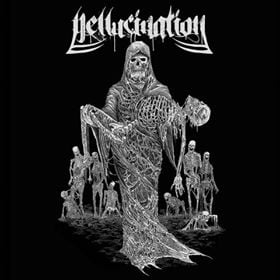 Hell ain't a bad place to be.