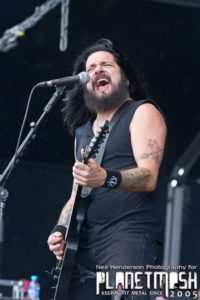 When I arrived for the final day at Hellfest, I went for a walk about the site see what wears where left at the Xtreme Metal Market and what merch was left whilst Heavens Basement played away in the back ground.  The guys are sounding great as I walked about however once in the market I can no longer hear them.
After my mooch about and a few purchases I headed down the front to see the awesome Prong . The trio deliver a stunning tight set that had the crowd going nuts and singing along while we bounce about. Some of the tracks they played included:
For Dear Life
Unconditional
Rude Awakening
Revenge…Best Served Cold
Whose Fist Is This Anyway?
Snap Your Fingers, Snap Your Neck
Power of the Damager
After we had finished bouncing about to Prong I headed up the field to see who was doing signings that day and when  then headed off to see who else was playing.
I manages to catch the very last song from Pig Destroyer, they where sounding superb. Before heading  back down on Main Stage where Mustasch were delivering their own blend of good time rock and metal. I headed over to the food stands for an early lunch before heading back into press for an afternoon of conferences and interviews.
After a quick bite to eat I headed into the press tent so I could attend the Volbeat Press Conference. Listen here.
I then hung around for about ten mins or so until it was time for my interview with the lovely JB from Svart Crown. Listen here.
After that I headed out of the press tent for some fresh air and some sunshine, yes it was lovely and sunny :) Before attending the Stone Sour Press Conference. Listen here.
It was now time to meet up with Neil and for him to go interview Senser. Once we found them we conducted the interview within the main press tent as there was no free interview rooms available. Listen here.
Just after Neil finished his interview I headed in to the Hellfest 2013 Press Conference with Ben Barbuad. This was conducted entirely in French, well it is a French Festival  after all! Listen here.
I then headed out into the arena to catch the final 2 songs from Voivod. Once I got a good view I seen the Phil Anselmo had joined the guys on stage  during  'Astronomy Domine',  then for their final song 'Voivod'  Jason Newsted joined the guys on stage.
Setlist:
Target Earth
Ripping Headaches
Tribal Convictions
Forgotten in Space
Mechanical Mind
Kluskap O'Kom
Astronomy Domine (Pink Floyd cover with Phil Anselmo)
Voivod(with Jason Newsted)
Now it's time for Gojira, they have gone from strength to strength so there is a huge crowd gathering to watch them play. They don't disappoint the audience at all as they delivered a stunning set power packed set right from 'Explosia' through to 'Where Dragons Dwell'
Set list:
Flying Whales
Backbone
The Heaviest Matter of the Universe
L'Enfant Sauvage
Connected
Remembrance
Wisdom Comes
Jam (Mario on guitar Joe on drums)
Fire Is Everything
Oroborus
Where Dragons Dwell
I headed into press during their set as I had an interview with Ex Misfits Axeman Doyle. He was here tonight as he was playing with Danzig. Listen here.
After interviewing Doyle I met up with Neil and we headed into the Lordi Press Conference. As it was just before they tok to the stage the full band where there in costumes. Listen here.
During my interview at Lordi conference Stone Sour had been ripping up main stage with an awesome set. I managed to catch their last songs as I headed out into the arena.
Setlist:
Absolute Zero
Mission Statement
Made of Scars
Do Me a Favor
RU486
Children of the Grave
(Black Sabbath cover)
Say You'll Haunt Me
Nutshell (Alice in Chains cover)
Bother
Through Glass
Hell & Consequences
Get Inside
30/30-150
After Stone Sour finished I headed over to watch the start of Lordi's magnificent set. They crowd was enrapture from the word go with their monsterious antics. I stayed up until they played 'Who's Your Daddy?' as I was heading over to see Danzig in The Valley!
Setlist:
Bringing Back the Balls to Rock
The Riff
Who's Your Daddy?
Blood Red Sandman
It Snows in Hell
(Jay Jay French (Twisted Sister) on guitar)
Drum Solo
Supermonstars (The Anthem of the Phantoms)
I'm the Best
They Only Come Out at Night
Devil Is a Loser
Hard Rock Hallelujah
Sincerely With Love
Would You Love a Monsterman?
As Danzig was only playing London and it was sold out show, I had to go check him out as it's been years since I seen him live. Danzig was on superb form and when Doyle took to the stage and they played some of my favorite Misfits song, well to say I was happy is a bit of an understatment!
SkinCarver
Twist of Cain
Am I Demon
Blood and Tears
Do You Wear the Mark
Dirty Black Summer
Misfits w/Doyle
Death Comes Ripping
Vampira
I Turned Into a Martian
Skulls
Astro Zombies
Last Caress
Misfits covers with Doyle
Bullet
Die, Die My Darling
I left Danzig after Mother and managed to catch the last song by MARKDUK slaying the Temple, this was another band I wanted to see but Danzig won out!
Over on the other side, The Altar Hypocrisy took to the stage and ripped through the sizeable audience with 'End of Disclosure' then straight into 'Tales of Thy Spineless'. I had seen Hypocrisy earlier int he year in Glasgow and these guys just keep on getting better and better. The pit is going crazy and there is quite a few crowd surfers the go repeatedly over.

Tales of Thy Spineless
Fractured Millennium
The Eye
Fire in the Sky
Necronomicon
44 Double Zero
Elastic Inverted Visions
Warpath
Encore:
The night is heading to a cloase for me whenVolbeat take to the stage and give a awesome perfromance  with guest appearance from Barney from Napalm Death during Evelyn, that leave the crowd wanting more. I've only seen Volbeat at Wacken last year and I can say they where better tonight.
Setlist:
A New Day
Guitar Gangsters & Cadillac Blood
The Nameless One
Evelyn(with Mark "Barney" Greenway)
Sad Man's Tongue (incl. excerpts of "Ring Of … more)
Lola Montez
Fallen
16 Dollars
Mary Ann's Place
Breaking the Law / Raining Blood
Dead but Rising
Maybellene I Hofteholder
A Warrior's Call
The Hangman's Body Count
Still Counting
Encore:
Doc Holliday
The Mirror and the Ripper
Pool of Booze, Booze, Booza
To view more pictures taken on Sunday at Hellfest click here.