"Metal is the way… Devil Metal!" The prolific Nunslaughter, a pride and joy of Cleveland Ohio's live underground metal scene, have birthed a double CD compilation record. Out on the Hell's Headbangers imprint, The Devil's Congeries, Vol. I features highlight tracks from some of their collector-grade past 7″ vinyl releases.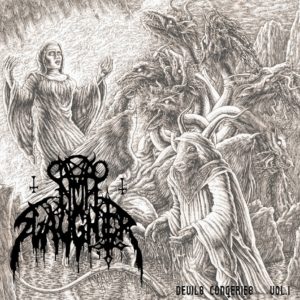 Channeling that analog, dirty, old-school aggression and buzzsaw brutality along the likes of Venom or Possessed, the band brings their hatred of organized religion and all that is good to a rapt and rabid audience. As an aside, a joke perpetuated by the band at some of their live shows was that their alternate name was 'Nuns Laughter', instead of 'Nun Slaughter'. While that might be humorous, no nun in her right mind would laugh at this platter of boiling unholy blood and viscera. The band is dead serious, delivering their ferocious message with 29 tracks of fury.
Some songs feature a very close approximation to the Sunlight / old-school Swedish death metal guitar sound and ambiance. What's nice about this band is that they don't rely on any of the standard fare to get a very intense, driving message across. The songs are short, but not 'grindcore short' – these are not appetizers, but entrees. You will not hear a great sizzling production, technical virtuosity, or highly layered complex tunes here. Just skeletonized, raw metal at it's finest. If you're looking for crushing 'music to pit to', this is it. What the album conspicuously lacks in 'glitz and gloss', it makes up for with the powerful, moving quality of the music itself.
Vocals are clear and harsh, for the most part. There are moments of inspired screaming, howling insanity – "Sacrifice" and "Fire". It isn't a guttural vocal "Cookie Monster" album – while it is brutal metal and has plenty of bursts of blasting speed, it's not the hyperspeed 'gravity blast' in-fashion type. Drums and bass lay a mammoth foundation. Guitar churns along, whipping the music in to an old-school frenzy, track after track. Songs don't vary much in tempo or general mood – it's pretty much one gut-slitting mid-tempo killer after another. The songs are most different from eachother at their introductions, containing the greatest variety of mean, assaultive riffs and tempos.
You're taken in to the bowels of Hell in "Sacrifice" (a Sacrifice cover tune). Artery-severing bludgeoning energy attacks you in "Emperor In Hell". "If the Dead Could Speak" brings to mind a Paul Gustave Dore engraving with it's creepy moans, groans, choking, and growls… a very fine evocation of man's concept of Hell. "Devil Metal" shares something in common with former Cleveland natives (for a time) Incantation: the alternation between slow and fast passages for greater dissonance, unease, and contrast. Each listener will find something to cathect or enjoy about a career-spanning release like this.
Only the first disc was available to review, so, data about the contents of disc two of this double-CD release are lacking. The product description states that the release comes with a six-page booklet featuring all of the lyrics, and a booklet showing the original covers and pressing info.
A strength, or weakness, of this album, depending on your perspective, is that tracks 19 through 29 feature audio which is barely listenable, at best. The audio sounds like it was taken from video (or handheld cassette audio) recordings from live shows or basement rehearsals. For the hardcore collector or someone who is missing one or two of the bands discs, maybe these tunes are the hidden gems on the album. If you're looking for loud, crisp music, you will be sorely disappointed after track 18. The first 18 tracks feature raw energy fresh from the underground: a very listenable production. While it doesn't approach the crispness of 'studio perfect' digital audio, it doesn't have to. We didn't put Napalm Death's Scum, Celtic Frost's Morbid Tales, Grave's Into The Grave, or Terrorizer's World Downfall in to our Walkmans or ghetto blasters to enjoy how perfect they were – we liked that they were loud, vicious, angry and crazy. Such is Nunslaughter: loud, angry, vicious, and crazy.
Band Lineup:
Don of the Dead — Vocals
Blood — Guitars
Brian Sekula — Bass
Jim Sadist — Drums
Links:
Official Website
Official Facebook Page
Track Listing (Disc 1):
1. I.N.R.I.
2. Power of Darkness
3. Sacrifice (Sacrifice cover)
4. Emperor In Hell
5. Demons Gate
6. Bring Me the Head of God
7. If the Dead Could Speak
8. Devil Metal
9. Black Beast
10. Church Bizarre
11. Midnight Mass
12. Resurrection
13. It Is I
14. Poisoned Priest
15. Fire
16. Obsessed with the Visions of a Satanic Priest
17. Atheist Ways
18. The Fucking Witch
19. She Lives By Night
20. NunSlaughter
21. I Am Death
22. NunSlaughter
23. Hells Unholy Fire
24. Killed By the Cross
25. Burn In Hell
26. Hells Unholy Fire
27. Death By the Dead
28. Killed By the Cross
29. I Am Death