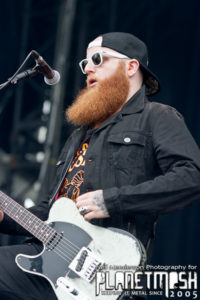 Saturday was an early start so we could see the superb Skindred delivering a awake up call to Clisson!
As we walked towards Main Stage 2 the field looked pretty empty. As the guys soundcheck people started arriving in droves ready to rock out with the guys. By the time they took to the stage there was a surprisingly large turnout the area in font was nearly three quarters full, which for that time in the am is impressive to say the least. They kicked off their short set with 'Pressure' which see the crowd going wild.
They repaid the hordes for coming out early with one of there new songs 'Kill The Power', this will be featured on their new album of the same name and it's has a tentative release as Jan 2014. Listen to the interview with Skindred here to find out more.
This went down well and there was a few early crowdsurfers and pit going. They had closed with 'Warning' which seen the crowd stripping off t-shirts and hoodies all ready for later in the set. The crowd did a huge Newport Helicopter by swinging their T-shirt above their heads when Benji instructed them to do so. It was a great way to start Day 2  of Hellfest.
Straight after Skindred I headed off to check out T.A.N.K. I had never seen these guys before and can honestly say that they were superb live, delivered a nice tight powerful set and the crowd in the Altar Tent where having a superb time with a busy pit going.
Setlist
Over on Main Stage was Audrey Horne, who where going down a treat with the crowd as they played tracks like 'Redemption Blues', 'Youngblood,' 'Show and Tell', 'Threshold' and so on.
I left Audrey Horne playing and headed over into Press for the L'Enôrme TV Press Conference, this was conducted entirely in French. Listen here
After the conference I head out to see a favorite of mine Coal Chamber. I had the pleasure of seeing them a few days earlier when they played a short set at the UK Metal Hammer Golden God Awards ceremony. They had been on superb form them so expected the same from them to and boy did they deliver.
They seemd to go down well with the corwd but the reaction was more muted than I had seen previously.
Setlist
After this I headed back into press area for Down's Press Conference however after about a 20 minute wait we find out it has been cancelled and rescheduled for later on.
I caught up with Benji and Ayja from Skindred and managed to get a quick interview with the guys. Listen here.
I waited in press until it was time to catch up and interview Olivier d'Aries fromT.A.N.K. Listen here.
Once the interview was over it was nearly time for Korn's Press Conference so I went in and grabbed a seat and we were  lucky enough to get to hear a preview of 2 of their new songs from their up and coming album that is due out in September. Lets just say the tracks sound superb ;) Listen here.
After this we wait for the rescheduled Down press conference, only to find out once again that it  has been cancelled and will be arranged for tomorrow. So I head out into the arena to see some bands and grab some dinner.
Accept where sounding fantastic on Main Stage. I managed to catch the last few songs including 'Balls to the Wall' and seeing Phil Anselmo join in on 'Fast as a Shark'
Setlist
Hung, Drawn and Quartered
Stalingrad
Restless and Wild
Breaker
Princess of the Dawn
Losers and Winners
Pandemic
Metal Heart
Teutonic Terror
Balls to the Wall
Fast as a Shark (with Phil Anselmo)
Bound to Fail
Next up is Papa Roach who are currently celebrating 20 year anniversary of the band. They start their set with 'Still Swingin" and 'Blood Brothers'. The guys serve up a superb set with fantastic crowd reaction with tracks like 'Where Did the Angels Go?', 'Getting Away with Murder' before rounding off their set with their well know anthem 'Last Resort'
Setlist
Still Swingin'
Blood Brothers
Between Angels and Insects
Where Did the Angels Go?
Burn
…To Be Loved
Getting Away with Murder
Silence Is the Enemy
Scars
Lifeline
Dead Cell
Last Resort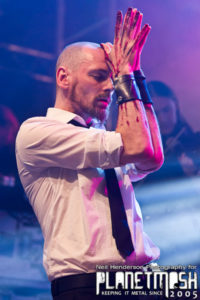 I pop into the busy Altar tent to catch a few tracks from My Dying Bride, who are playing a truly awesome set playing tracks 'The Whore,The Cook and The Mother', 'The Snow In My Hand', 'Kneel Till Doomsday'. I was enjoying their set so much I never mad a note of the tracks I'd seen!
I've been looking forward to seeing ZZ Top ever since they were announced for Hellfest. I was left disappointed with their set. They played well however the sound wasn't as good as it had been for all the previous acts and there was little or no interaction with the huge crowd that had gathered to watch them perform.
After a few songs I fought my way through the crowd and sat outside in VIP/Press garden to listen to the remainder of their set while having something to eat.
Setlist:
Got Me Under Pressure
Waitin' for the Bus
Jesus Just Left Chicago
Gimme All Your Lovin'
Pincushion
I Gotsta Get Paid
Flyin' High
Foxy Lady (The Jimi Hendrix Experience cover)
My Head's in Mississippi
Chartreuse
Legs
Tube Snake Boogie
La Grange / Sloppy Drunk / Bar-B-Q
Tush
I've seen KISS before on the 'Monster' Tour so was looking forward to watching them on the big screen in VIP while we can clearly hear them perform on Main Stage. The guys are on top form and drive their fans wild with their visually and aurally pleasing set.
As you would expect from a KISS set we have tons of  pyros, canon, Gene breathing fire and during his bass solo later on spits out blood and flies, Tommy and Eric Jam and later on Paul flies over to the other stage during 'Love Gun'. At the end they are out on platforms high above the crowd. Spectacular.
Setlist:
Psycho Circus
Shout It Out Loud
I Love It Loud
Hell or Hallelujah
War Machine
Deuce
Say Yeah
Shock Me
Outta This World
God of Thunder
Lick It Up
Love Gun
Rock and Roll All Nite
Encore:
Detroit Rock City
Black Diamond
God Gave Rock 'n' Roll to You II
To see more pictures taken on Saturday at Hellfest click here.