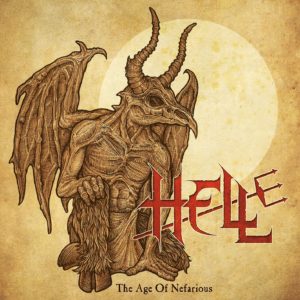 Revived British Occult Metal Legends HELL bring single/EP release The Age of Nefarious to grace our ears prior to the release of their forthcoming album, Curse and Chapter. It gives us an all too brief taste of what to expect alongside three superb live tracks from their set at this year's Bloodstock festival.
The single and naturally first track on this EP, The Age of Nefarious, calls to mind Judas Priest fronted by a slightly psychotic Rob Halford. David Bower has that maniacal edge to his voice that suits Hell's persona to a tee and he's backed by some brilliant old school metal musicianship from guys who are indeed masters of their craft. The track oozes a classic heavy metal vibe and does indeed whet the appetite perfectly for what's to come in a month's time with the album release.
The three additional tracks here are pretty much bonuses for all you fans of Hell out there who didn't get a chance to catch them at Bloodstock. It shows a band in full flow who not only command attention but are given it without question from the Bloodstock crowd.
An all too brief teaser that makes the wait for the album even harder to take but we'll just have to make do until we follow it up with a full review in the next few weeks.
Track Listing:
1. The Age of Nefarious
2. On Earth As It Is In Hell (live)
3. Blasphemy And The Master (live)
4. The Oppressors (live)
HELL are:
David Bower – Vocals
Kev Bower – Guitar, Keyboards, Vocals
Andy Sneap – Guitar
Tony Speakman – Bass
Tim Bowler – Drums
LINKS:
www.hell-metal-band.com
www.facebook.com/hellofficial
twitter.com/hell_band